How to Change the Currency in Google Ads? (Possible solutions)
This question has been frequently asked by digital marketers and business owners around the world. This article will answer if and how you can change the currency with which you pay your advertising costs on Google Ads.
Let's dive in.
A Quick Overview of the Currencies in Google Ads
The currencies that are supported in Google ads vary and are dependent on the country in which you registered your account. Some of the supported currencies used in Google advertising include the Euro, British Pound, United States Dollar, the Australian Dollar, Canadian Dollar, Krone, the Hong Kong Dollar, the Rupee, Dirham, the New Zealand Dollar, Peso, Riyal, Singapore Dollar, Rand, Krona, Franc, Baht, and the Lira.
However, can you change any of these currencies to another in your Google Ads account?
Changing the Currency in Google Ads
Your default currency is chosen and set up during the process of creating your Ad account. This default currency determines how you are billed when you run an ad.
This default currency cannot be changed after you have chosen it. Therefore, you need to take extra care in selecting your currency settings.
If you do choose to change your currency after a while, you may need to create a different Google account to choose new currency settings.
While you cannot change your currency in your ad account, you can use Google Ad manager and secondary currencies in line item setups to change the currency with which you bid.
Change your currency using Google Ad Manager and Secondary Currencies
Google Ads Manager is different from your regular Google Ads account in that you can see, manage, and control more than one ad account from one Google Ad Manager.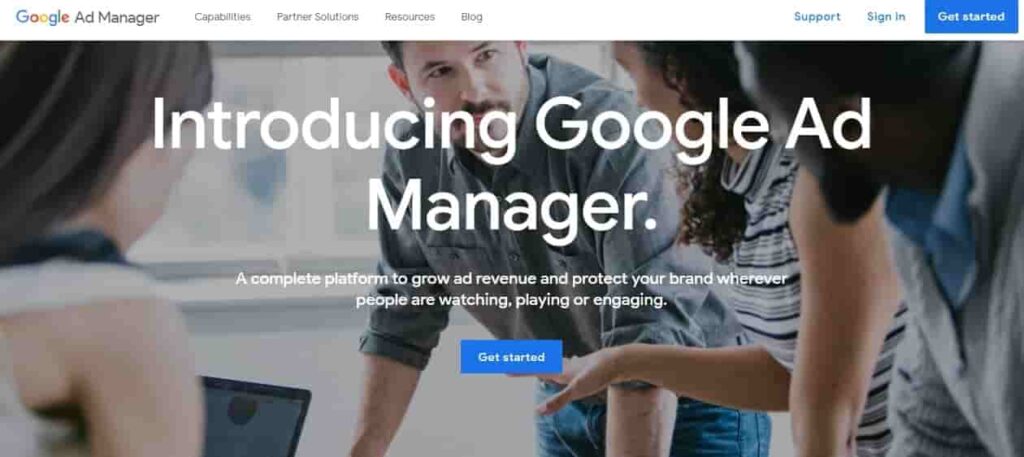 Simply put, the Google Ad Manager is an umbrella account for regular Google Ad accounts. Multiple ad accounts can be operated from the Ad Manager. New campaigns under various accounts can also be created from a Google Ad Manager.
In Google Ads Manager, currencies can either be used in the delivery of line items or in reporting revenue. In some line item types, pricing is used as a yardstick for serving an ad creative.
This pricing is usually set in the primary default currency of the account. Unlike the regular Google Ads account interface, you can change currencies or use additional currencies in your Google Ad Manager as long as you have the administrator role or roles with similar permissions.
Currencies are changed in Google Ads Manager through Secondary Currencies for new line items. Secondary currencies are the additional currencies that can be added to bid with different currencies.
For already created orders and line items, the currency set cannot be changed. Secondary currencies can only be used for new line items which are just being created. You can also set secondary currencies for proposal line items. Each line item in any order on Google Ad Manager can use a completely different currency.
When you set a secondary currency, the Google Ad Manager automatically converts the secondary currency into the default primary currency equivalent. The currency conversion rates on the Ad Manager are constantly updated.
The ad creative of line items are served based on the highest amount of revenue that will be generated. This then gives your line items the chance to compete on which item will be served or shown based on the pricing.
Secondary currencies that have been added to your account can also be deleted from your ad manager when you no longer need them. Also, note that secondary currencies are only available in Google Ads Manager 360 and networks with Programmatic Direct (so not everyone can use it).
The table below shows the local currencies accepted as secondary currencies and their countries or territories.
| | |
| --- | --- |
| Country/Territories | Currency |
| Andorra | Euro |
| Australia | Australian Dollar |
| Austria | Euro |
| Belgium | Euro |
| Canada | Canadian Dollar |
| Denmark | Krone |
| Finland | Euro |
| France | Euro |
| French Guiana | Euro |
| French Southern Territories | Euro |
| Germany | Euro |
| Greece | Euro |
| Guadeloupe | Euro |
| Hong Kong | Hong Kong Dollar |
| India | Rupee |
| Ireland | Euro |
| Italy | Euro |
| Luxembourg | Euro |
| Martinique | Euro |
| Mayotte | Euro |
| Mexico | Peso |
| Monaco | Euro |
| Morocco | Dirham |
| New Zealand | New Zealand Dollar |
| Norway | Krone |
| Philippines | Peso |
| Portugal | Euro |
| Reunion | Euro |
| San Marino | Euro |
| Saudi Arabia | Riyal |
| Singapore | Singapore Dollar |
| South Africa | Rand |
| Spain | Euro |
| St Pierre & Miquelon | Euro |
| Sweden | Krona |
| Switzerland | Franc |
| Thailand | Baht |
| Turkey | Lira |
| United States | United States Dollar |
| United Kingdom | British Pound |
| Vatican | Euro |
Conclusion
In your Google Ads account, the currency you use in paying advertising costs is selected when the account is being created. After the account has been created, this currency cannot be changed in your Google ads account.
However, you can open another Google ads account or add and use secondary currencies in your Google Ad Manager account.
Secondary currencies are used when creating price priority line items. This way you can change, add and remove select currencies in your Ad Manager. You just need to get started!
As always, reach out if you need help with your Google ads management…