How Much Do Google Ads Cost? | Keyword Profitability Formula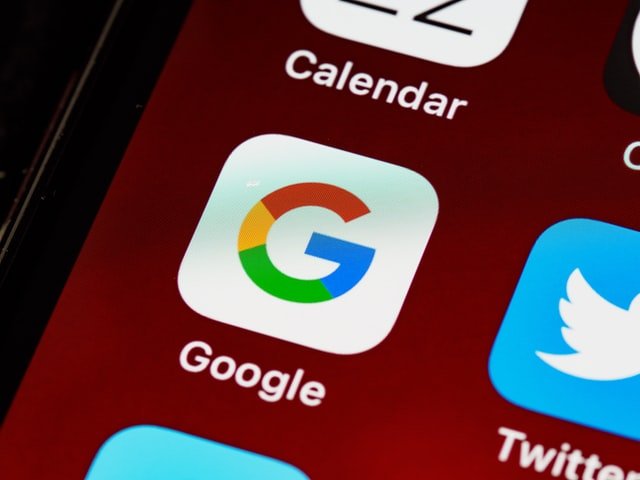 Google AdWords founded in 2000 and after rebranding in 2018, it started to be called Google Ads.
Google ads are used to promote your products or services online. Compared to traditional Marketing or Digital Marketing it brings much faster results.
Here in this topic, we are going to cover how much do Google Ads cost and how you can lower those costs by eliminating unnecessary expenses and increasing exposure to the winning ads.
Also, we will give you a keyword profitability formula that you can use before starting any campaign and make your assumptions beforehand.
But before that let's cover some basics of most common Google ad types.
Types of Google Ads
There are several types of google ads that you can choose from.
Search Ads (Also called Text ads)
They are usually in the written format and look the same as organic search results. But it has the "Ad" symbol, written before the Title.
They usually appear on Google's SERPs.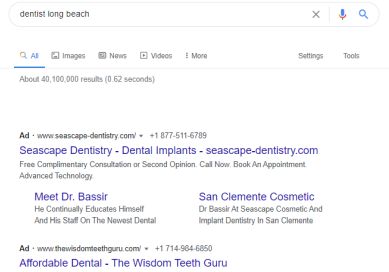 Search ads are given the highest position before organic search results without you having a headache of optimizing for SEO or writing very good content.
That means you can have an advantage over the strong authority websites, even if their content is much more relevant and useful to the audience. From the above picture, 4 Paid results were appearing before organic search results.
These advertisements are graphically designed and displayed on a web page. Responsive display ads can be fit for different screen sizes and can be displayed in different formats according to the interest of a specific visitor.
They mostly come in 3 different shapes:
Horizontal
Vertical
Square
Shopping ads – they come at the top of the SERPs.
They come with price, picture, and title.
They generally come inside streaming videos.
Most commonly on YouTube videos.
Universal Application ads
Here you can advertise your apps across multiple properties like Google search, Google Play, YouTube, Google display network, etc.
Just give a little bit of information about your app, bid, and let the users find you.
Factors that affect the cost per click
So, coming back to the question in the headline.
How much do Google Ads cost?
This is an important question. But this question doesn't have a straight answer.
As we will see from the examples that follow, it all depends on your products and services and which keywords you are targeting.
Google ads have their Auction System in which keywords are bought and sold on a Cost-Per-Click (CPC) basis. Your website can participate with its Ad Rank metric to bid for selected keywords.
The Ad Rank metric can be used to measure the quality of our bid.
The auction system takes place within milliseconds as someone searches for certain keywords or visits a website that uses display ads.
To be eligible to participate in the auction system you should meet the Ad Rank thresholds.
Here is an important note to make here. The ad Rank threshold is not the same for every participant. These are the factors that may determine your threshold level:
Quality Score – Quality Score is one of the most important factors that Google considers when ranking. If you have this score higher than your competitors then the rest is much easier.
An Ad with a higher Quality Score may need a lower threshold to be accepted. While the poor-quality score needs a higher price to rank.
Quality score is determined by several factors like how relevant your advertisement for a chosen keyword, user experience, domain authority, etc.
A keyword quality score is measured from 1 to 10.
Higher Quality Score means lower CPC is enough to be ranked on higher positions which are inversely correlated.
User Attributes – Some demographics&characteristics require different prices for certain keywords. Like: countries, age groups, devices, etc. play a different role.
Keywords – There are also differences from keyword to keyword in the evaluation process. The keyword "Buying chocolate" may be different from "Buying a car".
Keywords can be divided into 2 groups: Short&Long Tail keywords.
Short tail keywords give general meaning and may not describe exactly what your business does. Even if you generate more clicks, your visitors may not be as targeted and the conversion rate may be poor.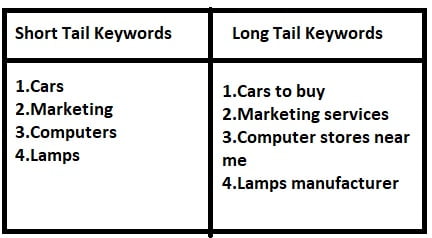 A visitor that came with a search query of "Cars" may not want to buy a car. He is just may be interested to read about cars.
To achieve a higher conversion you should target a keyword like "Cars to buy".
When using Long Tail Keywords you may receive more targeted audiences, even if the traffic amount is lower.
But you will spend less on unnecessary clicks and spend money on high probability conversions.
Historical Google ads report –This measure is important to give priority to historically good performing ads and campaigns.
A Keyword Cost per click by industry
Google ads cost per click can vary from industry to industry and from keyword to keyword.
Some keywords like "Triwest healthcare" cost up to 125$ and "Motorcylce Mechanic" costs up to 199$.
Here we have listed some statistics of undustry specific keywords using Google Keyword Planner.
As there are so much keyword ideas to choose from we have taken only seed keywords (Short tail keywords) of most common industries to have a general idea of CPCs of each industry.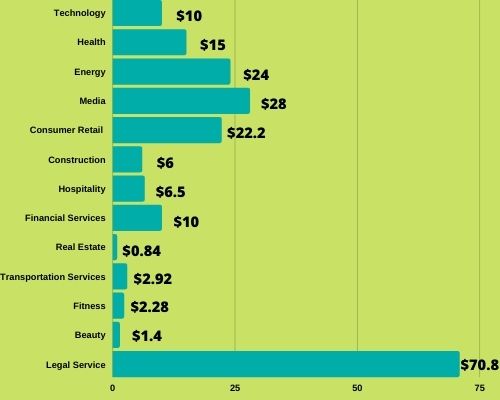 How to lower the cost of your existing Ad Campaigns
These are some of the potential solutions to lower your expenses.
Know which devices are used most among your visitors – Mobile or Laptop. You may not spend the same amount on a poor performing device group.
Put your ads live at certain times of a week and even certain times of a day. You may not want to serve your clients on weekends or in the middle of the night.
Try to keep your keywords related to specific Ad groups. If your Ad Group is about travel, try to keep every one of your keywords related to travel. "Cheapest Hotels", "Things you need to buy when traveling", "Backpacks to carry on a plane" would be good examples.
Use Negative Keywords to remove unnecessary clicks. If you are a mobile phone supplier you may target the "Mobile Phone" keyword but not "Mobile phone screen". So you can add "Screen" as a negative keyword.
You should target your visitors' age group, location, gender, etc. for maximum results.
Increasing your Quality Score (QS) is an indirect but essential step towards getting lower CPC and eventually lower expense spent on Ads.
Be as specific as possible when choosing a Keyword. Try to choose more Long tail keywords. Even though they may have a lower volume they can have higher conversion rates than Generic Keywords.
Long tail keywords also can result in higher Quality Score and lower cost per click.
Aim for lower positions like third and fourth. Try to test your campaigns with different positions. Maybe your Cost per Conversion is lower on these positions than the first or second one which is the ultimate result that matters.
How to Calculate Google Ads Cost With Keyword Profitability Formula
Now, let's start.
Go and pick any keyword you want using tools like Ubersuggest, SEMRush, Moz, Ahrefs, etc.
Search the monthly keyword volume by highest to lowest with the least competition.
Multiply it by 0.3 if you want to aim at the first place on Google search result (SERP) or by 0.15 if the second place or by 0.1 if third place.
(These all numbers are estimations as a general wisdom. First three search results of Google should receive 30 percent, 15 percent and 10 percent respectively, of all the traffic for the searched keyword)
To receive this much traffic is possible if you have a relevant Headline, Landing Page for your selected Ad.
Now you have you approximate traffic volume for your keyword.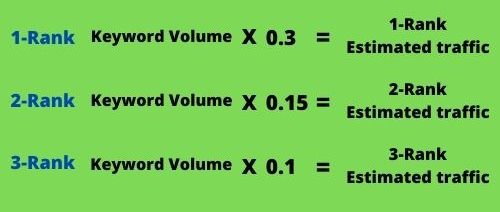 Multiply it by Average CPC. And you have your Total Ads budget.

Take your average Conversion Rate (in percentage) and Multiply it to the estimated traffic volume that you may receive for a chosen Keyword.
This is your number of Customers.

Multiply this number to the Average CPC and Deduct from this number your Total budget.
Now you have your Profit or Loss formula.

By using these calculations you can estimate whether you make profit or loss with a chosen keyword.
If it gives negative result you can go on your keyword reaserch and try to find another keyword.
(Disclaimer: These numbers are just quick estimations and there are a lot of unknown factors that might be involved. But this should give you some general understanding and idea about your expenses from the beginning.)
Conclusion
So by now, you should have an idea of how much does it cost to place an Ad using Google Ads.
How you can improve your ad spending by scaling on winning ads and reducing the cost of losses or even eliminating them if needed? How you can calculate your profit or loss of advertisements before spending any money on them?
If you can implement these tactics and strategies that have been shown correctly, you should be able to improve your ROI and be ahead of the curve.
Now, what do you think about the post? Do you like it?
Or do you have any suggestions? Let me know in the comments section below…
If you need any help with your PPC advertising, please feel free to reach out to us.