Ultimate Guide to Google ads Custom Audiences [With Examples]
Do you want to create your own audience in Google ads?
Maybe you are not satisfied with the quality of Google's Affinity and In-market audiences.
Then in this article, I am going to walk you through the step-by-step process of creating your Custom audiences, the pros and cons of using it, and give reasons why it can be one of the best methods for raising brand awareness in Google ads.
What are custom audiences?
Custom audiences enable you to choose your own target audience based on their interests, interactions with certain websites, app downloads and visiting certain places.
Now, let's break it down in more detail.
Up until recently, there were custom affinity and custom intent audiences. Then, from September 14, 2020, they are available in a combined and simplified version as custom audience.
By taking into account your campaign goals and smart bidding strategies, it can reach different prospects at different stages of their customer journey.
Reach – to raise brand awareness among a larger audience
Consideration – to reach people who are searching for products or services with a purchase intent
Performance – to reach people at their highest level of purchase intent when they are ready to take action
When creating a new custom audience, you can add different keywords, URLs, names of apps, and types of places that your ideal customer would mostly use.
It can give you much more flexibility in your targeting approach and increase the relevancy of your ads.
Pros and Cons of Google ads custom audiences
Pros
Flexibility in audience creation
You can create any kind of audience segment that fits your criteria. There is no rule like other audience targeting methods (e.g. affinity, in-market), which let you choose only from the list of a limited number of interest groups.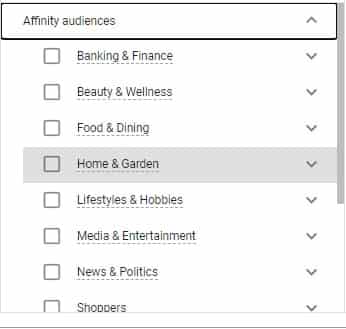 Custom audience automatically targets a selected group of people that meet the requirements of all your campaign-level settings.
Winning competition's customers
Targeting the people who browse your competitors' websites allows you to increase your market share and perform better in the competitive environment.

Similarly, you can find the keywords that your competitors are ranking on the Google search engine results page (SERP) and target those interest groups.
Or if you are an app developer you can find the best apps in your industry and create an audience that downloads those types of apps and might be interested in yours as well.
Relevant ads
As you are much more specific and flexible in your targeting approach, your ads can reach people who are the most interested in what you are offering.
Also, it is the best way to find people that are only from your niche industry rather than targeting the whole industry where you spend more and find fewer interested people.
For example, if you have a business that fits into the category of distance learning bachelor's degree programs, with in-market audiences, you could have a broader audience to target (e.g. Education category) and that would increase the unnecessary ad spend.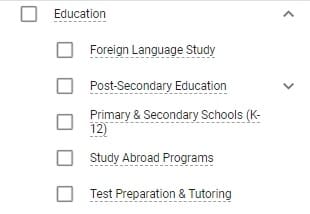 In this example, according to Google ads estimation, the custom audience would receive 100M to 500M weekly impressions, which is much lower than the sub-segments of the education category of in-market audience with 10B+ impressions.
Creating only one audience
Unlike other audience types, which might require you combining multiple audiences to cover all the areas of your industry. Custom audiences can include all segments of people in one basket.
So, you can only run one audience targeting method for your whole campaign and making its reach broader or narrower depends on your marketing strategy.
Cons
Not available for all campaign types
Currently, Display, Video, Discovery, and Gmail campaigns can use it and it is not yet available for Search and other campaign types.
Creating a new custom audience can be hard
Because you are creating a new custom audience with all their characteristics from scratch, rather than targeting with segments from other standard audiences, coming up with new keyword ideas, URLs, names of apps or places requires a lot of research and time dedication.
For example, you need to add all the interests of your ideal customers and the websites they browse a lot and find keywords or phrases that lead them to those websites.
It can be too broad sometimes
Every time you add a new keyword or URL, the audience size gets bigger and expands its reach by increasing the number of impressions.
It means, it uses OR commands not AND. So, the more characteristics your ideal customer has, the less relevant your ads can be.
As you can see from the picture above, custom audience can target not only the people that are included in both of the segments but, any people from either of the two segments.
Let's say, you included interests like Oxford shoes and Sneakers in the list of interests.
With this method, you target all the people who are in the market for only Oxford shoes, the people in the market for only Sneakers and the people who are looking for both of the products.
If you want to exclude some of the groups from your list of audiences, you can always exclude them from your targeting list.
How to create custom audiences?
Now, it is time to create our new custom audience.
First, log in to your Google ads account
In the upper right corner, click Tools & Settings> Shared Library > Audience Manager
Then, click the Custom Audiences tab
Then, click the blue plus button
Then you should come to the destination that looks like this
Before creating the list of custom audiences, keep in mind that your ads must meet the requirements of personalized advertising policy of Google ads.
Then, start the creation process by adding the audience name. Name it as descriptive as possible, so that later on, you know which audience segment you are targeting.
How to add interests or search terms?
You can include people with the following interests or behaviors:
People with any of these interests or purchase intentions – If you click this option, your target keywords lead your ads to your ideal customers who have interests and purchase intentions across Google and non-Google platforms.
People who searched for any of these terms on Google – For this option, you should be using the keywords your ideal customer uses on Google. And whenever they search those or similar terms on Google properties, your ads can show up. If they use properties other than Google, your ads will be shown as interests or purchase intentions
I would personally prefer People who searched for any of these terms on Google, because with this option, you can add Google search terms to your custom audience, than just targeting interests or purchase intentions.
Then, add as many keywords as you think would be necessary.
When you start typing, you can also get some keyword ideas to include in your list.
Some people may ask here, how many keywords or phrases should we add?
There is no maximum amount for how much you can add them. But, adding more doesn't mean, a better performance. As I told you earlier, the more phrases you add, the broader the audience can get.
Expanding your audience
You can also expand your audience list by including:
URLs – include web addresses your customers might visit. Then, your ads will be shown to the same or similar website users.
Apps – include apps your customers might use. Then, your ads can be shown to people who download the same or similar apps from Google Play Store.
Types of places – include types of places your customers might visit. Your customers don't have to be physically at those places. (places can be Schools, Sports venues)
Audience insights, Weekly impressions, Demographics, Topics
When creating your custom audience, on the right side of your screen, there are three sections that you need to pay attention to.
Audience insights
Weekly impressions
Demographics
Topics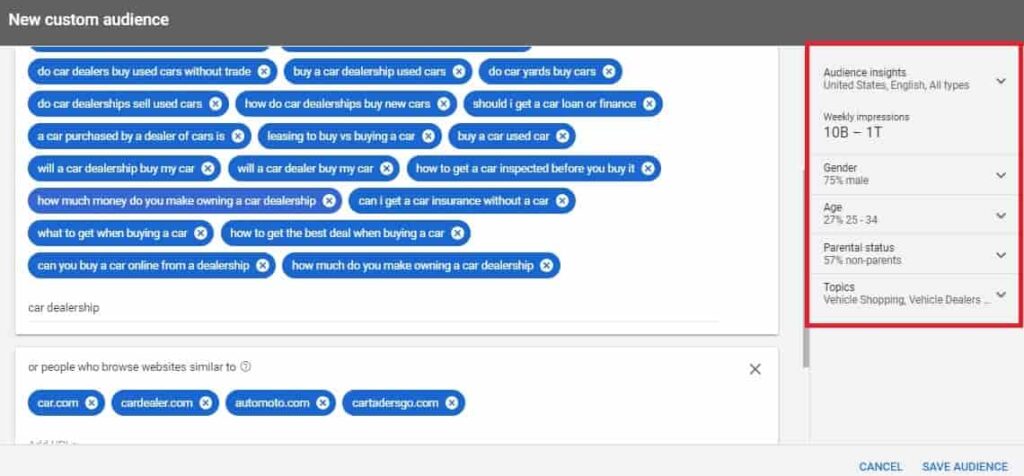 Audience insights
This can show the selected location and language of your target audience. Also, you can target people from different campaign types (Display, Video, Discovery, Gmail). By default, it targets people from all campaign types.
Changing any of those settings can affect the number of weekly impressions your ads can receive.
Weekly impressions
After making any change, you can have an idea about how big is your audience by looking at the weekly impression numbers.
Keep in mind though, the impression numbers you see are not unique visitor numbers.
Demographics
To get a better idea about your audience, you can see their gender, age, and parental status.
You cannot change any demographic information from here. If you want to exclude certain segments of people, you can do that when creating a new campaign or adding an exclusion to an existing one.
Topics
This suggests you which kind of websites your target audience browses a lot. So, it gives you descriptions of those site topics.
Once you have completed all the audience creation process, you need to put it into practice.
How to add a custom audience to your existing campaign or ad group?
When you want to add it to your existing campaign or ad group, you cannot find an add button from the Audience manager section. From there, you can only see the remove button.
To add it, you need to select your campaign and go to Audience in the left navigation menu.
Then, add your audiences from that section.
Now, you have completed the process and you are ready to run your ads to your custom audiences.
Conclusion
I think I have covered briefly the most important parts of custom audiences.
If you implement them to your campaigns correctly, they can give you more flexibility and power to show your ads to the right people that want your products or services most.
When you apply them with other methods like remarketing, you can further increase the relevancy of your ads and the chance of converting more people.
What do you think about this audience targeting method?
Let me know in the comments section below…
Do you need help with your Google ads management? Then reach me out through the Contact page.