16 Benefits of Google Tag Manager for Google Ads
So, it seems like the Google tag manager is getting popular year by year.
Many data analysts are switching from the traditional way of tracking data to a more convenient way.
Are you also thinking about implementing it as well?
Well, there are some good reasons why to do so.
In this article, I am going to describe the benefits of Google tag manager for Google ads.
These benefits can also be the same for Facebook advertisers.
So, if you are any kind of digital marketer this topic should interest you.
Let's get started…
Brief introduction of Google tag manager (GTM)
In the shortest possible format, the GTM acts as a container, which can hold inside all kinds of tracking information (tracking codes) in one basket.
It is used to measure the visitors' behavior but in a much more organized way.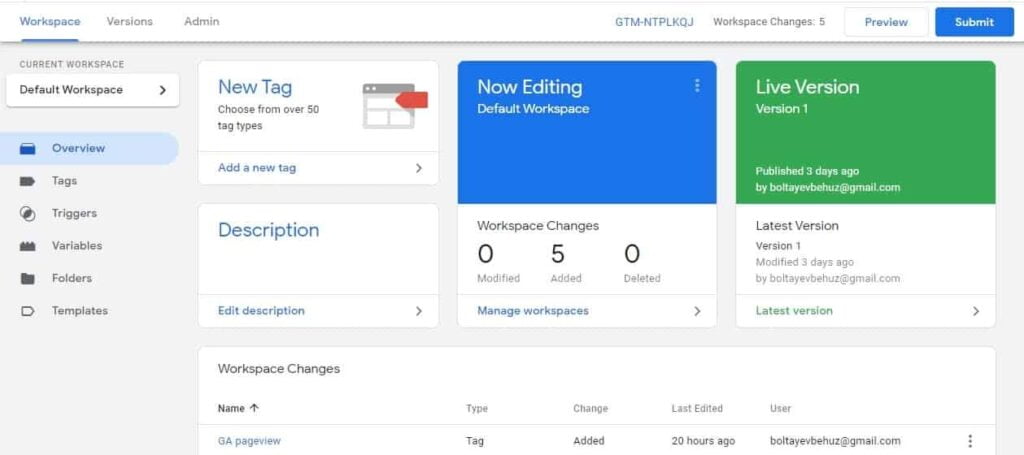 These are some of the terms that we use throughout the article:
Tags – they are a small snippet of codes, used to track the effectiveness of your ad spend. For example, Google ads conversion-tracking code needs to be pasted to certain web pages to track the conversions.
Triggers – these are the conditions when a certain metric should be tracked. For example, you may consider someone filling the newsletter sign up form to be a conversion. So, when someone signs up, a trigger can be fired.
Variables – it is a little more specific actions than triggers. Some of them require little knowledge of coding. But most of them can be done by editing and clicking a few buttons.
Now, let's see their benefits when using ads.
Easy to use
One of the biggest reasons why this tool is getting popular is, it is beginner-friendly.
Anyone without prior knowledge of coding can implement any kind of tracking they want.
This is coming in very handy for marketers.
Before it all depended on developers and whether they had free time to work with your projects.
Now, you can create and change those tags in a matter of minutes.
This is especially useful for e-commerce websites during the holiday seasons with lots of customer interactions to track.
They just choose from the ready-made templates or create their own without waiting for developers to it for them.
Increases website speed
If you are not using the tag manager, lots of tags (tracking codes) on your page can reduce your website speed.
But with this tool, all of the tags are controlled from the tag manager interface and you need to insert a one-time code of tag manager to your website back-end and that is it.
Also, using several tags doesn't mean they have to be loaded right away.
For example, you can add a chat box that can appear after 20 seconds, once your website loads.
Because, no one visits your site and immediately looks for a chatbox, right?
So, you can put a timer to control some of the tags' visibility.
In addition, the loading of one tag doesn't prevent others from loading.
Increases Productivity
Less time spent and more work done. You no longer have to wait weeks or months, to add customized tracking codes to your website. Create multiple of them yourself whenever you need it. As a result, developers can focus on bigger and more complex projects.
Reducing advertising costs. One of the reasons why we track our customers' behavior is to eliminate unnecessary costs. Once the marketers get the tag-loading job from the developers, money is less spent on the coding and less workforce is required.
Much more advanced tracking than other systems
With this tool, you can literally track almost anything you want, unlike many other traditional conversion tracking tools.
You can track the scroll depth, clicks of any internal links, or any custom events created by you.
Makes data tracking more organized
As we talked about earlier, all tags are placed in one place and not scattered like before.
Before you had to go to every page source code and find the tracking codes one by one to make some custom changes.
Sometimes if some people couldn't find the tracking codes, there was a chance of adding them multiple times and as a result, make a wrong analysis of customer behavior.
So, now, having tags in one place makes our work much more organized.
Less prone to human error
As you're not writing codes yourself there is no risk of making a mistake in coding.
All the edits and changes can be made by clicking a few buttons.
Testing changes before publishing
You can test your changes without publishing them live with the preview and debugging mode.
For example, you can check your add to cart click numbers by clicking yourself.
In this way, you can know which tags are fired and which are not working.
Also by using preview mode all the changes you made won't be seen by the website visitors if you don't publish them.
Use Chrome extensions. Use Chrome extensions to make the testing easy.
The most commonly used ones are Tag assistant and Tag manager injector.
They can tell you whether your tags are working or not.
Build-in tags
For Google advertising, there are Google ads conversion tracking and Google Remarketing tags are available.
If you want to add more features to them you can do so or else you can add other tags from the list which are close to fifty.
If you can't find what you are looking for, you can create your customized tags easily by adding your custom HTML.
Reusing tags and triggers
Commonly used tags and triggers can be exported to a file and used whenever needed.
This can make the process a whole lot easier and it is good for companies with a lot of employees to use them as a template.
Adding Workspaces
Do you have a big team of marketers?
Then try to use Workspaces, which enable to create tracking actions without overwriting projects to one another.
What are its benefits?
Firstly, it makes your account much more organized when the projects with different purposes are segmented.
Secondly, all the projects from separate workspaces can be combined into a better version later on.
Auto- Event tracking
Auto-event tracking measures all the interactions of your customers on your website.
As we said earlier, it has a lot of options available.
Although, some of the advanced events require a little bit of coding knowledge most of the custom event settings are pretty easy to set up.
Some of the most used auto-event trackings are:
Form submissions
Click triggers (such as, add to cart click)
Arriving at some pages (such as the Purchase completion page)
Scroll depth (in percentages or pixels)
Versions
Another interesting feature of Google tag manager is Version Control.
If you make one change and submit it, it is considered one version and it is saved automatically.
It is used to restore the previous version anytime if there is a mistake or error that you cannot fix in the current version.
Another beneficial part comes in seasonality.
For example, if your business is moving from slow to the busy season, you can use the strategies that you used before without creating a new one.
You can have an idea about them by putting them descriptive names and their published dates.
Free to use
For small and mid-sized businesses it is free to use and its features are more than enough to test and track visitors' behavior.
There is also a premium version available – Google Tag Manager 360 for large enterprises.
User Management system
You can add users and user groups by adding their email addresses And give them permission to do certain actions.
Some of the privileges are:
Administrator
Editor
Viewer
No access
Helpful Communities
There are a lot of helpful communities for you to learn about the tag manager.
When creating your tag, you can see the gallery of templates from communities in the tag manager interface.

Same with variables. First, go to Variables – create a new one, then click the Discover more variables button.
There is also a helpful Facebook group created around that topic if you want to know more about the tool.
Additional Security in your account
Google scans your tags once you install your third- party custom HTML codes.
When it detects any malware or suspicious activity, it can prevent it from affecting your performance.
However, if you find its warnings are unreasonable, you might use your custom HTML as you wish.
Benefits of Google Tag Manager for Google Ads: Conclusion
Now, after reading all those benefits, you might be thinking there is really no reason why not to start using it.
That's right. Learn to use it correctly and start tracking whatever you think worthwhile for your business.
Some businesses have made big changes out of that.
Who knows maybe it can impact yours too. So, start tracking today…
Do you know any other benefits or anything to add?
Let me know in the comments section below…
IF YOU NEED HELP WITH YOUR PPC MANAGEMENT YOU CAN CONTACT US THROUGH CONTACT PAGE.