Best Audience Targeting Method in Google ads [With Examples]
There are a lot of audience targeting methods available in Google ads.
But, not every one of them might be right for your business.
While the right one can improve your campaign performance exponentially, picking the wrong one might be very costly for your business.
Therefore, it is crucial to match your goals and strategies with the right audience targeting method, to get the most out of your ad spend.
In this article, I will help you to find the best audience targeting method in Google ads that fits your business goals and also talk about which ones to avoid to eliminate unnecessary expenses.
Briefly about Audience targeting
When advertising your products or services, you can show them to people based on their passions, interests, purchasing intent, demographics, whether or not they have been to your website, etc.
Audience targeting enables you to reach people with those characteristics either with your own custom audiences or audiences created by Google ads.
Depending on what you want to focus on, such as conversion, brand awareness, or both, you can choose from different audience types.
Currently, there are 8 types of audiences available in Google ads:
Affinity audiences
Life events
In-market audiences
Custom audiences
Remarketing
Detailed demographics
Customer Match
Similar audiences
Note: Display campaigns can use all 8 types of audiences. Search campaigns cannot use Life events and Custom audiences. Video campaigns cannot use Life events audiences.
Now, let's talk about which audience type works for which kind of businesses and which ones to avoid.
But, before we begin, take a close look at how they are positioned in the sales funnel.
Affinity audiences
Affinity audiences are people who have a strong interest in your industry. They are a broad category of people.
One sub-segment of an interest category can easily receive billions of weekly impressions.
For example, Coffee Shop Regulars sub-segment of the Food & Dining category receives 10B+ weekly impressions according to Google estimations.
Large companies or companies with big budgets can use affinity audiences for long-term purposes.
The money they spend on ads is not for converting customers. Because their ads are seldom reaching people who want their products and it can take several ad interactions before any conversion occurs.
Who can use it?
If you are new to the market and you have a big marketing budget to spend, this is a very good option to gain brand awareness and increase your market share fast.
You can also use it with remarketing to get some conversions along the way.
But, if you are a small business with a less budget, you may as well stay away from it.
Life events
Life events targets audiences who have experienced or about to experience important events in their life (e.g. Business creation, College graduation).
It targets a smaller group of people than Affinity, but a larger group of people than In-market audiences.
For example, Getting Married Soon, a sub-category of Marriage can receive 3.7B weekly impressions, which is lower than Affinity audience impressions.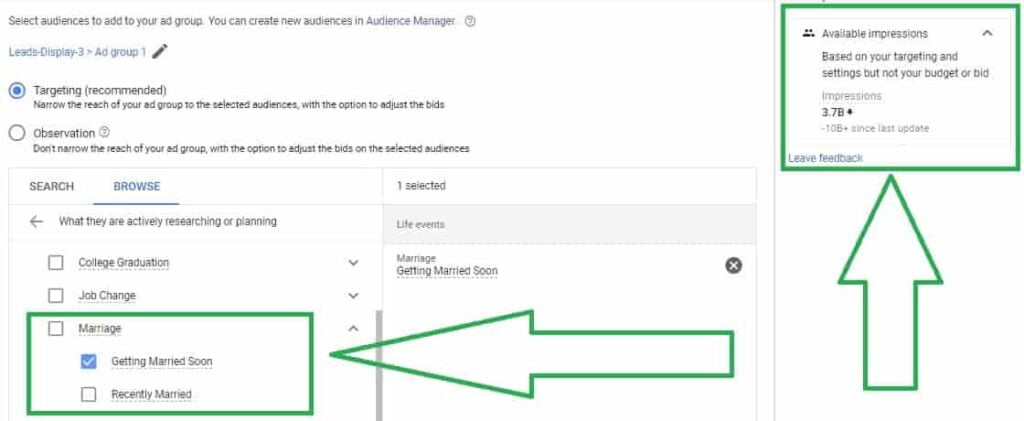 Again, this targeting option is very broad and all the milestones a person can achieve in his/her lifetime are included in only 7 categories.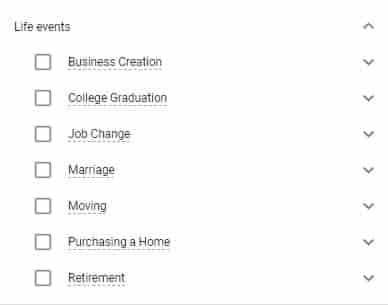 Who can use it?
If you have a business particularly related to any one of those life event categories, it is a better option for you than Affinity audiences.
To use it, your business strategy should be to raise brand awareness and to bring new customers to increase your low of the funnel leads. Also, it is not for converting customers, at least in a short period of time.
As the audience is not targeted, it is not for small businesses who want to spend their money as efficiently as possible.
Detailed demographics
One of the broadest audience types configured by Google ads is Detailed demographics.
Everyone can be included in this list regardless of their interests and habits. It just targets people with specific life facts.
It has 4 categories:
Parental status
Marital status
Education
Homeownership status
Each one of the sub-categories of those categories can receive 10B+ impressions easily.
Who can use it?
It is best for businesses with large marketing funds who consider using it to spread the word as fast as possible. So, the main purpose of this targeting method is not conversion, but for brand awareness or preparing the website visitors to the low of the funnel conversions.
I think this is not at all for businesses with a small marketing budget if they don't narrow their reach through other ways.
In-market audiences
In-market audiences are a group of people who are actively researching about your products or services and they showed a purchase intent that is pre-qualified by Google.
It is a middle-of-funnel targeting approach. That means you might consider it for both brand recognition and converting customers.
This method is more targeted than the three given above and you can find more categories and sub-categories that may include the audiences of most niche businesses (here is the list of all in-market audiences).
For example, if we go to Batteries section of Consumer Electronics category, it can receive approximately 1.3B weekly impressions.
Who can use it?
Any type of business can use in-market audiences.
If you are a big business or have a big marketing budget, it can spread your name slower than other broad audience types (e.g. Affinity, Life events, Detailed demographics). But, your ads will reach people who are more interested in what you are offering.
If you have a small and newly established business, you can use in-market audiences temporarily to acquire new customers and in turn, increase the size of your remarketing or customer match list. But, in the long term, there are much better options for you than this method.
Custom audiences
If you want to create your own audiences specific to your business, custom audiences are the way to go. Learn more about them here.
With this method, making your ads too targeted or broad is in your hands.
When you take a targeted approach, you can narrow your reach to a certain degree, but you may not be able to achieve efficiency like remarketing and similar audiences.
Note: The estimations of impressions provided by Google on the right side of your screen are not accurate or sometimes may not make sense at all.
Who can use it?
Custom audiences can be suitable for all kinds of businesses with different kinds of strategies.
Whether you want to use them to increase conversions, expand your reach or simply drive visitors to your website to grow the list of existing users.
Most small businesses use it to increase the number of visitors to their website to be able to use remarketing.
Remarketing
Remarketing is a way to target back your existing website visitors by showing your ads across different Google platforms or Google's partner websites.
Currently, it is one of the most efficient ways of advertising available for advertisers. But, it has some downsides too.
There are several types of remarketing available from simple to advanced, which require some coding knowledge to implement them to your campaigns.
Who can use it?
Businesses with a large advertising budget can use it along with all other audience types.
For example, a company that targets elementary school children can choose a sub-category of Parents of Grade Schoolers (6-12 years) from Detailed demographics category, then may run remarketing campaigns to covert previous site visitors.
Likewise, it is very useful for small businesses when they don't have too much ad budget, therefore they need to spend it wisely.
Keep in mind though, if you are a brand new business you cannot run only this targeting method because your remarketing list is going to be empty and you cannot run ads.
For more information about remarketing strategy, check out my other articles.
Customer Match
Not every business can be eligible to use customer match audience type. You need to have more than USD 50 000 lifetime spend to be able to use it. (Check out the customer match policy)
Customer match allows you to retarget your audience with online and offline data (like Email, Name, Phone number) that you take when they fill out a form online or share those data in the offline world.
It has also a high conversion rate like remarketing because your ads reach people who have previously been interested in what you are offering.
Who can use it?
Customer match is best for businesses who want to focus more on conversions rather than reaching more people.
This targeting method is mostly used by businesses that have a customer base.
So, new businesses need to target higher funnel audience types initially, then slowly incorporate customer match to their campaigns after they have gained some data.
Similar audiences
Out of all the audience types, which are specific to your website or business, the easiest one to create is similar audiences.
Once you create your remarketing list, after some time you see a similar audience of that list is created automatically.
Similar audiences are groups of people similar to your existing remarketing or customer match lists automatically generated by Google ads to increase the number of new visitors to your website.
Who can use it?
This audience type is best for businesses who are looking for new but relevant visitors to their website.
However, the number of new visitors generated by similar audiences may not be too high compared to other broad audience targeting methods (e.g. Affinity, Detailed demographics).
Therefore, fast-growing businesses with a higher budget need to combine remarketing (or customer match if eligible), similar audiences, and other broader audience targeting strategies to ensure they grow their customer base steadily without relying only on limited similar audiences.
But, well-established companies or even companies with small advertising budgets can only run remarketing and similar audiences, because their business strategies don't require growing the number of new customers rapidly like growing and newly established businesses.
Conclusion
Every audience type can serve you in a different way depending on what you want to focus on. Based on your business strategy, you choose what works best for you in a given situation.
I hope this article could give you enough explanation of when is the best time to implement each targeting method for your campaigns.
If you have any other questions, let me know in the comments section below.
Which audience targeting method you are planning to use? In-market or Similar?
For any help for your Google ads account management, you can contact me through the Contact page.