Quality Score vs Optimization Score in Google Ads (Differences)
When it comes to mastering the PPC, understanding Quality score vs Optimization score in Google Ads is among a few must-haves. Every PPC expert out there knows that Quality Score has a major influence on the cost and effectiveness of any paid search campaign.
Let's keep it simple by saying that a low-quality score will do no good for your campaign.
For Example: Just like your bank credit score defines if you qualify for a loan or not, Good Quality Score will explain how your PPC ad will perform. It will also clarify how much you will be paying for each click on your Google Ads.
In other words, Quality Score helps you rank your ad on Google – Efficiently! And that does make a difference.
Quality score and Optimization score in Google Ads – Understanding the Two
When we speak of digital marketing, the success or failure of any Ad campaign depends on your understanding the campaign structure, your preferences and business goals.
Therefore, we need to understand how these two metrics can help us to measure our performance and based on that improve it for the better.
1) What is Quality Score!
Quality Score is the ranking/rating you will get for the quality and relevance of your PPC Ads and keywords used. It also determines the Cost Per Click (CPC) on a specific advertisement.
Quality score is measured based on the collective performance of three components:
The expected CTR (Click-Through Rate): It is Google's estimation of the rate at which the Ad viewing audience will click through: From Ads- To your Landing Page.

The relevance of your ad: How accurately the information in the ad matches the intent behind the user's search.

The Landing Page Experience: It about the relevance and value of your landing page content for users who clicked the ad.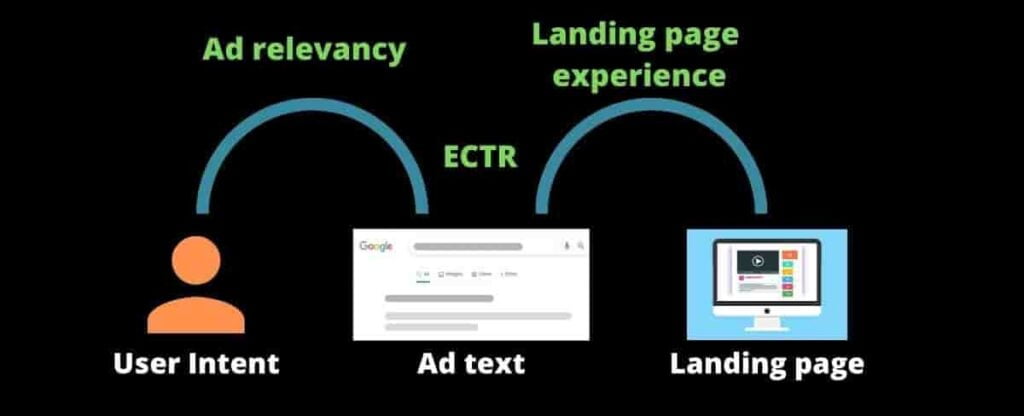 Tip: A good landing page contains images and content that is informative enough to educate and assist the visitors.
Note that if more users are clicking on your Ads, Google will interpret that Ad as highly relevant and helpful to the audience.
In such cases, Google will reward you with the following:
Lower Costs per click
Higher ranking in Google Search results
Note:
Quality Score is a diagnostic tool that identifies how the keywords for specific ads improves the user experience.

Quality Score is not a KPI (Key Performance Indicator) and must not be combined or optimized with the rest of the Ad data.
2) What is Optimization Score
An optimization score is an estimation of how well your Google Ad account can perform – on the whole. This score runs from zero to a hundred percent. Here 100% means that your Google Ads Account can perform at its full potential.
Besides the score, the Google Optimization score results provide recommendations to optimize each of the running Ad campaigns. Each of these recommendation scores comes with its impact in percentage.
Another point to note is that the optimization score is only available for Display, Search, Video and Shopping ad campaigns.
Moreover, the optimization score is calculated in real-time and is based on the settings, statistics and the status of your Google ads account as well as active Ad campaigns.
Additionally, the recommendations history is also considered for analysis.
Difference between Quality score vs Optimization score
By characteristic, a Quality Score is an analytical tool designed to understand how good your Ad Quality is compared to your competitors' ads or the ads in its industry.
Whereas, the optimization score provides a view of your Google Ad Account Health and gives recommendations on what might be missing and what to improve.
Utilization of Quality and Optimization Score
As of now, you should have a clear understanding of what role Quality and Optimization Score have to play in the overall performance of your Google Ad Campaign; now, the question is "how to use the two for better ROI?"
Using Quality Score for Better Ad Performance
A Quality Score is an important tool for improving your Ads, landing pages, or keywords. It will not be wrong to say that Quality Score is an indicator of areas you must focus on in order to improve overall Ad Quality.
Here are the top three ways you can use to improve the Quality Score for better-performing Ad campaigns.
Review Quality Score Components: Here, you might need to review the three basic components of Quality Score: Expected CTR, Ad relevance and Landing page experience. Reviewing these components will help you decide if you need to update the Ad text, selected keywords, or landing page experience and content. You can see the status as "Above Average", "Average", or "Below Average." Ensure that each segment is performing above average.
Relevance of Keywords: Ensure the Ads are relevant to the targeted keywords. If your Ad relevance is average or below average try matching the language of your Ad text with the user search terms. You can also look for Ad groups with different target keywords and keep them in a separate tightly themed ad groups to increase the quality of your ads.
Tip: Try grouping the keywords into themes – It will increase the relevance. These themes can be relevant to the services, products, or other categories you work in.
Example: If you are selling jewelry items with an Ad specific to "rings", the keyword groups can include: "wedding bands" or "engagement rings."
Improve CTR: The expected CTR indicate how likely people will click the ad. You can improve it by writing compelling ad text or ensuring that the ad details match the intent of focused keywords. Try to be specific with different calls to action like Order, Buy, Sign-up or Get Quote.
Example: Let's say you are selling branded dresses – You can add phrases like "matching belts with first-order" or "free custom fit". Such phrases will develop visitor's interest to invest in quality products with additional perks.
Bargain or discount messages will get you more clicks, but it does not guarantee loyal and long-term customers.
Using Optimization Score for Better Ad Performance
Although both Quality Score and Optimization score work hand in hand, you will need to adopt different strategies to improve both scores for better Ad results.
The Optimization score is calculated based on how well your Google Ad Account is set up for performance. Once again, it gives account-specific recommendations for designing a successful campaign. Here are some of the ways you can improve your Optimization Score in Google ads.
Follow recommendations matching your business goals: First of all, check recommendations regularly. Always dismiss recommendations that do not match your business goals or needs. Otherwise, they will keep popping up. If you want to apply them all, you can apply them in bulk. Here you can take advantage of Apply All option.
Diligence: When it comes to digital marketing, you need to stay up to date about everything from Google algorithm to your campaign status. Always check for the latest statistics on your running campaigns and make changes as recommended. It is also a great idea to regularly check the Optimization Score at levels that are relevant to your business goals.
Focus on your priorities: You can use the Google Ads Editor to quickly implement the recommendations and improve performance of your ad.
Do You Know! The Google Ad Editor organizes recommendations under five sections: ads and extensions; automated campaigns; keywords and targeting; bidding and budget; and repairs.
Conclusion!
The optimization Score is a relatively new feature designed to evaluate the performance of search campaign setup. It aims to ease the process and performance tracking of online advertisements.
However, at the moment, this feature can be tedious and confusing to work on. Plus, things can go out of hand if you are not aware of the tech updates.
However, with efficient working, both Quality and Optimization Scores can help you enhance the advertisement process. The best part is that it is a free service and is always available on your account.
So, take your time out now to learn how you can improve your campaign score, efficiently manage the account and apply relevant recommendations to meet your specific business goals.
You can do that by focusing on better marketing strategies while filtering the recommendations and focusing on the search intent. Believe it or not, it will have an impressive impact on your site traffic while you sit back and enjoy that smoking cup of coffee.
If you need a help in your Google ads account management, you can reach me out through contact page.