How Much Google Ads Certification Cost and Is It Worth It? [New Guide]
Imagine, a stranger came to your business for a consultation.
She has a big budget to spend on Google ads.
After a little consideration, she decides to leave and gives all her money to a PPC expert who manages her neighbor's account.
Why she didn't choose your business?
That is because she doesn't know you.
Your business might not have enough reasons to convince her.
She might as well go to a person, whom she knows and trusts little better than you.
In this kind of situation, you need some kind of credibility.
For an individual or an agency to be known as a PPC expert in Google advertising, Google Ads certification offers some authority and credibility to show their expertise.
Today we are going to see how much google ads certification costs and is it even worth your time and money.
We talk about both individual and company ad certificates.
If you want to skip to the main part immediately, you can do so by clicking the table of contents.
Otherwise, let's briefly talk about the types of Google ad certificates.
Types of Certificates
According to your specialty, there are different kinds of certificates to apply for.
Google removed the Fundamentals of Google ads certificate, which you had to take the exam before.
Now, it has the following 6 types of certifications:
Google ads search
Google ads display
Google ads video
Shopping ads
Google ads app
Google ads measurement
To get them you need to pass an exam taken by Skillshop, which is a Google training platform.
How Much Google Ads Certification Cost for Individuals?
Before each certification used to cost 50$ for each exam.
However, from September 2013 it has started to be free of charge to take an exam.
You can also re-take your exam several times, if you fail, after 7 days.
Ad certification expires after one year. So, you need to renew it every year.
One of the updates so far is, Google launched the Academy for Ads where you can learn different skills and earn certificates free of charge.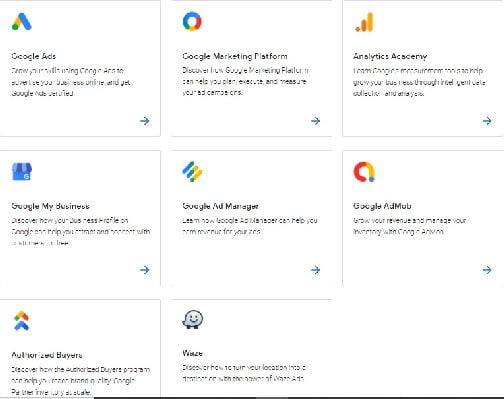 I personally applied to see it myself. For Google ads Search certification.
It started with the Knowledge Check Assessment. (Required part)
Next, Google Ads Search Assessment.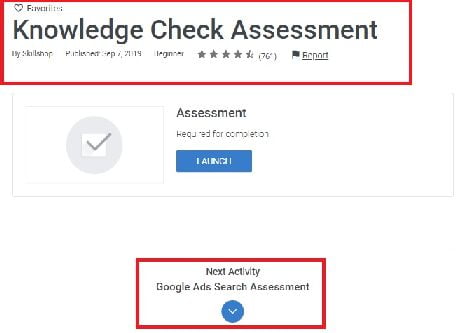 It has some basic stuff and advanced jargon that may be hard to know if you are a beginner in this field.
However, most of the resources do not have to be implemented in your business, if you just want to learn it for yourself.
However, if you are a PPC expert or want to be one, then there are many useful resources that you don't want to miss.
Many people think that even if you take your certificate you are not considered a good PPC expert yet. Because so much of this knowledge is impractical.
However, considering it is completely free and the amount of knowledge you may get about features of advertising tools and some basic knowledge of Google ads while learning, it is worth taking your time in the beginner stage.
Google Partner Badge Certification Cost for Companies
Partner Badge Certificate
According to Google, This certificate, which your company earns has certain requirements.
One of your affiliated staff in your company should be google ads certified. She should have an admin or standard access to your company advertising account.
Your company should have a steady ad revenue growth.
Your client's ads account should be linked to your managed account for at least 18 months. Out of that 18 months, you should have an active ad spend for 12 months.
Within 90 days, your company managed account should spend at least $10 000 USD on Google ads. This much money is needed to show that, your company has spent enough money on tests and gained valuable expertise in advertising.
Keep in mind that these requirements are valid until the year 2021.
In the year 2021, Google is planning to update its certification requirements.
Here are the main points:
Meeting the performance required to run the ad campaigns.
Partners are not required to meet a 100 percent optimization score. 70 percent threshold will be enough to pass.
90 day minimum ad spend should be $20 000 USD in your managed accounts, to show that your company has spent enough money to test and gain expertise.
50 percent of your company staff should have an updated Skillshop certificate.
Premier Partner Badge Certificate

Premier partner badge certificate holders are better versions of partner badge certified institutions. Its requirements are a little higher.
Having a good business performance and bringing solid revenue from advertising
Meet a higher ad spend requirement
2 or more people working for the company should have admin or standard access to the ad managing account of the company. They also should be Google ads certified.
Premier partner badge in 2021 is expected to have different requirements as well.
Firstly, companies need to earn a new partner badge.
Then, they should be within the top 3 percent of all the partner certificate holders.
This selection process is done considering different factors when companies managing their ads accounts.
Now, if your company happens to be within that group, you can receive more leads through Google Partners List which is available online.
Is An Ads Certificate Worth It?
Certification for Individuals
Let's start with the one for individuals.
As we all know without saying, Google is dominant in the online advertising world.
Accounting for a whopping 73.1 percent of search advertising.
We are talking about the certificate given by that company.
Rather than getting it for a fee from other institutions, which are known to a few people, you can get a professionally accredited certificate, offered by Google at no cost.
It is free; it is reputable and is the best way to work for any reputable advertising agency.
Also, Google can provide you with the necessary resources through its learning center and YouTube channel.
Probably you know their prices as well, Right?
Partner Badge Certificate
Although it is specialized for agencies, any individual opens up a google PPC account and start to be a google partner, if he meets the requirements.
To get a Partner badge certificate for companies, currently, you should have an ad spend of $10 000 USD for three months which is little more than $3 000 USD every month.
This number is expected to grow in 2021 by two times, around $6 500 USD / month, for three months.
For many companies, this much amount of money to manage is pretty hard.
Especially for new ones, within that short period.
They may even spend that much money within 2 to 3 years at the initial stage of the business.
For most agencies, that itself would be enough to get a very good track record (history of accomplishments) to attract other businesses to manage their ads account.
Rather than spending that money within 3 months in a riskier way to get a Google certificate, they may spend it wisely in 2 to 3 years.
After all, every potential customer first asks for a track record of PPC management, before handing their money to a stranger.
Therefore, our conclusion for small businesses, getting a certificate most likely doesn't worth it at the initial stage of a business.
Of course, not all advertising agencies are the same.
Some Pay-per-Click (PPC) agencies are capable of handling millions of dollars managed in their ads accounts every month.
For them, a Partner badge certificate even for $20 000 USD is worth it.
You may think why they need it if they already have thousands of clients.
Here is why.
First of all, Google has a list of certified partners on Google Marketing Platform Partners.
You can find partners by Location, Product Types, and by their names.
There are not many options to choose from.
Google has global partners of around 600 only.
So, there is a big market for a limited number of companies to manage the ad accounts.
If the company is a Premier Badge Certificate holder then, it can receive even more leads.
Your agency may get a Badge titled Google Partner, which they can show everywhere like YouTube videos, blogs, etc.
Even if the certificate won't bring you any profit, you won't lose absolutely anything.
Your company anyway spends that $10 000 USD or more for advertising whether it applies for the certificate or not.
It can just apply for it while operating as usual.
From those examples for bigger agencies, we can conclude that being certified as a Google partner is worth it.
Conclusion
I think by now you have an idea about the costs of Google ad certificates.
To know about the cost of Google ads itself make sure to check out this article.
Depending on your position in the digital advertising journey, you can decide whether it is worth your time and money.
For individuals, Google ads certification is probably worth it if you are a beginner, considering its price.
If you are an experienced PPC specialist, you can learn about the latest updates of Google.
As you need to renew them every year, If something new comes out, Google is the first one to update about its products.
For companies, if it's a new or small one, it's a little hard to get a certificate at the initial stage of their business.
It is mostly not recommended and risky.
They may get this once they increase their ads spend and built their track records.
For bigger businesses, it might be one of those elements that can increase their revenue instantly.
Or at least it won't hurt them.
Now, what are your thoughts?
Let me know in the comments section below…