Dynamic Search Ads Example for Ad Campaigns [With Pictures]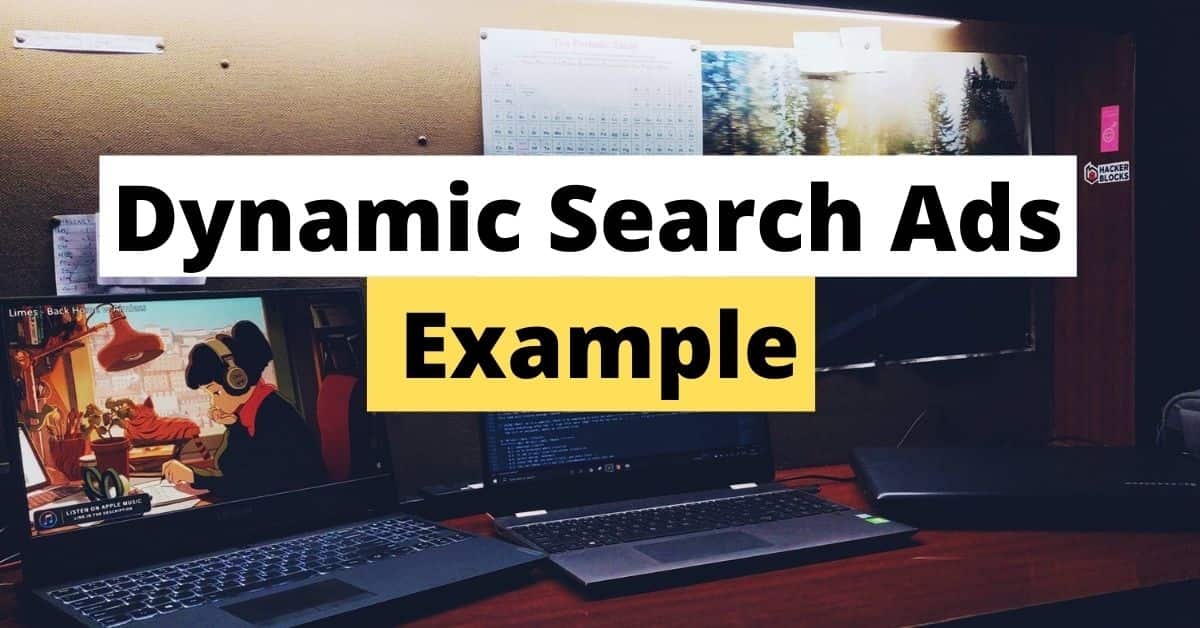 Do you want to spend less time and automate your ad creation process?
How about finding keywords that convert well without making keyword research?
Well, there is a way to do that.
By using Dynamic search ads (DSA), you can achieve those benefits and even more…
In this article, we are going to show you examples of how DSA may look like, what possibilities it has, how to create and optimize your campaigns.
If you can implement those strategies smartly in your ad campaigns, it can be a powerful tool that can boost your ROI.
Let's get started.
What are Dynamic Search ads
How it works
After a user makes a search query that is closely related to your content, it generates ads by bringing up the most relevant results from the content of your website.
Those keywords in your content don't have to be the exact match keywords.
If Google ads find your content relevant and similar to the search query, it may bring up your ad to the paid results.
Structure of the DSA
Dynamic search ads on the google page can have a headline, a display URL, and description one and two.
The other part that you don't see is, dynamically generated landing page (final URL), which can be seen after clicking the ad.
The display URL and Headline of the Ad are dynamically generated by Google ads.
You can only write the descriptions of the ad.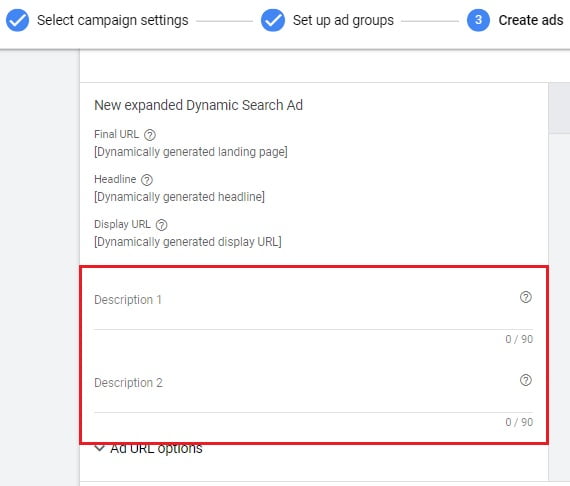 Why DSA is different from other advertising methods?
With Responsive Search Ads and Expanded text ads, you are responsible for doing your own research and you will have a limited number of keywords in your keyword list, which might or might not be relevant for the searcher intent.
DSA, on the other hand, is a unique way of generating keyword ideas, which otherwise wouldn't be available through Responsive Search Ads and Expanded Text ads.
Those two are coming from your own keyword research, but DSA keywords come from Google ads based on visitor behavior.
Why we need them
With any type of ad, you need to create keywords relevant to your target audience.
Which, you are not always capable of doing.
According to Google ads, 15 percent of searches done on Google.com are brand new every day.
That means, there may be a new type of keyword opportunities coming out every day that you might be missing.
To fill those gaps, you need some kind of automation to make keyword research easy for you.
Or else you wouldn't be able to handle the information overload, right?
Over time, if things change and searchers' behavior changes towards certain industries, your relevant keywords may no longer be relevant to your business.
Therefore, you should have a separate ad campaign running to find new keyword ideas in order to keep your business performance stable.
Dynamic Search Ads example
Let's see those with examples;
We have chosen four different websites to give you an illustration of how it works.
The E-commerce website, that sells shoes.
Affiliate website that sells digital products.
Hair transplant business
Dynamically generated Headlines
As we have talked about earlier, this type of advertising campaign generates your Ad Title.
Ok, you may ask how it is possible.
First, it crawls your web pages, and based on the search query it may bring the most relevant keywords.
Also, keywords don't have to be the exact match.
There are two potential scenarios to make keywords:
First, you make a list of keywords yourself by expanded text ads or responsive search ads.
Second, there are some keywords that you didn't even know that could attract customers.
Which we can do it with the help of DSA advertising.
Let's see it with some examples.
E-commerce website Here in the example, we searched for "best running shoes LA".
And we have in the ad titled "Best Running Shoes 2020".
Their landing page and title may not include the exact match keyword of "best running shoes", but it is similar to what we are searching for.
The next one is the Affiliate website. Once we searched for "best domain provider", it is showing up "Email Hosting-Best Providers to Try in 2020".

It has no mentioning of the word "domain" in the headline, display URL, and description.
It is coming from the Landing page where it lists the hosting and domain providers.
Local Fast food delivery service. This time it has nowhere mentioned the exact match keyword on their Landing page.
But the keywords are coming individually as "Food", "Delivery" on their landing page.
When we searched for "fast food delivery LA", it brought us results that were closely related to what we were searching for.
Now coming next, Healthcare industry.
The search query is "hair transplant surgery cost in Canada" and the result is as you can see not exactly the same.
They do not have any mention of that keyword on their landing page.
The title is just closely related to our keyword.
Dynamically Generated Display URLs
With DSA ad type, we can let our pages to be crawled and chosen as a display URL when necessary.
Your display URL is taken from the final URL. It means it is part of the final URL.
If the final URL is example.com/sport/shoes/, your display URL may be shown as example.com.
This URL can include your specific category name, specific webpage name, or All webpage.
Here is one important note here.
If your website doesn't have a lot of content or webpages, you can target the exact URLs when creating the DSA.
Now, let's see how dynamically generated display URLs may look like.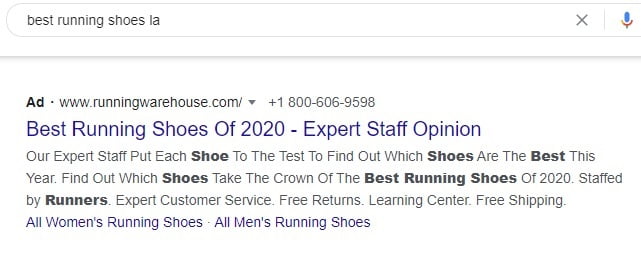 Here is the DSA display URL that can be the same as the homepage URL.
But once they hit the final URL, they can see a different result.
That we can see in the next Dynamic Final URL paragraph.
Here we can see the URL has a domain name, a category section, and a post name.
Local Fast Food Delivery Service
Exact URL can be used, if the business has a much smaller website.
Here in the picture, the domain name can be used as an exact URL.
Once the visitor clicks the paid ad, it can be directed to the homepage.
Because their call to actions can only be found on their homepage.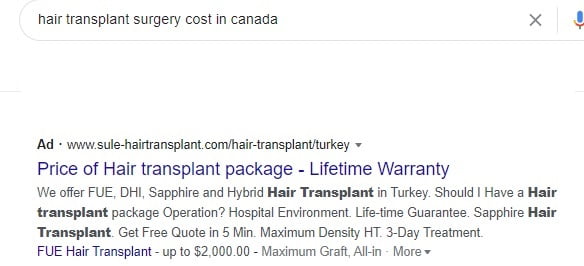 Here, in the above picture, we can see that the search query, "hair transplant "can also be found in the display URL section.
Google ads can create ads based on the look of the page's URL.
If they look the same, it can bring up those pages to the paid search results.
Dynamically Generated Landing Pages (Final URLs)
Landing pages are generated dynamically based on user behavior like time, location, and the type of keywords they are using.
If you are located in New York, the search query "best running shoes LA" may not bring up this result.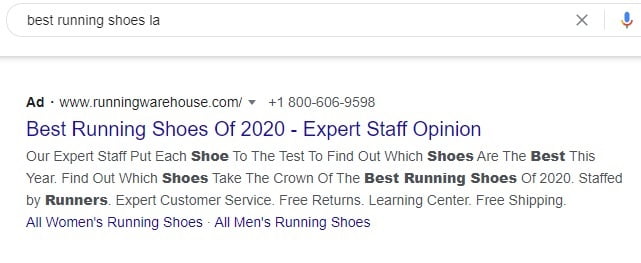 Even if you are using related or the exact keyword, this paid ad by runningwarehouse.com is not relevant for your location.
Now, part of the final URL is relevant to our search query.
There was no exact match keyword on the landing page. It was still showing up as a relevant result.
A user is searching at 6-00 am in the morning "Fast Food Delivery LA".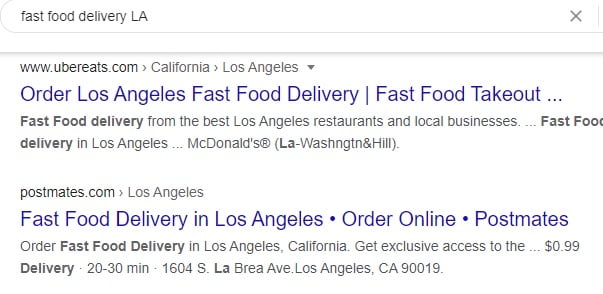 Instead, he just sees organic results because all the advertisers' ad work at certain times of the day.
Landing pages can also change depending on you are a customer or not.

If you are a first-time visitor then you can see a phone number next to the headline.
If you are already a customer, there may be other calls to action like "Take a Survey".
Disclaimer
Keep in mind though, even if we can not see their google ads account in the above examples, we are making a guess which kind of search ads they might be using. Or at least those search results can also be the results of dynamic search ads. We might be right or we might be wrong.
Translating keywords
Now, expanding your business overseas and translating your keywords to other languages are much easier with DSA.
You don't have to translate keywords manually.
Google ads can do it for you.
Just start a new DSA campaign.
Choose the language that your customers can speak.
It can immediately translate keywords into a new language by taking information from your website's content.
What you can add yourself?
If DSA seems like doing all the ad generation process itself, can you control any part of your advertisement?
Well, you can.
You can write your description lines.
However, as you can see, you have a very limited ability to affect the overall ad creation process.
Therefore, you should pay close attention to the description writing process.
Your descriptions should match with any one of the final URLs, headlines, and display URLs.
Final URLs, headlines, and display URLs can come in many combinations, but there will be the same description lines every time.
They come in all of your ads.
Also, both descriptions can come individually depending on the screen size of the devices of your visitors.
Considering all of those factors, we can conclude that your descriptions should give all the benefits of your products in a few lines.
Targeting Options
Targeting options in DSA ads can be divided into three groups.
Category
Your website content can be categorized by google ads according to the product types.
Targeting specific webpages
You can target certain pages by their exact URL or Creating rules to target a webpage.
Like, URL, Page content, or Page title should contain certain words that you think important.
Here we want the word "keyword research" to be in the URL section.
All webpages
In order to choose this option, you should be confident enough that all your webpages can convert customers without wasting your advertising money.
That means all your webpages should contain a call to action.
You don't want your DSA to show your Privacy Policy or Terms of Conditions page.
All webpages option is useful for big websites with a big inventory. Because they don't want to manually enter URLs of thousands of pages to target.
With a click of a button, it can be done for them by automation.
How to Create DSA campaigns
Let's briefly talk about how to create an ad campaign.
Open your Google ads account
Start a new campaign (Plus button)


Click Sales option, then Search
Click the website visits and enter your domain name
Then, Continue
Name your campaign
Uncheck the Display Network option (because we are using search network type of ads)
Right below those network types, you can see the drop-down option written as "Show more settings", click that
Choose Dynamic Search Ads Setting, then enter your domain name
Choose your target location
Choose the language of your customers
Enter your Budget
In the Bidding section, you can either focus on Clicks or Conversion
You can set maximum limits for bids
Then, Save and continue
Name your ad group
You can choose which categories to target if it is shown. (If it is not shown, probably your website is not that big)
Or you can target specific pages by their URL using the "Use exact URLs" option
Or you may want your certain URLs, page contents or page titles should contain certain words by the "Create rules to target webpage" option
If all of your webpages have a call to action or it is a very big website you can choose the "All webpages" option
Then, Save and continue
Now, all you can do is, writing your descriptions that make sense with all the generated Final URLs, Headlines, and Display URLs
In the above example, we have descriptions that can match with any Google ads generated content.
Add your conversion tracking set up to track your sales
Now, Save and Submit for Review

Creating multiple DSA campaigns
We need to create at least three dynamic search ads for each of the ad groups to choose the best performing ad.
When creating other DSA ads, you can use your first ad as a template.
Then, you can duplicate your first ad and make your changes to other ads.

Optimizing your campaigns
While it can help you to find relevant keywords and save a lot of time, it has some downsides if you won't optimize your campaigns.
Here are some tweaks that you can do before starting your DSA campaign.
Organize your content
Even If you don't have a lot of content on your website but your website is not organized properly by category, your results can be inaccurate.
It happens when your category and your landing page don't match each other.
For example, "Sports" categories may not match the "Luxury Watches" landing page.
So, "Luxury Watches" shouldn't be under the category of "Sports".
It may seem obvious, but many people make these simple mistakes.
Even if your website has a big inventory of products, but clean and organized, it is fairly easy to generate relevant ads for it.
Use Negative Keywords
Even though you cannot control your keywords when it comes to DSA campaigns, you can create some exclusions to avoid targeting unrelated products and services.
To add your negative keywords:
Sign in to your Google ads account
From the left sidebar click Keywords
Choose Negative Keywords
Now, you can create a new keyword list or use an existing one

Once, you create your list
You can allocate them either to specific campaigns or ad groups
Add as many negative keywords as possible in order to achieve a higher return on ad spend (ROAS).
Call to action needed for every landing page
All of your webpages, which you are targeting, should have at least one call to action or else remove them.
After all, if a customer visits your page, you should direct them to a page that can convert customers.
Remove the pages that give general information, talks about the company's policy, etc. from the ad target list.
Conclusion
Finally, that's the end of the article.
I think by now you have a pretty good understanding of using DSA in your ad campaigns.
However, you should keep in mind though; it can't be used on its own.
It should be used alongside the RSA and expanded text ads in order to complete your ad keyword list that you might be missing without it.
When implementing them together, you can find the best performing keywords and ads.
Overtime by analyzing those results, you can hone in your ad creation process.
You can even achieve it faster because you would be using more data.
Now, go and create your first ad.
Before you go, what do you think about this article?
Let me know in the comments section below…
If you need any help in the ad creation process, you can contact our ad agency through the contact us page…