Using Google Ads for Flight Booking (For Best Results)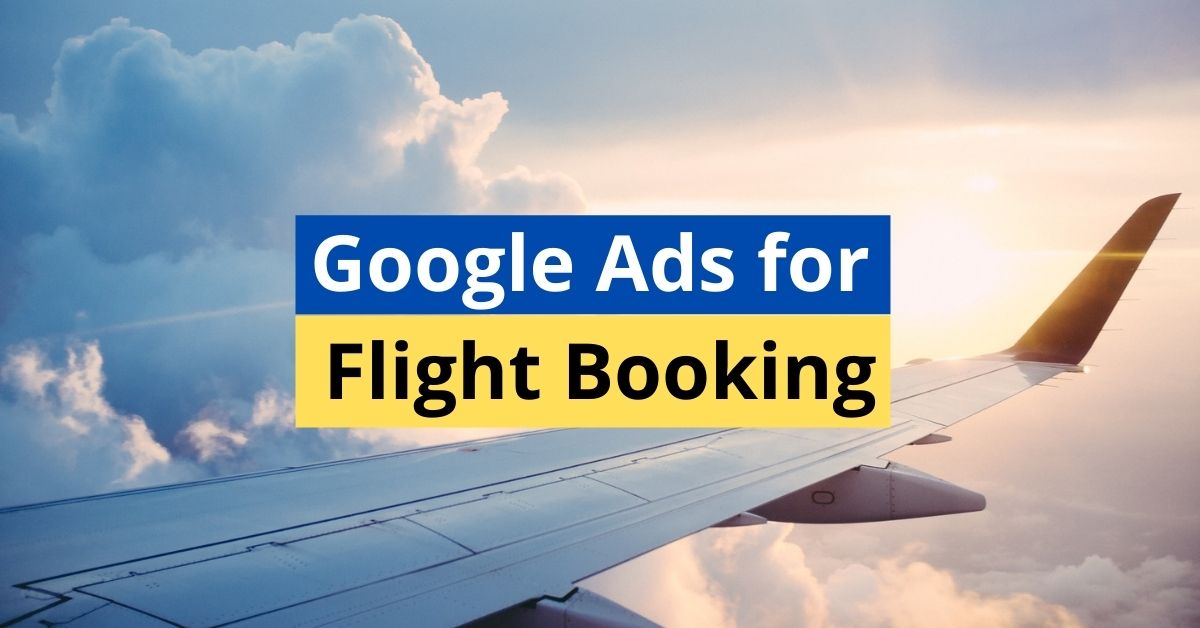 Google Ads is the airport from where all marketing flights take off. It's versatile, systematic, and delivers visible results.
Google Ads can offer the perfect leverage for new websites to succeed. Google serves as the perfect ad platform as long as you adhere to its ad policies.
So, it seems to be an automatic choice when you want to launch a new flight booking website.
Besides, things are gradually looking up for the travel industry after the pandemic slump. Let's have a look at the numbers. The global market size of the travel sector stood at 1,868.5 billion USD in 2019. 2020 saw a major downfall due to the pandemic. The market reduced to 1,094.8 billion USD.
Nevertheless, the industry somewhat recovered in 2021. It registered businesses worth 1,311.1 billion USD. The flight booking sub-niche is a major segment of the tourism market.
Let's see how you can use Google Ads to succeed in this dynamic sector.
The flight booking niche is highly competitive
It's a highly competitive segment. Just type a booking query in Google, and see! For example, placing a query for 'New York to Texas flight' immediately shows up top booking service providers.
These are reputed names such as Expedia and MakeMyTrip. Beating them in the SEO competition is a tough call. So, you need to rely on Google Ads to get your flight booking website on the radar.
Our research showed up a few ad results. Only one of these ads appeared on top of the SERP. Others appeared beneath the organic results.
So, it is evident that Google considers it better business to promote the traditional sites on its SERP.
Again, here's an interesting observation. None of the ads seemed to follow the traditional approach. They were innovative, offering something extra over the usual offer of flight booking.
For example, one ad showed up results for chartered flights. Another claimed to provide flight credits, and so on.
Running both SEO and ad campaigns
We suggest you coordinate both SEO and ad campaigns. However, if you are new to the game, don't expect organic results fast. An ad campaign would be faster.
But, its visibility depends on a lot of factors. Besides, the Google Ads system can be difficult to figure out at first. So, they push new marketers to take up the smart mode.
This mode does not take much time to set up as Google commits to do all the groundwork. However, you also forfeit your control over most campaign parameters, including ad spend.
So, experts always recommend that you choose the 'expert mode' on the campaign goals setup page.
Take your time to understand the details of setting up campaigns, goals, and ad types. Although you have to scale a steep learning curve at the start, you are better off in the long run.
Fraudulent practices in the flight booking niche
Point to note: the search engine giant forbids malpractices in its ad platform. The flight booking sector has had several instances of account suspension.
There have been reports of fake call centers running cheap flight ticket scams. Every air traveler wants cheaper ticket deals on flights. So, the frauds capitalize on this sentiment.
They present lucrative offers to coax out your financial information. You set to lose much more than the fare charge! The consequences of ad malpractices might be severe.
You may be put up for a compliance review or have your remarketing list as invalid.
At the worst, advertisers may have to deal with a temporary or permanent account suspension. Therefore, if you are looking forward to circumvent ad policies for a quick flight booking con, don't do it.
Best ad campaigns for flight booking
Google presents several ad types. Advertisers can pick the appropriate ad type based on the campaign format selected.
Ad types include:
Search ads
Shopping ads
Video ads
Display ads
App ads
Call-only ads
So, which is the best format for flight booking? We recommend using search ad campaigns. These text-based ads mimic the format of organic SEO results.
However, you must focus on creating an attractive ad copy. Present an interesting offer that compels users to prefer your ad over the competition.
Video ads are also quite popular in the travel booking segment. Google displays these mainly on YouTube. You can also try display ads. These are banners visible on the Google Display Network.
Advertisers may want to promote a flight booking app on the PlayStore. Then, you need to try the app ads.
You might operate a travel booking service that insists on taking calls. In that event, consider the call-only format for mobile devices.
Best keyword strategy for flight booking ads
You need to formulate an effective keyword strategy, especially for search ads. Focus on the keywords that drive most of the traffic in this segment.
Examples include 'cheap flight booking', 'budget airlines', 'low flight fare' etc. Also, use the match type feature in Google Ads. This feature instructs Google when to display the ad depending on the meaning implied in the search query.
Also, you must set up a list of negative keywords. These are those that will not generate an ad response.
Have a good landing page for the flight booking site
The success of a flight booking website depends on how useful it is. You must have a good landing page. More than its aesthetics, you need to rely on its usefulness.
However, neglecting the aesthetic part may lower your quality score in Google Ads. So, it is necessary to strike a balance and have a good landing page that users will bookmark.
Retargeting campaigns on Google Ads for flight booking
A flight booking website must rely heavily on retargeting. This means that you must place relevant display ads in the user's browsing history based on his previous interest in your service. People usually take time to compare fares from different sites to get the best deal.
So, once a user visits your ad or landing page with an intent to book, but does not proceed with it, you can track him via Google Ads retargeting cookies. This increases your chance to convert the active intent to a sales figure.
Conclusion
Google Ads for flight booking can be a feasible option. However, you need to consider several key aspects.
These include niche competition, keyword strategy, unique deals, and retargeting. Also, you must have a good and reliable landing page that can drive sales.
As always, if you need any help with Google ads management, you can contact me through contact page:)