Google Ads without a Campaign (Is it Possible?)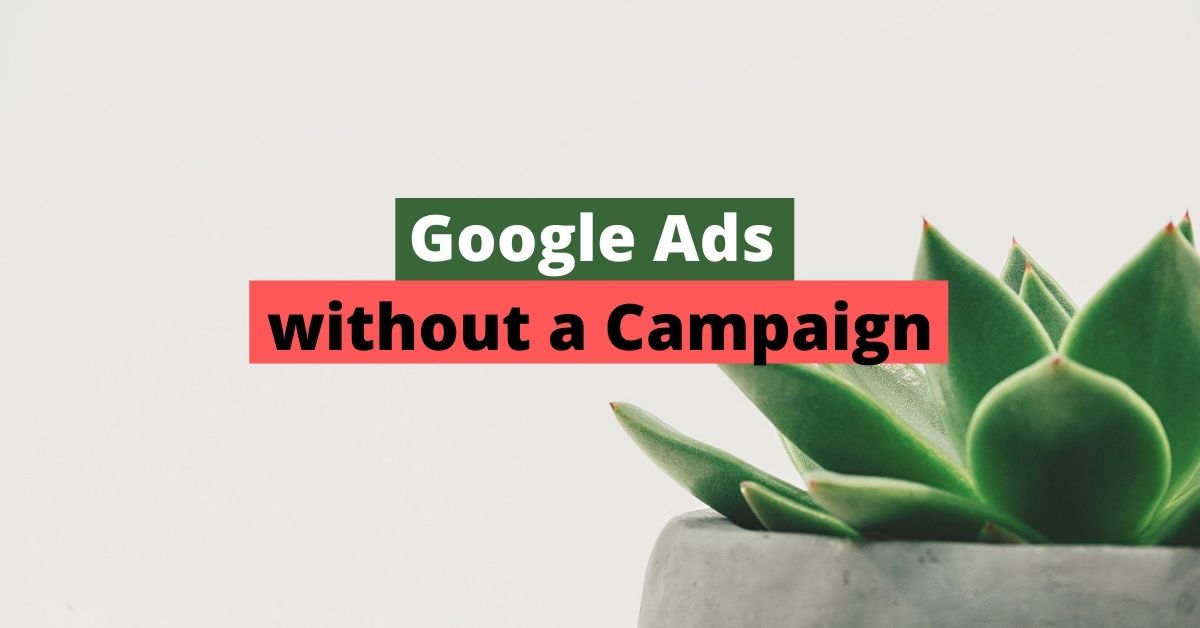 For most people, Google is the de facto default choice for browsing the internet.
The search engine giant also doubles as the largest online ad platform! Facebook Ads is a close competitor, but at the end of the day, almost everyone needs Google.
Online businesses continue to grow by leaps and bounds, and so does the potential of Google Ads. Its outreach is amazing, covering both online and offline businesses.
It is quite easy to promote one's physical store with address and phone number on Google My Business. You can do this even if you don't have a website.
Google Ads can be confusing for first-timers. The learning curve usually takes up to two to three months. You might end up spending a few hundred without much success before figuring out how it works.
So, save yourself the trouble and expense, and check out this blog before you start.
Let's cover a very important point here. How can you use Google Ads without creating a campaign?
Access Google Ads
Head over to the Google Ads page to start your account. You will need a valid email to access the Google Ads account.
Up to this point, you need not pay anything. It's easier if you have a Gmail account, but other emails will also work.
Some advertisers prefer to create a new email account just for Google Ads. This helps in keeping things organized and all the notifications from Google Ads in one place. It is up to you to decide what works best.
Don't click on any of the advertising goals
The moment you enter, Google Ads prompts you to make a decision. It asks your advertising goal, and presents three conspicuous options.
These are:
Get more calls
Target more sales or subscriptions
Get more footfall to your website
Click on the 'expert mode'
Beneath these three options, in smaller font size, Google asks you whether you are a professional marketer. It also offers you an (inconspicuous) option of switching to the Expert Mode.
Now, this obviously presents a dilemma for new marketers. You are clearly unsure where this will lead! Since your credit card is involved, you naturally don't want to take risks.
Well, take it from an expert. It's actually a clever verbal subterfuge. You need to click on the 'Expert mode' link. That's the only way to use Google Ads without creating a campaign.
If you did not click on the 'expert mode' at the start, the only option is to proceed with a smart campaign. This is because it is the default option for new marketers.
Most veteran marketers prefer the manual mode, though. It allows greater transparency and full control over your campaigns. In smart campaigns, you will have to leave it entirely to the discretion of Google. However, some marketers find this as a limiting aspect. This is because it does not allow them to control the budget spending.
Expert mode is a one-way option
There's a reason why Google Ads presents the Expert Mode as a separate option. It is like a one-way street.
Once you choose the Expert Mode, you cannot switch over to the smart mode. You will have to continue as an expert. However, if you start with the smart mode, you can always choose the expert mode afterward.
So, how can you identify whether you are in the smart mode or the expert mode? Look at the top right corner of your Google Ads account. You can find a visible wrench icon there.
If this icon shows up as 'Settings,' it means you are in the smart mode. On the other hand, if it reads 'Tools' or 'Tools and Settings,' it indicates the expert mode.
So, the expert mode has two further categories. These are called the 'summary' or the 'detailed' views. When you are in the 'summary' view of the expert mode, the wrench icon will read 'Tools and Settings.'
However, if there are separate icons for 'Tools' and 'Setting & Billing,' it means you are in the detailed view. You can toggle between the views.
Always make sure that you know the differences between the Smart and Expert modes.
Create your account without a campaign
Next, Google Ads takes you to the campaign creation page. You can find several prominent options placed in rectangular blocks.
However, you should look at the bottom left side of the page. You can notice a somewhat obscure link. It is not in a box, and the font size is significantly reduced.
The link states, "create an account without a campaign."
There you are.
Google Ads will still require you to put your regional settings and billing details. But now, you have a blank canvas for creating a manual campaign.
Provide the regional settings
Google Ads will prompt you to enter the regional settings. This includes the billing country, the time zone, and the currency. Enter these settings carefully because you cannot change them later.
Provide your billing details
You can create a Google Ads account without creating a campaign. But, you will still have to provide your billing details. Of course, you do not pay anything unless the campaign begins. Three billing options are available, but further restrictions may apply.
These include:
Automatic billing
Manual billing
Monthly invoicing or credit line
On the right side of the wrench icon, you can find the billing icon. Inside it, you have to access the 'settings' to set your payment preferences.
In automatic billing, Google Ads will automatically deduct the campaign costs after accruing them. For the manual option, you have to pre-pay an amount. The campaign will run as long as the funds are available. But, it is available only in select countries.
You must fulfill certain criteria to be eligible for monthly invoicing. In this, you receive a monthly invoice and pay it via a check or a bank transfer. Preconditions include a minimum expenditure of $5,000 per month for three months at a stretch.
Several payment modes are available. These include:
Credit cards or debit cards
Bank transfer
E-wallets
Digital payment partners
Credit cards and debit cards are applicable everywhere. Other options are available in select countries according to the discretion of Google.
Conclusion
One thing is very clear. Google wants you to spend on its platform. That is probably why it prefers automatic billing. Also, it is why it actively encourages the use of cards for payment and prompts newcomers to create smart campaigns.
In conclusion, using Google Ads without a campaign is a good way to be familiar with it without spending anything initially. In the end, you will have to create a campaign anyway.
Do note, certain key features like the keyword planner are unavailable unless you create campaigns.
Get the help you need from a Google Ads specialist right from the start. This helps you to bypass the initial learning curve and create profitable campaigns right away.
IIf you need any help with your Google ads management, you can contact me anytime without any hesitation…