Google Ads for Towing (Tips That Convert)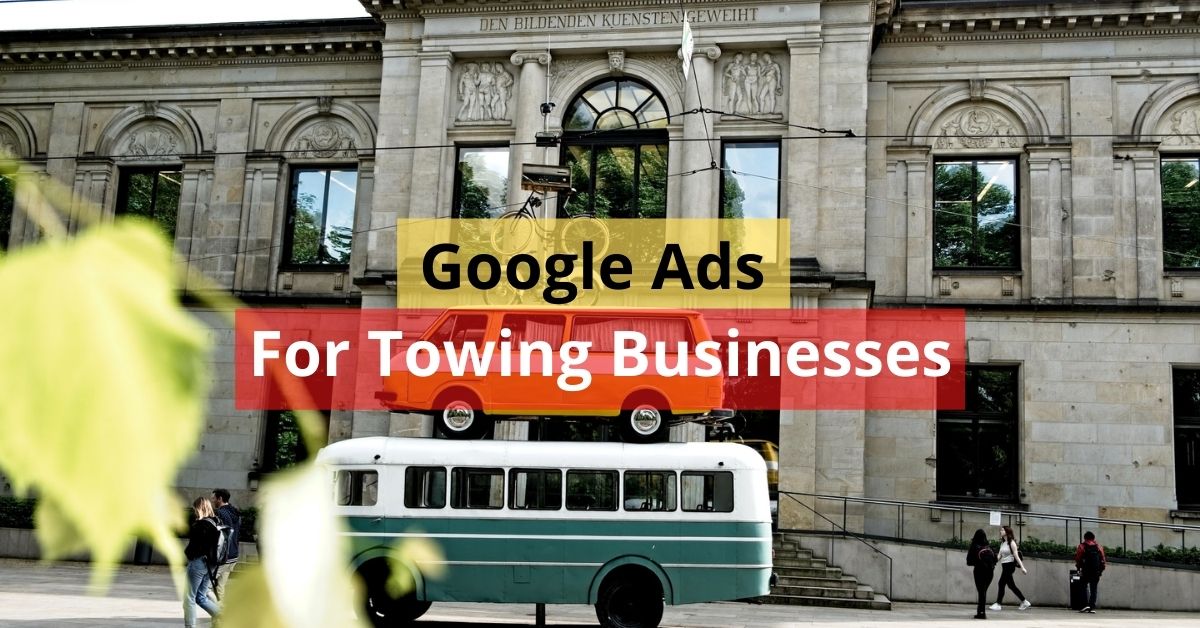 Nowadays, attracting new clients is quite often a challenge for towing companies.
This is especially when someone needs towing assistance, he/she simply search on Google and call the first few companies that pop up.
Therefore, if you are running a towing company, it is important to make your way to being in the top spot of the Google search.
But how will you get the top position on the Google search? In this article, we will explore how to use Google Ads services for towing.
How will you get the top position on the Google search?
The only way to stay at the top position of Google search is to pay for your ads. You just have to sign up for a Google Ads account and run a search campaign.
Google runs its search campaign based on pay-per-click (PPC). For example, if you are offering your towing services in Texas, you can simply bid on keywords like "towing services in Texas" or towing services near me."
However, you can also run Google ads without keywords. Apart from PPC, you can get top position on the Google search in the following ways:
SEO Organic Search Engine Optimization
Local Business Listing
Facebook Marketing
You can also contact a Google Ads Marketing Servicing Company to get help on acquiring new clients. They are able to create an online marketing strategy for your towing business.
What is Google Ads for towing companies?
Nowadays, we all witness the ever-increasing competition among towing companies. Almost everybody is now using Google search for whatever they need to know.
This is why you need to update your marketing strategy radically to attract new clients. However, using Google Ads' pay-per-click service is an excellent way to stay ahead of your competitors in towing services.
Actually, the pay-per-click service targets the specific keyword that the users search. To increase the website conversations, Google Ads' pay-per-click service allows interested web visitors to find you for the towing services they need.
Why should you use Google Ads for towing?
These are three quick reasons why we suggest towing companies use Google Ads:
Using Google allows us to have the lowest marketing cost per call, which ultimately means greater profit for you.
Google isn't the only company that provides paid search ads, but 90% of online searches are conducted through the search engine giant Google.
Google provides you the opportunity to manage many important aspects of your ad campaign through the Google Ads dashboard. This allows you to earn the lowest marketing costs as well as maximum cost per click, ad schedule, negative keywords, etc.
What are the advantages of using Google Ads for towing?
The Google Ads platform is a powerful tool for online advertising. But what makes it so powerful?
Here are a few advantages towing businesses enjoy using Google's paid marketing platform:
Precise Targeting
Business owners can use Google's targeting options to ensure that their ads are only shown to potential customers.
Business owners can filter their audience by geography, age, keyword, and more. In addition, they may choose when their ads appear to their targeted audience.
For example, a lot of businesses only run ads between Monday and Friday between 8 AM and 5 PM. This is usually since businesses are closed on weekends. Advertisers can take advantage of this.
Target Specific Devices
Google Ads updated its platform in 2013 to allow businesses to choose what devices their ads will be displayed on. You can choose between desktop computers, tablets, and mobile devices for the Google search network.
It is even possible to target specific devices on the display network, such as iPhones or Windows. Bid adjustments provide you the opportunity to bid automatically higher or lower on targeted devices that are more likely to convert on your towing website.
Pay Only For Results
This is perhaps the most popular benefit of advertising with Google Ads. Google Ads allow towing businesses to only pay for clicks on their ads, not impressions.
A pay-per-click (PPC) advertising model allows towing businesses to save money by only paying when a user views their website.
Performance Tracking
Google Ads provides towing businesses the opportunity to track the performance of their ads. This means you can see how many people view and click on your ads.
You can also track how many users take the desired action after viewing your website.
How to run multiple Google Ads for towing?
You can run multiple ads by targeting the different objectives of towing services. Google Ads provides you the opportunity to run multiple advertisement campaigns at once. Furthermore, this allows you to see which campaign converts the best.
In each campaign, there will be several ad groups. Each ad group will consist of similar keywords, and the landing pages will be similar in theme. For instance, for a towing company, an ad group may be dedicated to roadside towing services while another dedicated to lost key services.
Nonetheless, both ad groups can be included in a single campaign. The ad groups within one campaign will share the same budget and device and location targeting settings. If you need to target multiple locations or devices, you will need to create separate campaigns.
What is the cost of using Google Ads for towing?
The average cost-per-click (CPC) on Google Ads is between $1 and $2 for the Google Search Network and less than $1 for the Google Display Network.
For example, small-to-midsize towing companies typically spend $9000 to $10,000 a month on Google Ads, which do not include additional expenses like software.
How would you prepare yourself for the Google Ads PPC service?
Creating a Google Ads account is a lot easier than you think, but it isn't without hurdles. Before you go through the process of making your Google Ads account, you must come up with a list of objectives for your campaign.
In online advertising, you will need to be more specific. Additionally, online towing businesses rely heavily on establishing and nurturing a relationship of trust with their customers. For this reason, there can be several objectives for using Google Ads. Such objectives include:
Offering services
Registrations
Email sign-ups
Lead Generation
Nurturing a relationship of trust
Conclusion
Adding Google Ads to your marketing arsenal is a great idea. For your towing business, Google Ads can be surprisingly easy to learn and use, even though the interface can seem daunting at first.
The difficult part about Google Ads is learning the interface and figuring out what kinds of ads are best for your towing business. Therefore, when it comes time to use Google Ads for towing, keep this article in mind. It is our sincere hope that this knowledge will assist you in making the right choice.
As always if you need any help with your Google ads campaign management, you can contact me through contact page or massage me directly.