Google Ads Without Keywords (How to Does It Work?)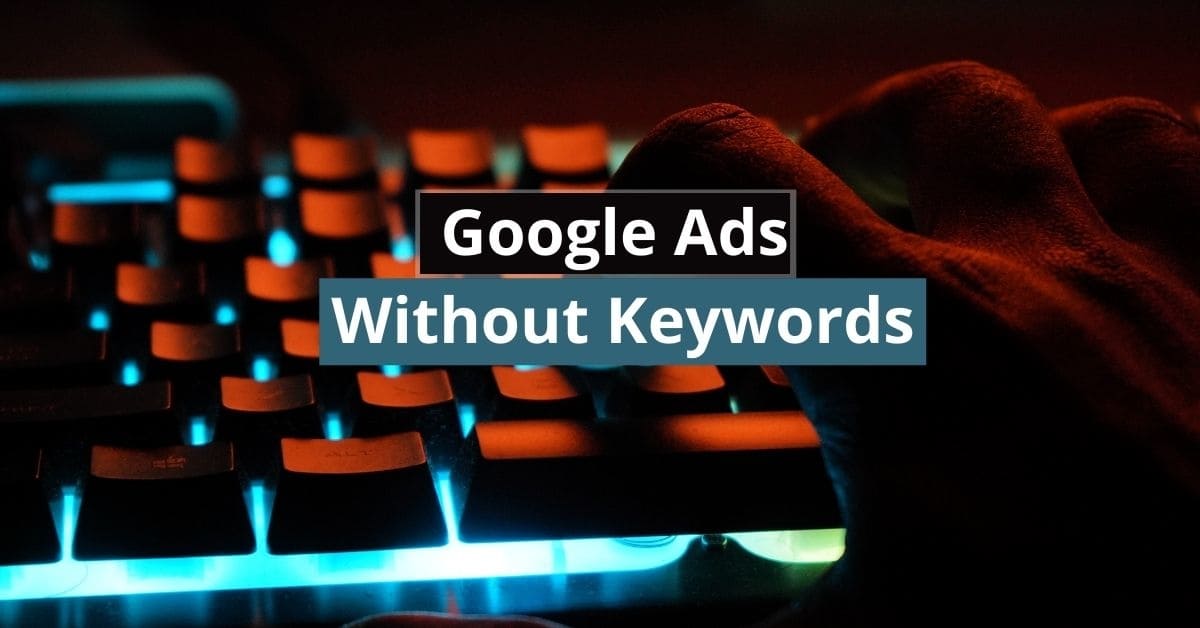 Google Ads is amazing! Its versatility allows just anyone on the internet to run an ad campaign easily.
With every new update, it keeps pushing the envelope to be more and more inclusive. It's good to have an open mind regarding Google Ads, for it's full of surprises.
For example, you should not just assume that you must be a keyword wizard to master it. Of course, keywords are extremely important! But, if you want, you can also run campaigns without keywords.
Let's have a look.
Versatile keyword strategy
The keyword strategy of Google Ads is a striking example of its diversity. Firstly, you can access the keyword planner. Backed by Google search, it is perhaps the most powerful keyword tool on the internet!
You can set a wide range of target keywords. Not only that, but you may also outline the negative keywords. Furthermore, you can set match types to instruct Google on keyword use.
Broad / loose matching: Covers searches that relate to your keyword
Phrase/moderate matching: Covers the meaning of your keyword in searches
Exact/ tight matching: For searches with the same meaning as the keyword
Google Ads encourages new advertisers to choose the default smart campaigns.
In this mode, you don't even have to choose the keywords. Just provide a few relevant keyword themes. Google will manage your campaign on its own.
Moreover, for some types of ads, you don't even have to use keywords.
Decoding search intent
Google's machine learning algorithm keeps getting better at decoding search intent. The intent is the inherent purpose implied by queries. It may or may not be apparent, but Google still understands your purpose.
Of course, a large part of the interpretation still addresses ad keyword strategies. But, Google is also keen on the use of its algorithm to show ads even without a definitive keyword strategy.
There have been some speculations on this since Google removed the 'words' from 'Adwords.' It's probably a wild guess, but it is still worth noting how Google Ads keeps evolving.
Ads on GDN
GDN is a prime example of how to cater ads on passive intent. It uses contextual banners and image blocks to show ads on web pages.
Moreover, the ads are not visible in the SERPs along with organic results. One can see them only when they visit the partner sites. As such, visibility does not depend directly on keyword matching (active intent).
Advertisers need to select targeting options by various parameters. Besides, one can set the audience based on interests, topics, and demographics. The use of keywords is optional, but suggested nonetheless.
Targeting criteria include:
In-market segments
Affinity audience
Custom intent (needs keywords)
Placement targeting for specific websites within the GDN
Topic targeting
Videos ads
Video ads on YouTube and partner sites are very popular. Google presents a wide range of targeting criteria, including keywords. However, they are optional, and are not priorities. Video ads targeting has two distinct sections. Firstly, you target the audience to specify who sees the ads. Second, you specify where the ads will be visible with content targeting.
Audience targeting options cover:
Demographics
Affinity
Custom affinity
Life events
In-market segments
Custom segments (need keywords)
Data from your channel
Customer match
Shopping ads
Shopping ads show a thumbnail of the product, appearing on top of the SERPs. Often, they are visible along with textual search ads. Shopping ads consist of vital info such as title, price, store name, and rankings.
This helps users to make a buying decision as they actively search for the best product. These are not only visible directly on the search engine but also on the GDN.
Although shopping ads show up directly on the SERPs, yet they do not depend on keywords. Instead, Google Ads proactively uses the Merchant Center product data to show ads relevant to search queries.
However, advertisers need to update the Merchant Center product inventory to enable Google to use it.
Nevertheless, you can use negative keywords if you want.
Shopping ads are of two types.
Product shopping ads: Created using product data
Local inventory ads: Created by combining product and inventory data
App ads
Google does not require keywords to run app ads. Instead, it uses info from your app store listing to design ads for different formats and networks. Google Ads will use text ideas, videos, images, and assets from the app store.
The ads will appear on Google search network, Google Play, YouTube, and the GDN. Therefore, advertisers only have to provide some text, bidding details, plus the language and location of the app.
Nonetheless, Google highly recommends that you provide further info. This includes a landscape image, a landscape video, and a portrait video. In addition, you must provide HTML5 assets wherever applicable.
Remarketing campaigns
There is no separate category for remarketing in Google Ads. However, you can run a remarketing campaign across most ad types, including display ads and videos.
So, these ads rely on the inputs from the remarketing API to find out people who have already visited your website or used your app. Since these users already displayed search intent, they display a great potential for conversion.
Dynamic search ads
Dynamic search ads serve the purpose of filling in the gaps that a keyword-based campaign may miss out on. Google Ads will use data from your website to generate headlines and landing pages, reaching out to even more people.
The only requirement from advertisers is to have an attractive landing page. It should consist of good content that Google can use.
This is why Google recommends limiting the headlines on the websites to 90 characters. In addition, you should follow the standard editorial policy of Google.
Local services ads
Local service ads represent a new ad type, currently available only in select locations. Moreover, these are applicable for certain service niches. This includes locksmiths, electricians, plumbers, lawn care, roofers, and many more.
However, the availability depends on the country settings. In addition, these ads do not require keywords to set up. Google Ads will derive the info from your business profile from creating ads, and display it on top of SERPs. You can check your eligibility from the support page of Google Ads.
Conclusion
As you can see, Google uses the keyword-free format for several ad types. This covers both popular formats such as shopping ads, and less used options such as the local services ads.
In fact, apart from the search ads, most other ad types support keyword-free ads. This only shows how powerful Google's algorithm has come to be, as it continues decoding the mystique of the search intent.
If you need any help with managing your Google ads account without using keywords, as always you can contact me any time without any hesitation and I would be happy to help you 🙂