Google Ads For Wedding Photographers (Practical Implications)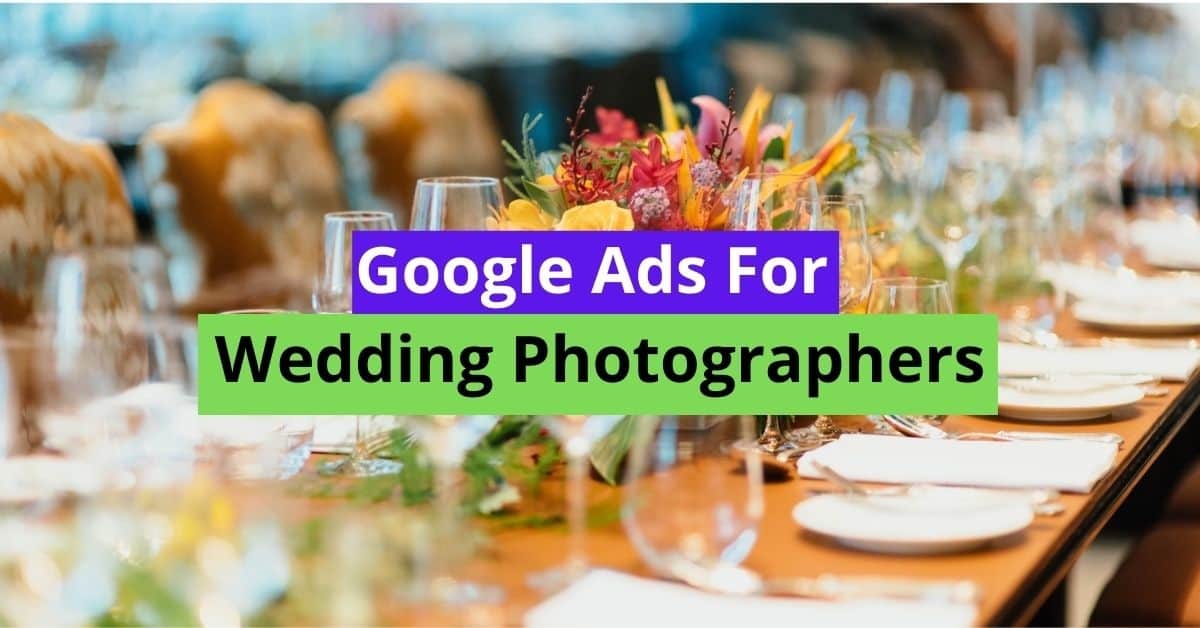 Are you a wedding photographer trying hard to grow your business? You should be using Google Ads.
Try this little exercise. Head over to Google and type 'wedding photographers near me.' Almost instantly, you will see a list of wedding photographers in your area.
The listings usually start with results that show a little 'Ad' icon on the top left. Then, follows up the organic listings without the Ad icon.
So, these websites have a fair chance of landing new clients whenever people search for wedding photographers.
Let's see how it works!
Wedding photographers should use Google Ads instead of SEO
Let's face it. Getting an organic rank on Google's first page is probably the greatest tryst of the digital world. The odds are daunting, with hundreds of competitors in almost any niche. This also includes the photography niche, especially wedding photography.
In addition, Google is quite famous for the ambiguity of its SEO algorithm. In other words, no one exactly knows how it works!
You will simply have to take your best shot and work at improving your SEO with a host of strategies. These require both time and money.
To be honest, you have to be really good at the SEO game to get visible results within six months. Some people wait for years, but still remain invisible on Google!
In a nutshell, SEO is quite time-consuming. Wedding photographers can instead go the easy way of paying Google to feature their website.
Google Ads employs a bid-based system to choose the best ads for display. You will also have to be good at creating a wedding photography campaign in the Google Ads dashboard.
Nevertheless, done well, the results in Google Ads are much faster than SEO. You can even get your site featured within a month of running the ad!
Using Google Ads for wedding photography along with SEO
Should you go with Google Ads even when your SEO is good? First of all, congratulations on making it to the first page of organic listings for wedding photography. But, you should still hear this out.
The point is, you must not take chances. SEO is constantly evolving, and you may slip from your prime position all of a sudden.
Besides, paid ads occupy a higher SERP position compared to organic listings. So, if you have both paid and organic listings, it creates a compelling argument in your favor!
It also kind of cements your reputation as a wedding photographer. After all, Google trusts your site twice over to recommend it in both Ads and SEO.
Why should wedding photographers have a great website first
It goes without saying that having a good website is the unofficial first rule of making it big online. This applies to any niche, including wedding photography. This is vital for SEO and even more for PPC.
Essentially, Google Ads employs a system called Quality Scores to offer a relative overview of your ad campaign.
This score, measured on a scale of 1 to 10, takes into account three key factors.
Expected CTR (Click Through Rate)
Landing page quality
Matching user intent
As you can see, unless you have a nice website, you don't really stand a chance.
Why search ads may be the best option for wedding photographers
Google Ads offers several ad formats. These include:
Search ads
Video ads
Ads on the Google Display Network
Shopping ads
App ads
You will have to choose the right format in your campaign settings. Shopping ads and app ads are not relevant in this niche. You can make a video ad, but it is not a common practice for photographers.
Ads on the GDN do not rely on active intent. They are best for building brand awareness and attending to passive intent from users.
The bottom line is, you have to capitalize on active intent for wedding photography. The best way to do that is to run a search ads campaign.
Use targeted keywords for wedding photography
You need a good keyword strategy to make your ad copy resonate with search queries. Use tools like Google keyword planner. Consider using location keywords, such as 'wedding photographer New York,' or 'wedding photography Texas.'
You can also chip in phrase keywords. This could include keywords like 'how to find a good wedding photographer.' Try to be elaborate in reaching your target audience, but always keep it relevant.
Consider keywords such as 'elopement photography,' 'boudoir photography,' and 'engagement photographer' to reach the right people.
You will have to specify the keyword match type in the campaign settings.
Broad match (shows your ad in searches related to your keyword)
Phrase match (your ad comes up in searches that cover the meaning of your keyword)
Exact match (shows the ad for queries that have the same meaning as your keyword)
Use negative keywords to get to the right audience
The negative keyword list is yet another powerful tool to narrow your campaign in Google Ads. These are those words that would not generate visibility for your ad.
For example, if you don't do family photography, mention it in negative keywords. The better you get at fine-tuning your campaign, the more conversions you tend to get.
Creating an emotional ad copy
Your ad needs to be catchy. Focus on creating attractive texts and headlines. Add a call to action, and include an element of emotional appeal in the copy.
For example, you can write the ad headline as 'experienced wedding photographer in New York.'
Although it states who you are, yet it's generic and rather flat. Instead, you can write something like, 'wedding photos that you will forever cherish.'
This will create value for your ad and encourage users to click on the ad.
Conclusion
The introduction to Google Ads can be intimidating with all the bells and whistles. This is the reason why Google Ads offers the smart campaign as the default mode for newcomers.
In this mode, you will only specify a few key things (such as keyword themes), set a budget, and leave it all to Google Ads.
However, professional marketers often advise against it. This is because smart campaigns leave you no control over your budget or other campaign parameters.
Instead, you should go ahead with the 'expert' mode of Google Ads, and create a campaign from scratch. It can be confusing at first, but it is always worth it.
If you need any help in running your Google ads campaigns, contact me any time without any hesitation and we can grow your Wedding Photography business together 🙂 !!!