Google Ads vs. AdWords (Differences and Misconceptions)
Google Ads and AdWords are not entirely different. It is almost like your classic 'before and after' story. Google Ads is simply the "new and improved" version of Google AdWords.
Like every improved product or tech, you expect to see updates in the features, design, and general workability of the product. The same goes for Google Ads.
In today's post, we will see what changed, why it changed, and all the striking differences between the old AdWords and the new and improved Google Ads.
Let's dive in!
A Brief History of Google Ads and AdWords
Google AdWords was first launched in October 2000 with a total of 350 advertisers. Ads were only shown on the right side of the search results page. This did not change until 2012 when stats showed that top ads performed way better than side ads.
At the launch of AdWords, advertisers paid only per thousand impressions. This basic pricing method changed in February 2002 when CPC pricing was introduced to AdWords.
In March 2003, Google AdSense was introduced and advertisers were able to have a wider range and better results with the display network.
Over time, Google AdWords was constantly overhauled and updated to improve advertising results and generate even more revenue for advertisers. Then, in July 2018, AdWords finally became Google Ads after a series of improvements.
AdWords gave off the idea that the ad platform was mainly for 'text ads'. Hence, the rebranding of the platform. The rebranding allowed the incorporation of all the other ad campaign types.
Now that we have the general overview of how Google Ads evolved, let us see what exactly changed.
The major difference between Google AdWords and Google Ads
Apart from a new name, logo, and your account and support center URL, the major difference between those two are the Campaign types. Why this is the major difference is that it's the only change that is capable of affecting your end goal as an advertiser.
However, it is not so much of a difference as no special campaign type was added or removed during the rebranding.
Search campaigns, display campaigns, shopping ads, and video ads were all in existence before AdWords became Google Ads. They only came under the 'Google Ads' name to ward off the impression that the platform is a 'text ad major'.
Below are the different campaign types that were incorporated under the 'Google Ads' umbrella.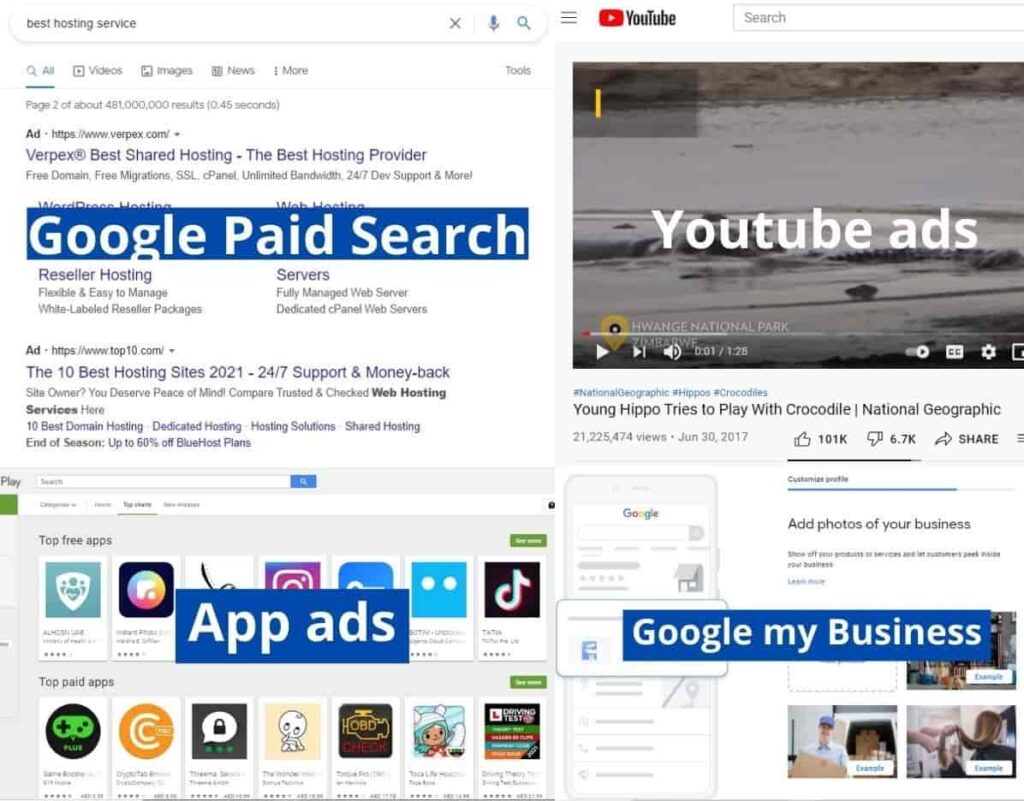 1. Google Search Ads
This was the very first campaign type in Google Ads (AdWords). Search Ads first appeared on the right hand side of the search engine interface before it was made to appear along with organic search results.
Google search ads are perfect for boosting online sales and raking in leads.
If you like to handpick what keywords that your ads appear for and target potential leads who are actively searching, search ads are probably great for you. With greatly written copies, text ads work for most products and services.
Other campaign types can be supplementary for text ads. They could also be used to target a different market.
2. Google Display Ads
Display Ads was introduced to Google AdWords in 2003. It was referred to as Google AdSense. It was a way for Google to help advertisers in targeting prospects who were not actively searching for products and services.
It was discovered that some prospects may not be actively searching for a service. However, they may be subconsciously looking for those services. Therefore, Google could reach them with these services on websites that the prospects visit.
The ads usually appear in graphic forms like gifs, banner ads, etc. This also helped publishers (website owners) to monetize their websites. How?
Website owners allowed Google to put display ads for a percentage per click. This means that publishers get paid per click that comes in through their websites.
3. Google Video Ads
In August 2007, Google introduced the first set of video ads to YouTube. This was also in a bid to help advertisers reach their target market and generate more results. Google Video ads are also called YouTube Ads.
The types of ads on YouTube are:
• TrueView Ads
• Non-skippable instream Ads
• Bumper instream Ads
• Sponsored Card Ads
• Overlay Ads
• Display Ads
Video Ads are great for increasing brand awareness, boosting sales and leads, and remarketing.
4. Shopping Campaigns
Google Shopping is a major campaign type that generates a lot of sales when used. In Shopping Ads, products are displayed at the top of the SERP. The graphic method and product information help prospects make their buying decision faster.
Shopping campaigns can either be standard (manual) or smart (automated).
5. App Campaigns
This was formerly known as Universal App campaign. App campaigns are shown on apps owned by non-Google affiliations. Just like AdSense (display ads), app owners can also monetize their apps this way.
Advertisers can also reach their prospective clients at different locations. This helps to build brand awareness and retarget leads.
Google Ads vs. AdWords – Conclusion
Google Ads is an umbrella brand. In other words, Google Ads brings Google AdWords, Google Display, Video Ads into one boat.
This is the main reason why the Google AdWords brand name could not suffice for the Google Advertising platform.
However, it is just a name/ brand change. All the different advertising modes or campaign types are in perfect sync to get results for advertisers and give buyers and searchers a great experience.
Regardless of the type of campaign you want to run, now you need to go through ads.google.com. All the different campaigns are run from there.
Your next move as an advertiser would be to select your final goal for running ads and then pick a campaign type that helps you achieve your goals!
Let me know how it's going!
If you need any help in managing your Google ads account, contact me any time.