Expected Revenue for Google Ads Without a Website (5 Methods to Increase it)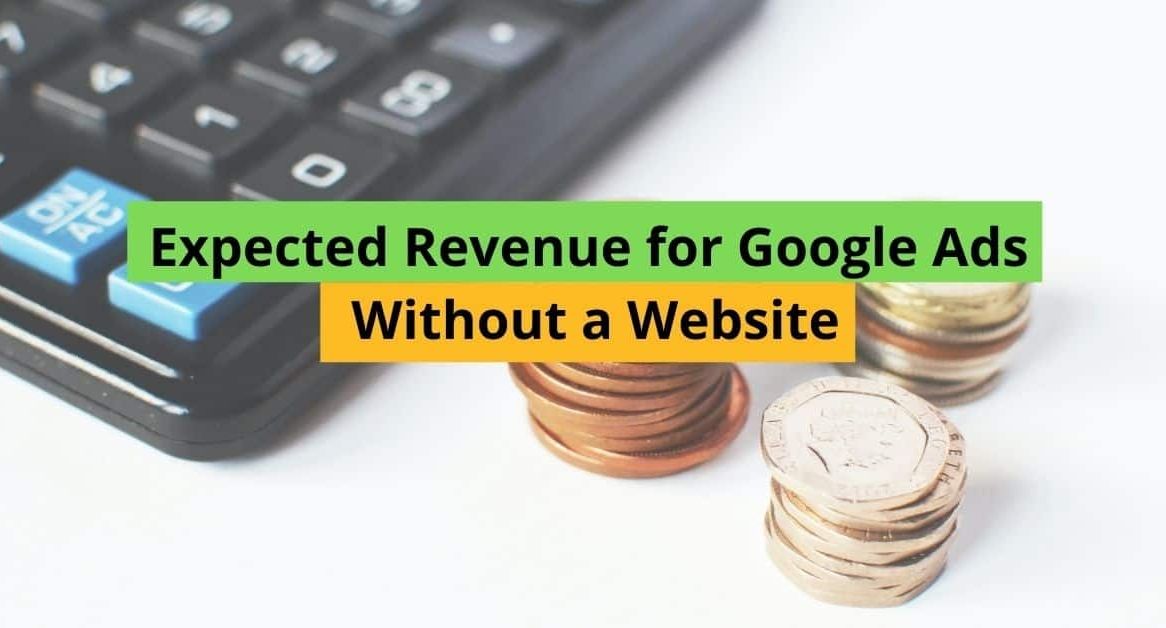 Many digital marketers and business owners are most concerned about revenue. Why? Because revenue is the big goal scoring for the sales and marketing game.
Revenue simply means your gross income from sales. It can also be measured per marketing method or session. However, revenue doesn't carry either the plus or minus sign. This means that it does not technically indicate profitability. It is just the total monetary value received.
This does not make revenue any less important. When cost or expense is less than the total revenue, there's a profit. When expenses exceed the total revenue, then you have overhead.
In this article, you will learn about revenue from ads run without a website on Google. You will also learn how to measure and improve revenue in Google Ads.
Let's ride!
Google Ads without a Website: A Quick Overview
First, you can run ads without a website using Google Shopping Ads/Campaigns.
Using either smart or standard shopping campaigns, business owners or retailers can put up their products on Google's paid advertising platform. The products could be in an e-commerce store or can be uploaded directly as a feed to Google Merchant Center.
With regular Google pay-per-click ads, the sales funnels are usually complicated and in long-form. However, shopping ads ask for the sale right away. This makes it easy to measure revenue from shopping ad campaigns.
How to measure Revenue in Google Shopping Campaigns
While you can go on to imagine many difficult ways to track and measure revenue, it doesn't have to be difficult.
You can easily measure and track revenue from your ad with Google's Conversion Tracking.
Conversion tracking helps you to record and measure what happens after a customer interacts with your shopping ad. These different actions can include purchases, calls, orders, or local business transactions.
However, you can choose which of the actions are valuable to your business. As soon as a customer completes such action, the tracking tool records a conversion.
One 'pro' of conversion tracking is that you can see what keywords, device, location, and other data got the customer to take action. You can then use this data in targeting and getting more revenue.
Another use of conversion tracking is that you can gather conversion data in the case of smart shopping campaigns. These campaigns are fully controlled by Google. Your conversion data can point the Google algorithm in the right way when showing your ads.
To set up conversion tracking, you can either use a conversion tracking tag or a Google forwarding number to track calls from a call extension. You can then see your conversions in your ad account and request reports regularly.
How you can Increase Revenue on Google Ads without a Website
In traditional marketing, you can increase revenue by either lowering costs, selling more products to more people, or selling fewer products at higher prices.
It is almost the same with marketing on online platforms like Google. However, these basic methods can be shaped in different forms. I'll call it the methods to improve your revenue in shopping ads.
Method #1: Going after Quality Leads
When it comes to measuring revenue, it stops being about the number of total leads. It becomes more about the number of quality leads or buyers.
Having too many leads that are not qualified for your business could increase your cost and therefore reduce revenue and profit. However, focusing on your marketing message can help you to attract and close more qualified leads into your business.
You can also take note of keywords, locations, and devices that target your ideal clients to increase revenue.
Method #2: Nurturing Leads and Follow up
Some leads are quality leads. However, they arrive at their purchase decision much later. Some leads need to be reminded of a decision they already made in their minds. Some get distracted while they are trying to purchase.
Nurturing and following these leads up can exponentially increase revenue. Most of the time, the major number of purchases are not first-time engagements with the product.
Some buyers need to come in contact with the product up to seven times before they make the purchase. Retargeting is a quick way to use what you already have to increase revenue.
Method #3: Adjusting Bids to draw Leads
Revenue will come from the leads that you get. However, in situations where you are not getting leads at all in your shopping ad campaigns, your bid strategy may be the problem. The competitiveness of certain keywords may leave your bids too far behind to ever catch up.
Getting your ad to show up first is like an auction. The higher your business opponents bid to get their ad to appear, the more expensive such keyword becomes.
If you then adjust your bid strategy to accommodate more competitive keywords, you can then begin to get leads that convert.
Method #4: Adjusting Product Image and Description
Your product image is the first thing that your prospective client engages in from your product information. A product image is both for aesthetics and to give information to your customer about what they are about to purchase.
The buying decision is quicker when your product image matches what your customer is thinking (intent). Your product image should be as clear as possible while portraying everything that your product offering is about in visuals.
Your product description is what affirms the truth of your product image to your customers. Therefore, your product image and description should be the perfect ad copy that your prospects need to become repeat customers.
Method #5: Add Promotions Strategically
Having sales promotions like 'free shipping', 'end of the year sales', 'anniversary bonus', and 'black Friday' can help increase your revenue. In sales and marketing, customers want to always take advantage of good deals and offers. With strategic promotions to the right people, you can skyrocket your revenue by increasing sales.
Conclusion
Your revenue can either skyrocket or plummet with just one shift. For you to make a profit, you need to create more revenue.
In shopping ads, your customers can make their buying decisions immediately. Your leads can also be nurtured and re-targeted till they make the purchasing decision.
With the 5 methods of increasing sales outlined in this post, you can begin to rake in more revenue from your ads. If you have any questions concerning this subject, kindly ask away!
I look forward to getting your success testimonies!
If you need any help with running your Google ads campaigns don't hesitate to reach me out…