Google Ads vs SEM – What is the Difference? (10 Key Points)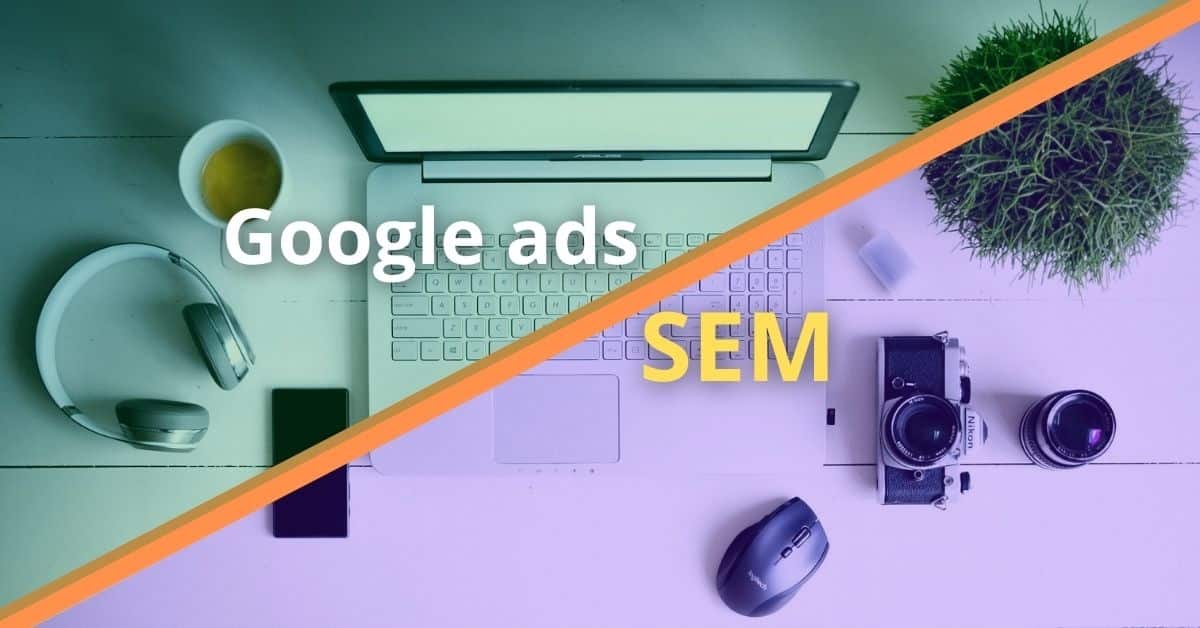 Google Ads does not need an introduction! Digital marketers swear by the power of Google Ads.
Numerous case studies prove the efficacy of Google Ads in driving business and converting leads to acquisitions.
What are the differences between Search Engine Marketing and Google Ads?
The following sections clarify the key aspects of running a Google Ads campaign. You also get to know how it is better than other types of SEM strategies.
SEM is an umbrella term for PPC
SEM has a broad definition. It is an umbrella term for running PPC campaigns. An SEM specialist is an expert in different types of PPC campaigns.
SEM includes everything related to running paid ad campaigns. While Google Ads is arguably the most popular format of SEM, other options such as Yahoo and Bing are also a part of an SEM strategy.
Google ads is a type of SEM
Google Ads is practically the gold standard for SEM. An effective SEM campaign always prioritizes running a successful Google Ads campaign.
By virtue of millions of visitors and billions of search queries, the potential of Google is limitless.
Google Ads offers several formats for displaying ads.
The simplest type is the search ad, displayed on top of the organic results in response to a keyword query.
Next, you have the image-based ads on the Google Display Network. The GDN refers to an array of websites in various niches that display ads as per their agreement with Google.
After that, you have the video ad campaigns displayed on YouTube.
In addition, you can also run App Ad campaigns, Shopping Ad campaigns and Google my Business account via Google Ads. App campaigns promote your app across the Google ecosystem. Shopping Ads are displayed on SERPs and typically consist of product imagery along with detailed info, Google my business helps to promote your local brand.
No other type of SEM offers such a broad scope as Google Ads does. It is no wonder why a majority of Search Engine Marketers focus exclusively on Google Ads.
Google Ads has a fixed budget
Being a user-friendly service, Google Ads allows you to set a budget cap. You never pay more than the cap you set.
Besides, you can adjust or pause the budget cap anytime at your convenience. Google will also show you estimated results for your budget.
This system makes Google Ads one of the most affordable SEM strategies.
Setting a budget cap also helps you to deduce the exact ROI of running a Google Ads campaign.
There's no commitment required and no minimum spend. The budget recommended to you is according to that of similar businesses.
Google Ads depend on the right keyword
All SEM strategies depend on the right use of keywords. Be it Google Ads or Bing Ads, you will have to develop a strong keyword strategy for the ad to show up.
However, since Google is the biggest search engine, your keyword strategy would surely be more successful in Google Ads because you gather more data faster.
You can experiment with different keywords in developing your ad copy. Long-tail keywords are more effective because they can be really specific when describing a product or service.
The bidding system is better with Google Ads
Both major PPC campaigns, Google Ads and Bing use a bidding-based process.
However, advertisers generally agree that the bidding system of Google is more comprehensive compared to Bing.
Given the relative position of Google and Bing, it is obvious that the former is more successful in SEM. The bids are on the maximum amount you are ready to pay on receiving a click on your ad.
Higher bids eventually make for better placement of the ad.
The three options for bidding are CPC, CPM, and CPE.
CPC or Cost Per Click is the amount you pay for each click on the ad.
CPM or Cost Per Mille refers to the amount you pay when your ad is shown to a thousand people.
CPE or Cost Per Engagement is the amount you pay when you actually acquire a customer.
Google Ads offers a Better Quality Score
Both Google Ads and Bing Ads have a system of assigning a Quality Score.
Google's quality score is far more useful than its closest SEM competitor. This is because the Quality Score assigned to your ad will decide your Ad Rank.
On the other hand, Bing Quality Score does not affect your ad's rank or CPC. It is more of an insights tool to understand how your keyword is performing.
Google Ads offer a better coverage
Given its mammoth search figures, the ad targeting feature is more effective in Google.
Google's system helps to target customers based on age, location, and language. With billions of searches per month, Google has access to a vast trove of user data that can help you get better results with Google Ads.
You can have video ad campaigns with Google Ads
One of the key benefits of Google Ads is the ability to run ad campaigns on YouTube.
YouTube is the most popular video-sharing website and is also a search engine for videos. The ability to leverage the potential of YouTube can go a long way in ensuring the success of your ad campaign.
YouTube enjoys a digital footprint of millions, and reaching out with your ad on the premium video sharing platform can do wonders for your campaign.
Search ads are highly effective
Search ads are those that are displayed on top of the organic search results in Google.
Compared to its closest SEM competitor, Bing Ads, Google enjoys the privilege of more people searching for the optimized keyword. This makes Google Ads highly effective.
Google Ads is easier to manage
Google Ads is considered easier to manage. The consensus about other SEM platforms is that it has a cluttered user experience.
Google Ads also offers powerful tools to manage and monitor accounts. You can use the My Client Center Manager Account for handling multiple Google Ads accounts. Google Ads Editor is a free tool that allows you to edit your ad in offline mode.
Conclusion
Google Ads seems like an automatic choice when it comes to devising a good SEM strategy.
It is obvious! Backed by billions of searches every month, Google Ads allow advertisers a better chance to increase their ROI.
Hope this blog helps you to understand the differences between Google Ads and other SEM options. If you are looking for a head start on your SEM campaign, this is it!
For any help in running your Google ads management, contact me any time…