Google Ads vs. Google Shopping [Differences, Comparison]
Google PPC can work wonders for your marketing campaign! Give or take a few months, and see your business grow quickly.
Leveraging the potential of Google requires a well-planned execution of your campaign strategy. You will have to understand the system first.
How can you have your ad appear on search engine results? What are the types of ads available? Which one is best for you?
Google PPC is broadly known as Google Ads. You have for main types of Ads.
The search ads are shown in the text format above or below organic search results. Most marketers like to refer to these types of ads like Google Ads because of the same convention.
The next ad type is the image-based display ad. These are found on any Google partner websites.
The next one you see on the SERP above Google search ads are known as Google Shopping Ads.
Finally, you have the video ad shown on YouTube.
The right choice of the ad type depends on different factors. These factors include search intent, type of product, time of the search, etc.
Let's see the pros and cons of both Shopping Ads and Search Ads in more detail.
Google ads vs Google shopping ads differences
Before we compare them to each other, let's make it clear what are their differences.
Google shopping ads are part of all of the ads Google offers. But it uses Google Merchant Center to create your ads rather than Google ads account.
Throughout the article, when I say Google ads I mean Google search ads and I am going to compare Search to Shopping ads.
User experience
Probably the greatest advantage of Search Ads is that they look like organic search results.
Consumer psychology experts agree that in the digital domain, the best ads are those that don't look like ads.
Since the internet is a free and open space, people expect a natural connection with the products they want to buy. Influencer marketing is a good example of how ads don't look like ads.
A typical image-based ad may look artificial and flashy. But of course, if you want your ad to display a product image, go for it!
Visibility
The image-based appeal of Google Shopping is not to be overlooked when you need visibility of your product.
Some products, such as jewelry, clothes, accessories, etc., all depend on images to help customers make their buying decisions.
For these kinds of products, Shopping Ads should be your first choice. Even when similar products are displayed as both Shopping Ads and Search Ads, the images really stand out.
Cost per Click (CPC) difference
It has been proven that Shopping Ads have a lower CPC compared to Search Ads. On an average estimate, Shopping Ads have a CPC of $0.66, while the value for search ads is at around $1-$2.
So, if you are on a budget, Shopping Ads can be a better option. They not only help your products to sell but also helps you to save.
Keyword-based targeting
Another major plus for Google Ads is that they are based on keywords. You target a specific set of keywords, rule out negative keywords, and voila!
Your ad starts appearing on search results on the targeted keywords. As for Google Shopping, keywords are sourced automatically.
Google pulls the keywords from the product title and description and matches them with the search intent to display your ads.
This means that you have a greater chance of Google Ads showing up in search results than Google Shopping.
Utilizing keyword match types
Google Ads allow for maximum flexibility with the use of keywords.
You can use different keyword match types rather than using only broad match keywords. You can do that either by using a square bracket or a quotation mark around the keyword.
Exact match: You can put square brackets around the keywords. It indicates that you do not want additional terms to appear with the search term. This looks like this: [suede shoes].
Phase match: You can use quotation marks around the keywords. It means that you are allowing your Ad to show even if someone searches with additional terms before or after the keyword. This looks like this: "suede shoes."
Google Shopping does not allow this.
Size of the ads
Google text ads have higher character limits.
To think of it, this effectively compensates for the lack of images in Google Ads.
Although you can add up to 150 characters in Shopping Ads, Google displays only up to 70 characters upfront. The rest of it is truncated and is visible only when someone clicks on the ad.
Whereas for text ads, you can have three headlines up to 30 characters each. You can have two descriptions with 90 characters each.
Reach
When it comes to expanding the reach of your marketing campaign, Shopping Ads are the best.
Search Ads are only limited to the SERPs, appearing above or below the organic results.
A Shopping Ad is strategically placed on top of the search ads. Not only that, Google shows these ads across its huge network of Google Display Network.
Shown on the side of a relevant website definitely improves the chance of your product getting sold.
Besides, these are also shown at the shopping tab of the search engine. Even Google image search presents Shopping Ads.
Extensions
Extensions are of two types, manual and automatic. Add as many manual extensions as you can. These add credibility to your ad and improve the number of clicks significantly.
With text ads, you can add extensions at no extra cost.
The simplest types of extensions include your physical location, additional text, and phone number. Other manual extensions are lead form extensions and sitelinks.
Automatic extensions include seller ratings and dynamic sitelinks. These show up automatically if Google decides your ad deserves them.

However, do note that even if you add manual extensions, there's no guarantee that they will show up in the final ad display. They will show up only when you meet the following criteria.
Google predicts that adding the extensions will improve your performance
You have an ad position and Ad Rank that is high enough for you to be eligible.
With Shopping ads, you have a price comparison option that allows users to compare prices between different products side by side.
They also display star ratings, which influence consumer decisions.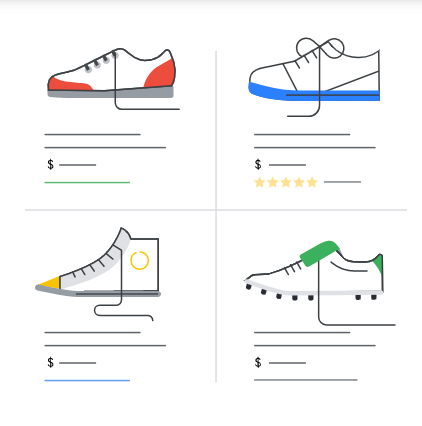 Branding
Text Ads have greater branding potential than Shopping Ads. There's ample scope for writing descriptions and catchy headlines.
This allows marketers to paint a promising picture of the company. Shopping Ads focus on a single product, and so there's less scope for branding.
Conversion rate
Both Search Ads and Shopping Ads are shown to people with a clear intent to buy the product.
Studies have shown that people are more attracted to image-based ads whenever applicable.
This ultimately results in a greater conversion rate. Also, the CTR for Shopping Ads has been shown to be almost twice that of Search Ads.
Restrictions and Limitations
With Shopping ads, any text greater than 70 characters gets truncated. As if that was not enough, the image must comply with Google's image policies.
For example, you are trying to sell a book whose cover displays restricted images. It would be stopped in the Google image filter. The only choice left here is to go with Google Ads.
Text-based ads are not restricted by these limitations.
Types of products and services
To be very clear, Shopping Ads are best suitable for retailers where you are selling an actual physical product.
It draws a complete blank when you are selling a service. You cannot sell a Yoga class via Shopping Ads. You cannot sell a car insurance policy on Shopping Ads. Besides, you cannot sell a plumbing service on Shopping Ads.
On the other hand, Google Ads are highly inclusive and can sell any kind of product or service.
Bidding process
With search ads, you are bidding on keywords. This provides optimum flexibility to design your Ad and vie for a better Quality Score.
You select the keywords and decide on the maximum amount you are ready to pay.
For Shopping Ads, you have to bid on products. After selecting the products you want to promote, you can choose the bid for all products in the ad group (ad group max CPC).
If you think it is more convenient, you can bid individually for each item.
Easiness of Ad creation
The ease of setting up a Shopping Ad campaign makes it a highly popular choice among retailers.
You don't have to create keywords or catchy description texts. It is done automatically via your product feed. All you have to do is set it up in the Google Merchant center, and you are all set.
There's no need to add information manually for each product. You can use tools that will automatically pull data from your e-commerce store.
It also allows you to prioritize your campaign with Google showing the most profitable products.
Automated bidding options
Automated bidding is available for both Google Ads and Shopping Ads. However, there are more options for Search Ads.
These include:
Target CPA: You inform Google how much you are willing to pay for a conversion.
Maximize Conversions: You give free rein to Google to bid whatever amount is necessary.
Maximize Conversion Value: Google bids the best amount to get more value.
Target Impression Share: This is the percentage of the relevant searches you show up for.
Conclusion
Shopping Ads and Search Ads do not exclude one another.
You can use both Google Ads and Google Shopping for your marketing campaign.
Both have their pros and cons, and it depends on the type of product you are selling. Sometimes, Shopping Ads are the best option, and other times, Search Ads do the trick.
I think this article served as an ultimate guide to answering which advertising methods can help your business grow more efficiently.
If you have any questions related to Google ads, let me know in the comments section below…
For any help with your Google ads account management, contact me…