Google Ads vs. Instagram Ads – Which is Better?
Online advertisement is tricky and the choice of the appropriate advertising platform can make or break your business.
Both Google Ads and Instagram Ads are effective in driving in the desired results; However, marketers often get confused when it comes to choosing between the two.
The choice of online ad platforms should be driven by objectives and budget, which varies from campaign to campaign.
If your campaign goal is to achieve more views, likes, and shares, you can always go ahead with Instagram Ads.
On the other hand, if you intend to reach more targeted audiences that might be in the market for your products or services, Google Ads must feature at the top of your list.
This post takes you through the significant differences between these popular online ad platforms and helps you choose the one that confirms your business objectives. Let's get started!
Audiences – Two different worlds
Simple yet dominant, that's how you can describe Google Ads! You have seen it many times, probably a couple of minutes back while you Googled for this topic.
The first few results mentioning 'AD' beneath them are all Ads having a tug of war to drive users to their respective websites.
Instagram is simply meant for social networking. Here, the intent to make a purchase is comparatively lower compared to Google Ads.
Of course, you won't be on Instagram to look for electricians, plumbers, or any such service or other products!
Different reach to increase Brand Awareness
Google Display Ads and YouTube are networks of Google ads that are used to increase the brand awareness of businesses.
With Google display network, you can reach almost 90% of all the internet users by showing your ads on more than 2 million websites, video platforms and apps.
Likewise, Instagram ads can be a great tool to increase brand awareness and user engagement.
It is a great tool to showcase your products or services in front of people by getting millions of views and engagements.
The difference: Google ads can help your brand awareness by advertising your business on different websites, video platforms and apps. Instagram ads can help your brand awareness by promoting your business within the platform.
Intent of Customers
What do you want to achieve with your ad campaign? Is it leads, sales, brand awareness, or something else? Knowing this is vital to pick one among Google Ads and Instagram Ads.
Google Ads is perfect for demand capture or, in simpler words; it's great in reaching users with higher purchase intent if you use Search Ads.
For example, someone looking for a plumber types "Plumber near me". Then obviously in a matter of seconds chooses one of three ads that appear at the top of the search results page. That's that simple.
Contrarily, Instagram Ads is perfect for reaching people who are keenly interested to know your brand.
When compared to Google search ads, Instagram ads mostly targets top of the funnel leads.
Because most of the people you are advertising to seeing your brand the first time and you need to nurture them before expecting them to take any action.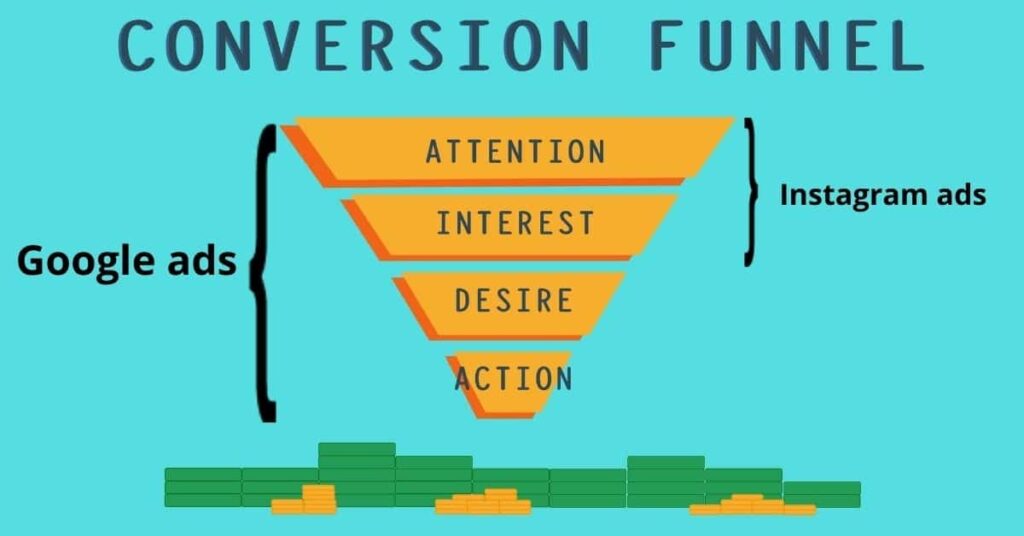 The difference: Google ads can target users with high buyer intent, while Instagram ads are great for capturing broad top-of-the-funnel leads.
The work process is different
When you think about Google or any Google network, the goal is searching for something and bringing relevant ads that match with a user's search queries.
Therefore, Google's primary form of advertising is its search ads.
On the other hand, Instagram Ads is more suited for branding campaigns and generating interest. No specific search is required for ads to show up.
The difference: Google focuses on showing ads after a search is made while Instagram focuses on visual ads that show up without searching.
Average Cost
The Average Cost Per Click (CPC) of Google Search Ads is around $1 to $2. But in some industries that number can go as high as $150 per click.
The average CPC of Google Display ads is around $0.40 to $0.80
That might look a bit expensive as the massive search generates massive clicks and impressions as well.
However, there is a good chance that each click or engagement may turn into a conversion if you choose the right keywords and target the right audience.
From this perspective, you can say that Google Ads are a better alternative for reaching the target customers at the time of their purchase decision.
Contrarily, Instagram Ads tend to be cheaper in terms of CPC.
However, they demand a high focus on building brand awareness to perform well.
The average CPC of Instagram ads can be around $ 0.40 to $ 0.70 and of course, prices can be much higher in the competitive industries.
Also, the average CPM of Instagram ads can cost around $6.7.
If we put them in one table:
Average Cost Per Click (CPC)
| | | |
| --- | --- | --- |
| Google Search Ads | Google Display Ads | Instagram Ads |
| $1 – $2 | $0.40 – $0.80 | $0.40 – $0.70 |
Average Cost Per Thousand Impressions (CPM)
| | | |
| --- | --- | --- |
| Google Search Ads | Google Display Ads | Instagram Ads |
| More than $20 | $4 – $8 | $6.7 |
The difference: Average cost per click of Instagram ads are much more chipper than Google ads.
The Click-Through Rate and Conversion Rate (CVR)
If we compare the CTR and CVR of the two platforms, here Google ads is the absolute winner.
Average Click Through Rate (CTR)
| | | |
| --- | --- | --- |
| Google Search Ads | Google Display Ads | Instagram Ads |
| 2% – 5% | 0.2% – 0.5% | 0.22% |
When it comes to talking about conversion rate and converting customers after they visit your landing page, it all depends on the quality of the products or services you offer.
But, as Google ads can capture high buyer intent users, we can guess that the rate of conversion can be higher as well.
The difference: On Average, the CTR of Google ads is higher than Instagram ads. Also, because of high buyer intent conversion rates can be higher with Google ads.
Serving local businesses
Ads on Google play well with maps and Google My Business, so you can say that it's well built for local businesses.
On the other hand, with Ads on Instagram, all you can do is drop a pin and do a radius to target the audience from your business location.
The difference: Google ads has location targeting, as well as you can run your Google my Business account. With Instagram ads, there is an option to target the location of your customers by choosing an area from the map.
Power of Platforms
With nearly 6 billion searches per day, Google is certainly the market leader and is the all-powerful machine that you would need to target customers across the globe.
However, you cannot dismiss the power of Instagram, which uses the Facebook Pixel.
Thus, the double-engine ads on Instagram can really help your branding campaigns, especially while targeting the millennials.
The difference: Google has billions of daily users but Instagram is also a great tool to capture the attention of the youth.
Key demographic differences
50% of Googlers in the US are mostly younger generation such as students of colleges or universities.
Instagram on the other hand, has a younger population with more than 70% of its users are aged 18-29 years old (in the US).
The difference: Instagram has younger demographics than Google in percentages if we take their total user base.
Type of Devices Used
According to a statistical report, 20% of Instagram users used Computers while the remaining 80% used Smartphones and Tablets.
With Google, the statistics are a little bit different. More than 60% of internet users used mobile devices and 35.7% used desktops.
The difference: Google has a higher percentage of desktop users than Instagram has.
Conclusion
Both Google as well as Instagram are reliable and popular channels of PPC marketing and can efficiently maximize sales.
If you can diligently use both these platforms while creating specific ads for each, Google Ads can cater to all your paid search advertising requirements and Instagram will efficiently fulfill your paid social marketing needs.
Conversion is your ultimate goal and both reach and brand awareness are essential to grow your business and develop a rock-solid web presence. Hence, leveraging the power of both platforms is logical.
If you have anything else to add, let me know in the comments section below…
For any help in running your Google ads, contact me through the Contact page…