Google Ads vs. Google Marketing Platform [Differences, Comparison]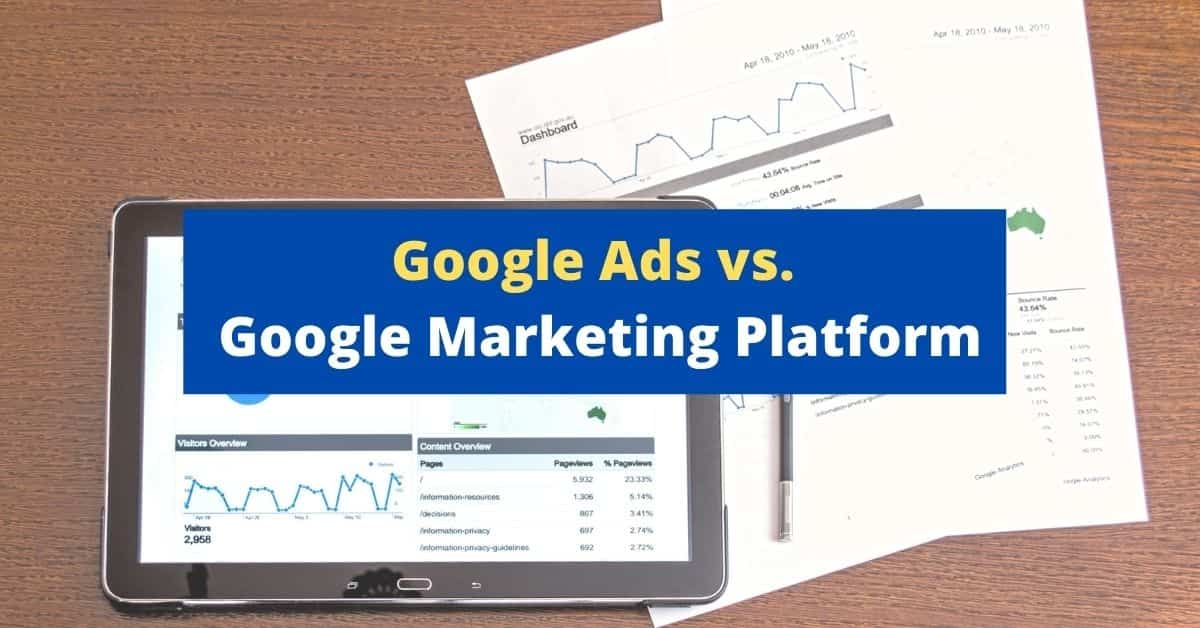 Google rebranded AdWords in 2018. It was one of the major milestones in the world of online advertising.
Besides, the changes brought about continued to evolve in the last few years. Also, driven by the power of Google search and Analytics, its potential keeps scaling new heights.
The company presented Google Ads and the Google Marketing Platform as major changes. Therefore, businesses, big and small, were quick to make use of the newfound potential.
As advertisers gained more traction, the new platforms grew in popularity. So, what are the key aspects defining Google Ads and GMP? Let's have a look.
Size of business
Simply put, Google Ads remains the go-to destination for those vying for paid ads. Besides, it is the best way to attend to customers beyond organic search results.
Also, numerous small businesses benefited from Google Ads over the years. Local businesses were the most to benefit from it. It is still one of the best avenues for online paid advertising.
Google Ads is mostly useful for small-scale businesses. Your business may be small, but if your ambitions are big, Google Ads makes it happen.
The Pay Per Click structure has been crucial in managing ad budgets. Further, powered by effective bidding, Google Ads continues its journey to success. Also, Google regularly publishes resources on how to improve bidding in Google Ads.
Google Marketing Platform is an enterprise-grade marketing solution for big players. It integrates the Google Analytics 360 suite with the erstwhile DoubleClick. GMP has had a major role in offering a best-in-class marketing experience.
There's the basic difference. Google Ads is an all-out advertising platform. It is universal in appeal. Any business, big or small, can benefit from it. On the other hand, GMP is a marketing suite.
It is of mighty assistance to define a potent marketing strategy. So, you can integrate Google Ads in GMP, but not the other way around.
Reporting functions
GMP elevates the marketing aspect to a whole new level. The three key reporting aspects of GMP are:
Analytics 360
Data Studio
Surveys 360
These three features help deliver strong marketing insights. Using these, you can unlock critical insights into customer behavior. Besides, these are crucial in driving more fruitful marketing campaigns.
Google Ads also has a reporting feature. You will have to link it to Analytics first.
Even then, Analytics and Analytics 360 are vastly different in scope. Google Ads reports can help gain insights into how the ads perform.
At the same time, Analytics 360 offers a wider view. It also offers data into how your website should perform.
Data management
Google Ads helps with data on ad performance once they are visible. The data on user interactions with ads helps create better ads over time.
GMP, on the other hand, unlocks the power of the data studio. The Data Studio is a singular platform to connect data.
It includes information from sources such as Google Ads, spreadsheets, Analytics, and Google BigQuery.
Best for growth
Which of the two platforms are best for growth? The growth offered by Google Ads is undeniable.
For a small and medium-level business to grow, there is nothing like Google Ads!
However, big enterprises need something more. They need a detailed marketing strategy that includes Google Ads along with other tools.
GMP helps companies develop a robust data-driven marketing strategy. It integrates Google Ads, but the buck does not stop there.
If Google Ads is for local growth, GMP is ideal for global growth. The Campaign Manager 360 of GMP is a holistic tool for running ad campaigns cross-channel.
It comprises everything Google Ads has to offer, and some more.
Running Search Ads
There are Search Ads that you run via Google Ads. Then, there is Search 360. Search 360 covers all that you need to run a search ad campaign.
It does not limit itself to Google search. Its power extends to other integrations such as Yahoo, Bing, and Baidu.
With Search 360, you get real-time insights on the performance of Search Ads.
You have all the tools to interpret customer journeys in real-time across the entire online ecosystem. Besides, this helps create better-performing ads.
Running video ads
In Google Ads, you have an option to run video ads on YouTube, and that's it.
GMP, on the other hand, focuses heavily on optimizing the potential of video ads. It offers automated workflows enabled with video-centric trafficking data.
You don't find Video 360 in Google Ads.
Enterprises can utilize the power of both third-party inventory sources and YouTube. This ensures maximum performance from their video campaigns.
Campaign Manager 360 can set automatic video transcodes. This makes sure that your video files meet the creative specs of different publishers.
Conducting Surveys
Google Ads allows advertisers to develop reports. It may seem enough for a small business, but an enterprise needs something more. It needs the Survey 360 feature of GMP. The benefits of Survey 360 include:
Custom surveys: GMP speeds up the marketing research ability with custom surveys. Businesses can gain practical insights into customer actions.
Fast results: It utilizes the Google network of partner sites and its search ecosystem. The results from surveys are available in as little as three days.
Real people: The data from surveys comes from a diverse cross-section of real people. Google Analytics, Search ads 360, YouTube, and even Google Ads supply the audience list.
Optimize your website
Google Ads does not have any features for optimizing websites and landing pages.
GMP offers the powerful tool of Optimize 360 to improve websites. It allows marketers to conduct A/B tests, multivariate, and redirect tests.
Optimize 360 integrates with Analytics 360, providing meaningful insights. It helps you to create better landing pages driving conversions.
Bidding Strategies
Google Ads allows for both manual and automated bidding. However, manual bidding seems to be more popular because you have greater control.
GMP focuses more on the automatic one. It also includes auto bidding in its Display and Video 360. With the auto approach, businesses can leverage the potential of the advanced AI of Google.
This bidding strategy of GMP is arguably better when you need to run big campaigns.
Tag management
Tags are tracking codes added to a website to measure its performance. In Google Ads, conversion tracking marks the primary use of tags.
You either use the Google Tag Manager or the Global Site Tag in Google Ads.
GMP elevates the tagging game with the powerful Tag Manager 360. It integrates Google Ads as well and works seamlessly with third-party tags.
Conclusion
GMP and Google Ads do not exclude each other. They are but different facets of the Google advertising system.
However, if you need an advanced protocol for running robust marketing campaigns, you need GMP. It can integrate all that Google Ads has to offer, and improves the overall approach. Its advanced tools are vital in making the most of Google-bound marketing.
Which Google marketing platforms do you think best for your business?
Let me know in the comments section below…
For any help with managing your Google ads account you can contact me any time…