What is SKAG in Google Ads? (The Ultimate Guide)
When it comes to talking about one of the hottest and controversial paid search strategies, SKAGs deserve mention.
In recent times, SKAGs have raised a storm in the world of PPC marketing and Google Ads, and many successful PPC marketers believe that this specific account organization form enables you with the power of getting drastically targeted with your Google Ads campaigns.
Of course, nothing can be better than keeping everything tightly wound together and spending money for specifically those who are searching for the EXACT keywords that speak upfront about your product/services.
However, some PPC buffs find SKAGs extraordinarily efficient and helpful, while the others don't love it much. What's the reason behind this dilemma? How Does SKAGs structure work?
To find out the answers to those kinds of questions, keep reading this post – it works as the ultimate guide to SKAGs in Google Ads and explores all that's involved.
What Do SKAGs Refer To?
Put simply; a SKAG is a single keyword ad group that targets divergence of a single keyword instead of tagging along after the Google Ads setup and stuffing your ad group with 20 keywords (the maximum number allowed for keyword targeting in an ad group).
They look like the following-
In the above image, you can see a search ad with a targeted keyword, 'White sports running shoes' and once you click the ad you will be directed to its landing page which has a variety of white shoes to choose from.
So, you can say that SKAGs can help you make your ads very focused and increase the efficiency of your ads by creating single keyword ad groups with relevant landing pages.
How Do SKAGs Differ from The Traditional Ad Account Structure?
In the conventional Ad account structure, usually, people are allowed to work with 5-20 keywords per ad group. Each keyword competes for relevancy to the search term.
On the other hand, the SKAG model works with a single targeted keyword for each Ad group. The following image can help you better understand the difference between traditional Ad account structure and the SKAGs model.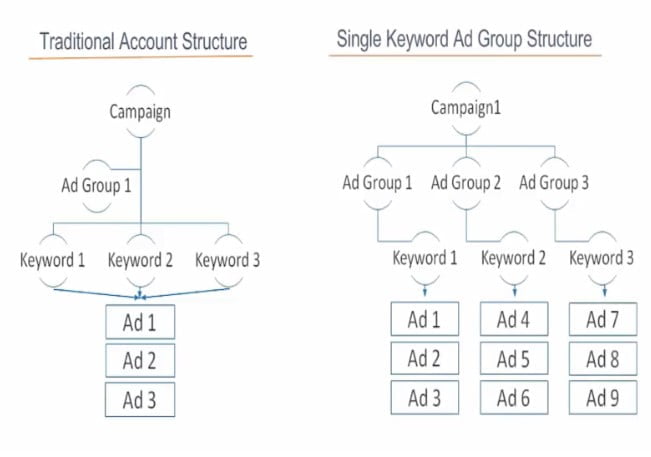 Introducing Broad Match, Phrase Match, and Exact Match
SKAG ad structure allows you to work with multiple campaigns that revolve around exact keywords. However, the match types differ. You can categorize the match types as EM & PM. EM stands for Exact Match, and PM stands for Phrase Match.
You can make use of the PM campaign. Later, PM campaigns are shifted under the EM campaign, and then we call them SKAG.
The PPC experts use the said SKAGs' alpha or beta structure more frequently across the globe, and they come with a bundle of boons.
*Note – Google ads has winded out BMM (Broad Match Modifier), which means this specific match type will be replaced with phrase match type, where ads will show on searches that match a phrase or its close variation.
To learn more about keyword match types check out this guide.
Understanding the Role of Multiple Match Types in SKAGs
As I mentioned, SKAGs are conventionally single keywords placed in one Ad group.
Nevertheless, including multiple match types of that specific keyword in a single keyword Ad group is also a good idea. Because It effectively helps in targeting better performing long-tails.
This process should be refined enough; it's even more crucial to keep this in mind if your search queries contain more long-tails than you've used in the SKAG.
Doing this is pretty easy; all you need to do is check your search terms report and sort them out by their conversion rate, CTR, etc. to get new keyword ideas for your future campaigns and to create the most profitable SKAGs.
For example, when someone makes a search query with a long-tail keyword relevant to the broad match or phrase used in your SKAG, chances are your ads can be shown to them for that search query on the SERP.
Knowing the Importance SKAG to Quality Score
To comprehend the importance of Quality score to your ad campaigns, it's essential to understand what it refers to.
Well, you can define the term 'quality score' as the rating Google provides against the inclusive user experience offered by your landing pages & ads when they look for the keywords you are working with.
The quality score is depicted on a scale of 1-10, where 1 is the minimum and ten is the maximum.
To understand the performance of your keywords and check your keyword reports correctly, it's imperative to understand the concept of quality score.
The higher your quality score is, the lower cost per conversion you'll get.
This image clearly states how a quality score can help you save better in terms of Cost Per Conversion.
When it comes to maintaining an excellent quality score, three key factors play a vital role – Ad relevance, Expected CTR for the ad, and Landing page experience.
Hence it can be said that an increase in the ad relevance and CTR can drastically reduce the Cost Per Conversion (CPC).
How does Quality score and SKAGs relate?
A straightforward answer is, SKAGs can help you in improving the quality score of your ad.
Let's see how this happens.
Single Keyword Ad Groups are hyper-specified to a particular keyword, which indicates that it guarantees the highest ad relevance.
And this is quite obvious as you customize your ad to the particular keyword each time.
Similarly, when talking about your landing page, you tailor it to a specific keyword and get a propositional value.
Let's see a few relevant case studies about the effectiveness of using SKAGs to achieve a better quality score.
A well-known London-based PPC agency successfully increased its CTR by 28.1%. Previously, it was 3.85 percent, and after implementing the SKAG strategy, it rose to 4.93% in a couple of months.
Here you can see its report looks like the following.
The story doesn't end here! The same agency reported a straight 22 percent raise in one of their client organizations, with a 50% cost per lead reduction and a sharp increase of 106% rise in leads. What else could be better!
There are more worth mentioning when it comes to finding out the reasons behind switching To SKAGs.
Let's delve deeper and explore what they're.
Benefits of Implementing SKAG Strategies
At a Glance – The advantages of SKAG campaigns
Increased ad relevance because ad copies are designed for only specific keywords
Better rate of conversion and a higher Quality score. And that means you will get higher revenue with lower CPC
The ad ranks better, which means a total improvement on all other mertrics
Exceptional control of the traffic, which is a gift of the EM Keywords
One keyword and your ad are triggered – this is the best part of SKAGs.
You can get an idea from the benefits mentioned above; however, to make things even more transparent below is a detailed synopsis of the advantages offered by SKAGs.
When it comes to talking about its advantages, the list is almost endless. But I provided some of the key points for you to remember and apply to your own campaigns.
1. SKAGs Can Work on Guarantees
When you give your keyword its ad group, you can bet on the fact that the keyword you're going to bid for will surely match the search term you're paying for. Avoiding SKAGs may make you experience the most-discussed Iceberg Effects, and you may end up witnessing the gradual drowning of your ads.
2.SKAG Allows You To Refine Your Keywords
Wouldn't it be great if you could get access to the search terms that your customers used while searching for your products rather than using only your own keywords in the SKAG?
Actually, you can do this whenever you create a new SKAG.
All you need to do is get new search terms from the Search terms report and use them while modifying your SKAG to perform better.
This trick is technically called Keyword refinement, and it greatly helps in making the most out of your Google Ad campaign.
3.You Can Link Your Keywords to Your Ad Copies
SKAG allows you to control your keywords to the fullest, which means you are free to create very focused keyword-specific ad copies.
4.You're Free to Decrease the Discrepancy Ratio
To understand this benefit, you need to understand the concept of discrepancy ratio first.
The level of disconnect from search to keyword and keyword to ad is referred to as the 'discrepancy' ratio. Naturally, it can affect your ad and reduce the chances of conversion.
When you opt to use SKAGs, you minimize the chances of experiencing the adverse effects of 'discrepancy ratio.'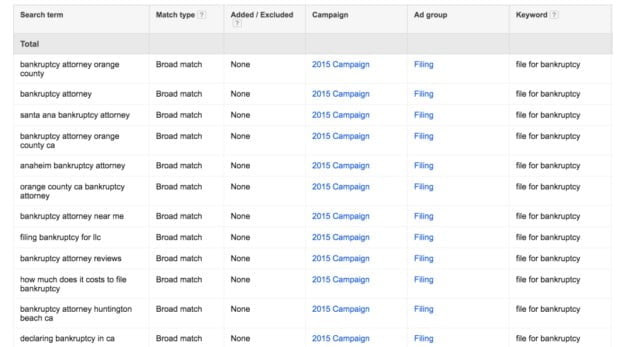 This image clearly shows that the search terms are nowhere matched with the keywords, which is devastating for any ad.
However, when you work with SKAGs, you save your ad from witnessing discrepancy ratio as it works with a single keyword, creative expansive room for matches.
Eventually, it increases your Click-Through rates and a handful of other spinoff benefits.
5.SKAGs are Great in Improving PPC management.
When it comes to developing a more robust foundation than your competitors develop, you should feel free to leverage the power of SKAGs in improving your managed PPC search performance. This granular structured ad strategy can boost and take your ad performance to the next level!
6.Excellent in Improving Impression Share
As I said, SKAGs are exceptionally efficient in improving your quality score, and when your quality score increases, your impression shares also start to grow. In addition, a better quality score helps reduce the Cost Per Click, allowing you to save a considerable amount on your ad campaigns.
7.Reduced CPA
When your Cost Per Click gets lower, your Cost Per Acquisition or CPA also gets lower.
8.You Enjoy a Higher Conversion Rate (CVR) & Volume.
You successfully access comprehensive control and bidding alternatives by exposing search terms as new keywords and reducing the keyword discrepancy ratio.
Naturally, this allows you to work with keywords that carry various interests and conversion rates.
This way, you're always free to discontinue the low-performing keywords, which efficiently helps you increase your rate of conversion as it's expected that you'll get a larger amount of convertible clicks.
Hence, when you manage to boost your conversion rate, you open up the doors to an increased conversion volume A) because conversions are now cheaper and the same amount of money can convert more customers because of higher Quality score B) by seeing improvement in your CVR, you can be motivated enough to spend more and get more returns.
9.Gaining a Better Understanding of Your Traffic
With increased CTR and conversion volume, you get a stronghold on the message match, which allows you to find out how your conversion rate is increasing.
To do this in a better way, you can go ahead with performing a tiny landing page test, and with SKAGs, it's pretty easy as you get a transparent idea about your audience and their likelihoods.
This allows you to modify your campaign and bring more success to it.
10.Get Hold of Your Landing Page Experience
SKAGs directly help you to point out the users who click your ad. This info enables you to personalize their landing page experience.
In addition, it also allows you to narrow down the choices for them and make them do the thing you want them to do when they reach your landing page.
In other words, it can be said that you go ahead with creating a streamlined user experience, which keeps your potential buyers focused on the same objective, which includes clicking your page and turning them into conversions.
11.Cutting Down of Irrelevant Ad Spent
With SKAGs, your Google ad metrics move in the right direction. Additionally, your keywords are exposed in a better way, which helps you to omit the necessity of adding negative keywords to your ad campaigns.
This effectively helps in cutting down the costs of irrelevant ads.
12.The Key Is Yours
As the single keywords are granular, you don't need to leave control of your campaign on Google. Instead, you can keep the key with you and work with more minor search term variance.
13.You Can Simplify the Scale
When it's about scaling your search presence, it's pretty convenient with SKAGs. You don't need to create completely fresh campaigns, ad groups, or variants for targeting new opportunities.
You can do that all by simply evaluating your search term reports minutely and add the terms your SKAGs require the most.
Besides, making use of the ad group-level negative keywords will allow you to stay away from internal competition. All of these together will help your SKAGs campaigns in scaling up conveniently.
14.Remarketing is Handier with SKAGs
Again, the granular form of SKAGs allows them to optimize your campaigns in a better way by enabling you to point out the areas, which are performing well and the ones requiring improvement.
The best part is that even the SKAG keyword discrepancies between the increased CTR and conversion rates will not leave you with a headache or chance of losing money! Instead, they will bring out great remarketing opportunities for you.
The list of visitors you will remarket will be built, including those who have already shown interest in your products or services.
So, it will always carry some fair chance of a high conversion.
15.You Can Troubleshoot Improvements Easily
With SKAGs, it's pretty straightforward to figure out the reason behind the non-performing approach of specific keywords or ad groups.
Since each ad group is based on a single keyword, you won't have to bite around the bust to catch the one acting as an evil.
Therefore, it will make the entire process unbelievably agile, and you will be able to troubleshoot improvements without breaking your head.
Do SKAGs Come Only With Goods?
Every morning ends in a night, and every good comes with evil. The SKAG campaigns are not, of course, an expectation of the fact. The cons they carry are mentioned below.
Unbelievably time-consuming
Produces a lot of scattered data, making the ad group optimization troublesome
There are possibilities of overdosing and ending up with uncountable SKAGs that look next to impossible to maintain appropriately
SKAGs – The method of rationalizing
Since SKAG campaigns are seen as an admired Google ads campaign structure, skipping a crucial factor is impossible as it can compensate for its mentioned downsides, i.e., automation.
The acceptable hurdles with SKAG are increased handling time, lack of scalability, and high maintenance. However, there's a way to turn the tables around with the help of practical PPC tools.
Using DSA (Dynamic search ads)
Leveraging broader types in terms of match
Relying on the URL structures rather than keywords
Now when you know almost everything about SKAGs, it's time to understand how you can set up SKAGs. Here we go!
Getting Started with SKAGs – What's Required?
There is a specific set of requirements that you need to fulfill for designing SKAGs, which includes the following:
Root keywords
You'll probably bid on short-tail keywords, which must be relevant to your business. Thus, you should make a list of root keywords.
A few core terms and a tool to find synonyms matching those terms will be sufficient to complete this venture.
As SKAGs are efficient in securing greater quality scores, performing in-depth keyword research is not at all necessary.
Google Ads Editor
To get started with SKAGs, you will have to install the Google Ads editor, followed by downloading a Google ads account in it.
Creating SKAGs – The entire story is explained step-by-step
The following steps will help you to create your first ever SKAG strategy.
Add keywords
To get started with SKAGs you need to add the keywords first. For each keyword you add, you need to set up an exact match, phrase match and broad match.
For example, if you are dealing with the shoe business, you can set up the matches like – shoe store, "shoe store", [shoe store].
Setting up bids
The next essential step to structurize SKAGs is setting up your bids. Remember, they need to be of the same amount. This will make the testing more convenient.
The reason behind being the same is that upon receiving more performance data, you easily comprehend how to adjust these bids, which can eventually help you improve your campaigns.
Creating Ads
This is the step where you need to place the keywords in the headlines, display URL and the description section of the ad.
The goal is to create catchy headlines that can grab the attention of your customers that are looking for your products.
Cloning ads
When you're all done with the keyword adding, bid setting, and ad creation process, it's time to clone your ads.
Google ads editor allows you to clone your ads conveniently, omitting the necessity of performing the repetitive job of recreating ad groups or rewriting the content.
That's all to create your first ever SKAG. Now is the time to utilize the selection of root keywords for creating other ad groups.
The clone option of Google ads editor allows you to do this with just a few clicks.
Optimizing SKAGs
Optimization is one of the inevitable actions when it comes to bringing success to any digital marketing activity, and SKAGs are not an exception, of course. Here's how you can optimize your SKAGs.
Leverage the power of search terms report
When you have already managed to run Google search ads, you can make use of search reports to find out the search terms that act as SKAGs themselves.
Of course, there might be a lot of keywords to choose from but you can only select a few by sorting them out by their performance.
This will help you to better optimize your SKAGs strategy and make the most out of your ad spend.
Negative keywords should not be ignored
When it's about eliminating the internal competition of the keywords, you can't ignore the role of negative keywords. Let's get a clarified idea on this.
Creating any Google ad campaign after taking out the right keywords blended with scientific keyword structure is required to run a value-driven search campaign.
Building a campaign with all CTR-driven keywords is nothing but just a part of the campaign creation activity. If you avoid paying enough attention to this, it can be devastating, as the keywords will start competing against each other.
The exact, phrase and broad matches of the same keywords can start acting as each one's rival. In the same way, the long tail and short tail keywords can get into a different war.
The best way to get rid of this daunting issue is, making use of negative keywords that efficiently decreases the chances of internal keyword competition and makes the campaign run flawlessly.
A handful of good practices related to SKAGs that can help you make it better
While initiating the process of setting up SKAGs, following several good practices can add the desired touch of perfection to the campaign, which, of course, aids in improving the results of your campaign.
Search terms report is imperative-With Example
To understand the imperativeness of the search terms report, you need to know its origin first. Search terms report derives from the search queries performed by people, who may become your buyer soon.
Let's take an example and understand this better.
Suppose you are bidding on the keyword 'PPC marketing'. There are possibilities, people may also search for 'PPC marketing best practices', and they may click on your ad as well. Put simply; you are paying for that phrase match as well with the use of broad match.
Hence, it can be said that the search term report of your SKAGs strategy can be the perfect place to figure out keywords that are performing extraordinarily.
So, while setting up SKAGs, never overlook the cruciality of implementing the use of search reports. In case you haven't yet managed to receive any conversion, go for sorting the search terms with the help of impressions.
This will provide you with access to the most used search terms that can be considered as keywords, which will allow your ad to show up.
Prospecting can do wonders.
When you are done with sorting the keywords with the help of search terms report, it's the ideal time to get your hands dirty with prospecting.
You can define prospecting as the process of looking for keywords that carry higher chances of success.
All you need to do is to consider your current CTR, impressions and clicks to develop an understanding of the nature of the traffic you are getting.
By identifying the traffic metrics, you can work on improving the impressions and achieving a greater CTR. This will be even more useful when you process the tweaks of your campaigns.
Conclusion
Hope this article has helped you develop a transparent idea about Single Keywords Ad Groups or SKAGs in Google ads.
Briefly, SKAGs are efficient, result-driven, user-friendly, and cost-efficient. All you need to do is to use them in the right way and enjoy its excellent benefits that include the most lucrative ones, i.e., a much higher rate of conversion or better revenue.
Now go ahead and create your own SKAG strategy!
Remember, a perfectly organized SKAG can help you in touching the sky of success!
Do you need help with your Google ads management? Then contact me…