Google Ads Vs. Local Services [Differences, Comparison]
Google Ads or Pay-per-Click (PPC) ads have been showing paid search results to the prospective clients of a business on Google SERP since 2010.
It is the best method when a business needs to attract target customers based on their interests, age group, demography, and other factors.
On the other hand, Google Local Services, a new marketing tool, helps you reach out to customers based in the locality your business functions.
Both of these tools have their unique audience targeting mechanism, payment structure, and application procedures. Besides, these are ideal for various types of businesses with unique marketing requirements.
So, let us make a comparative assessment between Google Ads and Local Services.
1. Audience Targeting
Google Ads and Google Local Services Ads are different in finding out your customers.
Google Ads spreads the word about your business to the right people at the right time while Local Services is great for attracting the local client pool.
Google Ads Targets Customers Interested in Your Products and Services
The efficacy of Google Ads as a marketing tool is beyond doubt. It has been helping businesses to reach out to their prospective client base since the beginning.
These paid advertisements target potential customers based on their age groups, demography, specific interests, and others.
Google Local Services is Good for Reaching Out to Local Client Base
You can sign up as a service provider and let your customers know your area of operations.
So, they will be easily able to contact you or visit your store to buy your products or services.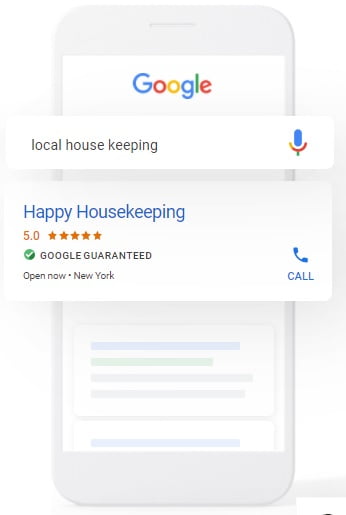 2. Visibility on the SERP (Search engine results page)
With the advent of Local Services, the position of Google Ads on the SERP has changed. So, a business trying to get better visibility on the SERP must know how these ads appear in the search results today.
Google Ads Used to be at the top of the SERP Earlier
Businesses invest in Google Ads so that they can appear in the top three or four advertisement results on the SERP. The higher your ads are positioned on the search results page, the more traffic your ads can generate.
However, things have changed since Local Services were introduced. Now, traditional Google ads are giving some of that traffic to Local services if they appear on the same page of Google.
Local Services Has Taken the Position of Google Ads
Usually, Local services ads appear in a higher position than traditional Google search ads.
Investing in Local Services is very important these days.
In other words, Local Services advertisements now appear at the top of the SERP. So, if there is a provision for investing in Local Services Ads, you must not miss that opportunity.
However, only 3 Local Services advertisements appear at the top of the SERP. A customer can only see more advertisements by clicking on the "More" tab.
3. Payment Methods
The payment models are different for Google Ads and Local Services ads. You need to know the difference when you budget the online marketing strategies of your business.
Google Ads Has a Pay Per Click Model
Google Ads is known as Pay-Per-Click or PPC ad. You have to pay for a Google Ads advertisement when anyone is clicking on it.
Besides, you can have control over your expenditure in publishing Google Ads. You can fix your daily or monthly advertisement budget. Also, you can determine how much you want to spend on a given ad.
Therefore, you can skillfully use your budget to save some spending for the customers who have a high chance of making purchases from your business in the near future.
Local Services Follows Pay Per Lead Model
Local Services advertisements are great as they follow a pay-per-lead model.
In other words, you have to only pay for a Local Services ad when someone is calling your business or sending you a message.
4. Cost
When running any marketing campaign, the expenditure should be always on top of your mind to be able to monitor your performance and tell whether you should continue what you are doing.
The cost of Google ads
As we are talking about Google ads that appear on the search results, we need to talk about Google search ads that works on a Cost Per Click (CPC) basis.
Overall the average CPC of Google search ads is between $1 – $2. But those numbers can go as high as $150 per click for some industries.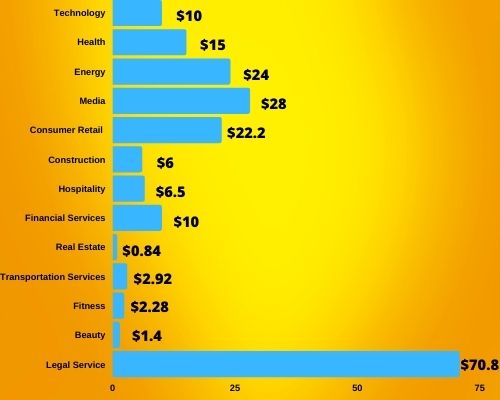 The cost of Local services
Local services charge on a cost per lead basis. Leads can range from $6 to $30 depending on the industry.
Also, you can dispute for credit if the lead you received is very low quality.
5. Budgeting Your Spend on Ads for Improving Ad Placement
As Google Ads and Local Services both are paid platforms, the thought of influencing the position of an ad will naturally come to your mind. Can you do it? Let us find out.
An Increased Budget in Google Ads Ensures Better Advertisement Placement
If you are willing to pay more for securing a better position on the SERP page, increase your Google Ads budget.
However, keep in mind that you have to also improve the relevancy of your landing pages and advertisements to get pushed up.
As the price is one of the factors of increasing your Ad Rank, you have a better chance of improving your position if you bid more for your target keywords.
In simpler words, you can simply move to the first position from the fourth position by spending a little more on Google Ads.
You Cannot Control Your Placement in Local Services by Increasing Budget
Local Services does not offer the same facility. It follows a flat fee model. So, you cannot push up your advertisement on the SERP with some extra expenses.
6. Importance of Proximity
There are some factors, along with the budget, that can determine the position of a Google Ads advertisement and Local Services advertisement on the SERP. In both cases, the determinants are different.
Google Ads is Not Based on Proximity
As mentioned before, Google Ads is not like any local listing. It uses advanced targeting mechanisms.
A customer interested in your product or service can see your advertisements even if he/she is residing outside the locality.
In other words, Google Ads is a more effective way for reaching out to the right niche based on specific age groups, device usage, and demography, etc.
Local Services Ad is Based on Proximity
The main determinant of the position of a Local Services ad is proximity. So, the goal of Local Services is to let the customers find Google-verified businesses in their communities.
7. Getting Approval for your Ads
Getting approval for the Google Ads and Local Services are completely different.
Google Ads are Easy to Get Started with
Any business can easily create a Google Ads account. Once the account is created, it can easily create and publish the advertisement.
Getting Approval for the Local Services is Different
The application procedure of Local Services advertisements is complex.
Besides, after a complete verification by Google, you will earn the much desired "Google Screened" badge. And once you have this badge, you can easily earn the trust of your customers.
Conclusion
Google Ads and Local Services both can be great methods of lead generation for your business.
While Google Ads focuses on flexibility by using advanced targeting mechanisms, proximity is what drives Local Services Ads.
Local Services ads can be cheaper and good for greater return on investment. But, you can also control your Google Ads budget and reach out to your most relevant customers from anywhere in the world.
So, be clear about your business requirements and ask a professional marketer to integrate the most beneficial tool into your marketing strategy.
For any help with Google ads campaign management, you can contact me any time…