10 Requirements to run Google Ads without a Website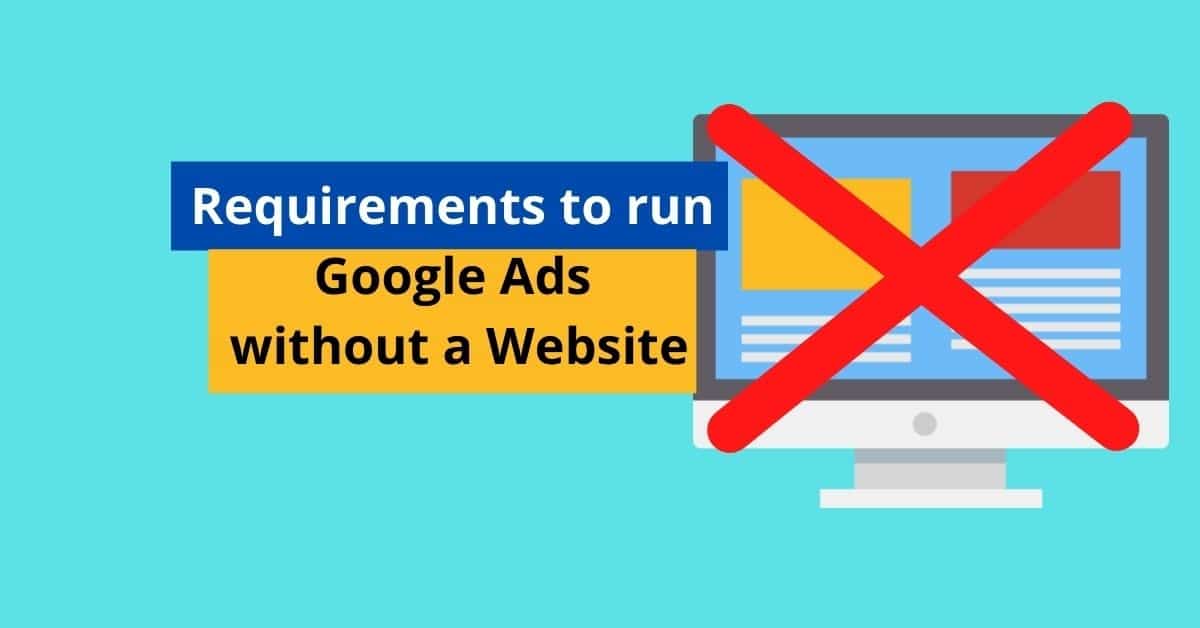 Can anyone run ads on Google without a website? What are the requirements to run ads on Google without a website?
In today's article, we will answer all of these questions and give a complete breakdown of all the things that you need to run a Google Ad campaign without a website.
Shall we?
A Brief Overview of Ad Campaigns without a Website
Think of the leads you get from Google Ads as invitees of your business to a deal. Then, think of your landing page as the hosting room for the deal. Without that venue, where do you want those leads to go?
Usually, on the Google Ads platform, there is always a landing page hosted on a website. This landing page is where the leads from your ads are directed to. From there, they can take your offer.
Over time, Google then developed a way for businesses with products to host their products in a shop-like manner on Google. This method is known as Shopping Campaigns.
Google Shopping Campaigns can either be standard (non-automated) or smart (automated). Both standard and smart shopping campaigns can be set up without a website.
The next section will reveal what makes you eligible to run a shopping campaign on Google.
Who is Eligible to run Ads without a Website in Google?
The eligibility criteria for standard shopping campaigns slightly differ from the criteria for smart shopping campaigns. However, there are also general requirements that cut through both campaign types.
General Eligibility Criteria for Shopping Ads.
Businesses without a Website
This may seem trivial but it is quite important. While businesses with websites can easily drive traffic to landing pages on their site, product businesses can set up ads on Google without a website.
Local Stores and Businesses
One major way to drive sales from shopping ads is by getting business from shoppers within your vicinity who find you on the map. This builds more trust and makes room for quick delivery or pick-up.
Booking appointments for service businesses is also easier with nearby locations.
Except for renowned brands that ship products for their customers, local shops are better eligible to run shopping ads.
Product and Service Businesses
With Shopping Ads, product businesses can stack their products up online and drive sales. Service businesses can also create portfolios of their services in a menu format and increase sales from specific orders.
Businesses with Content that comply with Shopping Ad Policies
Only Shopping Ad policy-compliant businesses can run shopping ads. If your product data does not go against any of the shopping ad policies, you are eligible to run your ad. Some of the shopping ad policies include the type of product, language use, discrimination policies, etc.
Businesses with Regular up-to-date Product Data within 30 days interval
The data for your products in shopping ads must be updated every 30 days. This is to allow updates in price changes, product feature changes, and any other important changes needed for the purchase.
Your product data also has to meet the standard of Google Product feed. The standard is to provide users with an improved shopping experience and to help your ads perform better.
Eligibility Criteria for Standard Shopping Campaigns
Google Merchant Center (GMC) Account
Google Merchant Center is the backbone of Standard Shopping Campaigns. It is the place where business owners and retailers can upload their product feed to be visible on Google.
A GMC account makes your product eligible for listing when you run shopping campaigns. Product feeds can also be easily updated from the Merchant Center. Product feeds can be customized on GMC to also provide better shopping experiences for users.
Product Feed or E-Commerce Store
This just means a list of products that you offer, their images, descriptions, pricing, shipping or delivery details, and other important information for prospective customers to make a buying decision.
Your product feed can also be in form of an online e-commerce store. For Standard shopping ads, the items in your product feed are what is shown to your prospects.
Once you have your Google Merchant Account set up, you can upload your product feed or link your e-commerce store to the account.
Eligibility Criteria for Smart Shopping Campaigns
Google My Business (GMB) Account
It's a tool that helps your business to appear on Google search and maps. To be eligible for Smart Shopping Campaigns without a website, you have to set up a GMB account. You also need to go through the verification process for Google to certify that you own such a business.
Google My Business makes it easy and possible for service businesses to also run shopping ads. Shopping Ads are mostly for products businesses. But with GMB, you can easily run ads for both products and service businesses.
Now, while you can choose to run smart shopping campaigns without enough conversion data, you shouldn't do it. Smart Shopping Campaigns are completely automated and controlled by Google. Conversion data then helps the Google algorithm to show your ads the right way to enable maximum results.
To get conversion data for your smart campaigns, you can run standard shopping ads before running a smart campaign. This will help you get better results.
Banner Image for Brand Awareness
To make your Smart Shopping Ads as inviting as you want for your prospects, create a banner image that educates your audience about what your brand is about.
Conclusion
The criteria for running ads on Google without a website is way easier than rocket science. With the information in this article, you are well on your way to success in Google Ads.
If your business does not have a website, you can still run ads on Google with Shopping Campaigns.
General requirements for running shopping campaigns include having a product or service, having a local store or business location, having up-to-date product data, etc.
Other special requirements include having a Google My Business account, a Google Merchant Center account, a product feed or e-commerce store, conversion data, etc.
Now, you know all it takes to run ads on Google without a website. Let me know in the comments how this has helped you.
Go make it happen!
By the way, you can contact me if you need any help with your Google ads account management…