Google Ads Account vs. Campaigns vs. Ad groups (3 Layers of Google Ads Account)
Trying to build out your company's Google Ads account but ending up with your heart sinking to the bottom of your chest? Are the flashbacks of those high school maths classes rolling in front of your eyes?
Indeed, if you are new to Google ads, setting up an ad account may look like attempting to solve problems that appear unsolvable.
To help you with this, today's post explores the nitty-gritty of handling your newly created Google ads account.
It will help you to develop a transparent idea of how Google ads generic structure looks like, including the concept of Google ads account vs Campaigns vs ad groups. Here we go!
Organizing Google ads – An introduction to the basic structure
When it's about structuring your google ads account, you need to remember that there is nothing permanent in terms of the account structure. Things will likely continue to change and evolve.
Talking about the current structure of Google ads accounts, there are three interrelated layers. When you are well informed about them, organizing your advertisement will look far more accessible, and you will be able to design value-driven ads.
Put simply, Google ads can be organized into three different mantles that include the following.
● Account
● Campaigns
● Ad Groups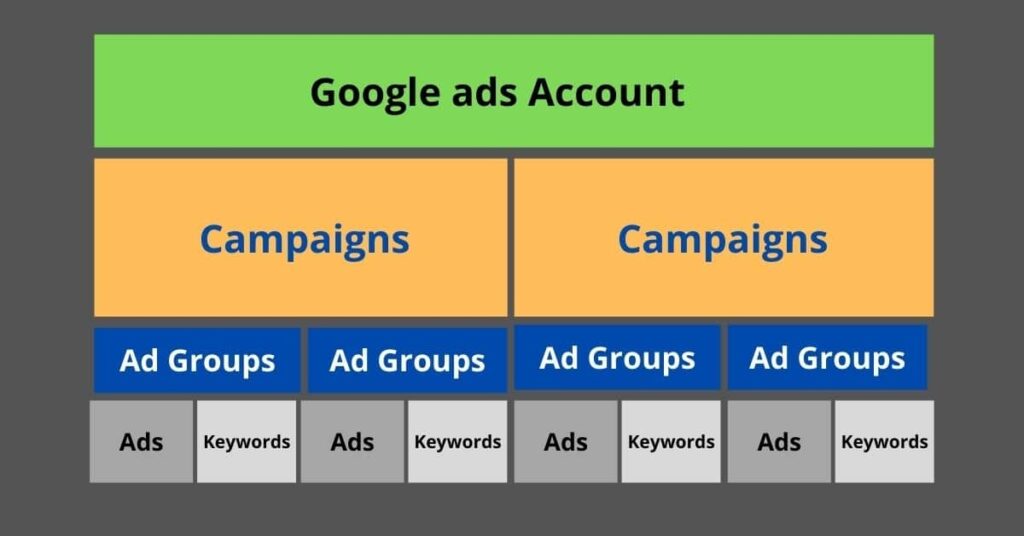 Account
Google Ads is a system that aids in online advertising of services or products in Google. To publish and run such ads, you need a basic user dashboard. That specific dashboard through which you can publish, edit and track your ads is officially known as Google Ad account. The account set-up steps include the following.
Step- 1. Open an account
First, you need to route to the Google Ads home page. It looks like the following.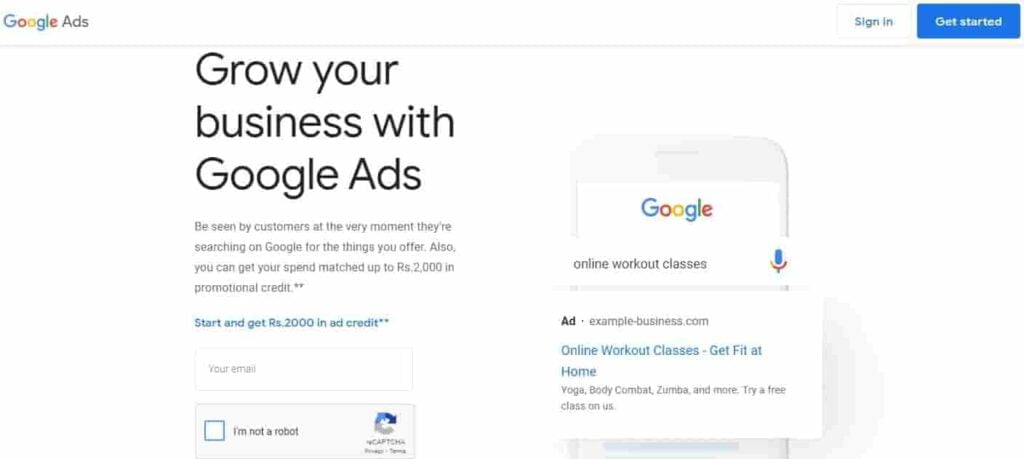 Now, you need to select the email you want to register under, you can proceed further. In case you already have a Google Account (Gmail), you can use that email address. If you want other people to manage your Google Ads account, you always have the option of inviting them.
Step 2. Login
Now, when you own a Google Account, you need to proceed with the login process by entering your Gmail address and password.
Step -3. Account setup
Once you're logged in, you will reach a page that looks like the following.
This is the page that will require all your skills and tricks to be applied, as your journey with Google ads starts from here. This is the dashboard that allows you to create, design, modify or delete ads.
Here, Google Ads will ask you your primary advertising goals or what results you'd expect to see. All you need to do is to choose the one that suits your business the best.
The options include achieving more calls, visits to your store, or more sales/registrations on the web.
You can also turn on the 'expert mode' to choose your advertising goal in a little more detail. To start with creating an ad campaign right away, you can go ahead and select the type of campaign you are planning to run in the next step.
The available options include Search campaigns, Smart Shopping campaigns, Display campaigns, Video campaigns, and so on.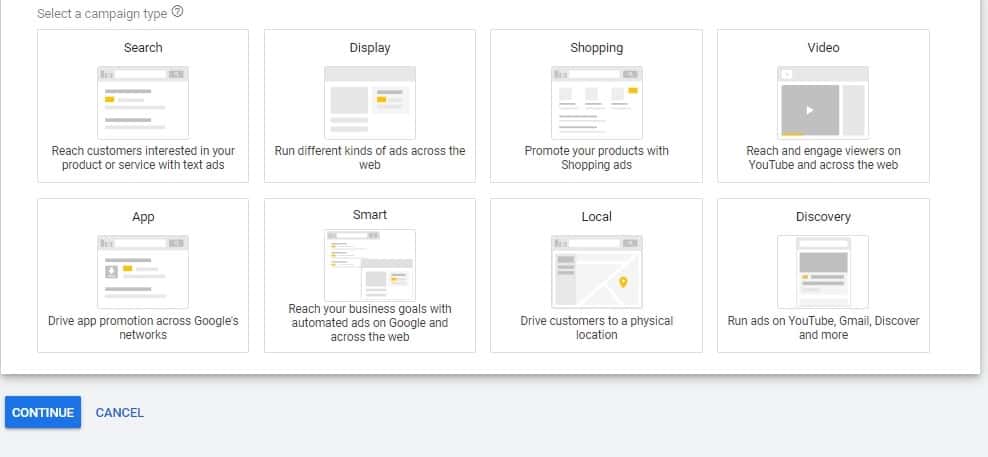 Once you're done with putting in your Company name along with your website name, all you need to do is to follow the steps as Google Ads directs you.
Now, when you are well-informed about the account creation procedure, it's time to develop a brief understanding of the basic layout of your Google Ad account.
Settings
The settings associated with your Google Ad account include the following. The following image can help you build a clearer idea.
Business data
You are always free to use different sources of company data and feeds in your account. To manage these resources, you need to reach the Company Data section. Some of the prominent examples of these resources are parameters for the ad behaviors, product inventory for making dynamic ads, etc.
Security & Access
Google Ads allow you to share your access account with other people, omitting the necessity of disclosing your password. From account access settings, you can simply create shared access for them. This can be done based on their email address or multi-client center account (MCC) ID. You also have the option of selecting the competencies for the shared accesses. If required, you can also remove or add access.
Billing
From setting payments, creating a budget to checking the transactions and payment related summaries, you can do that all from Billing.
Google Merchant Center
Google Merchant Center allows you to upload products. Here you can link your basic Ad account to get access to many relevant and useful features.
Linked Accounts
One of the most important tools/ setting options available in your Google Ad account is the 'Linked Accounts' one. With the help of this particular section, you can track the linking of your Google Analytics accounts and other service accounts mediated or provided by Google. This plays a crucial role when it comes to tracking the performance of your Google marketing efforts.
Measurement
This setting allows you to track, evaluate and identify the rate of conversions against your Pay Per Click campaigns.
Preferences
From this section of the tools and settings tab, you can set up the basic account information like number format, language, time zone, country and more.
So, after understanding the layout of the Google Ads account, now is the time to gain some idea about campaigns and ad groups. Knowing this will help comprehend the primary topic of the post, i.e., the differences between the concepts of Google Ad account, ad campaigns and ad groups.
Google Ad Campaigns
Google Ads works using an auction system. It takes place each time when a user searches for a product or service. To become the winner of these auctions, optimizing your scores and bid amount is imperative.
The higher your quality score and your bid amount are, the better chances of ad positioning you can achieve.
The entire process can be set up using a typical system described as Google Ad campaigns. The basic components of an ad campaign include ads, extensions, keywords and choosing the appropriate Google Network for your ads.
Large advertisers usually build different ad campaigns for running ads for different locations and use different budgets.
The typical use of campaigns involves organizing categories of products or services that you're offering.
If it comes to describing it in a bit technical way, you can say that the campaign types supported by API include Search Network only, Shopping, Display Network, and Search network with display select.
With the help of API, you can create and manage campaigns optimized for various marketing goals such as App campaigns, smart display campaigns, dynamic search campaigns, call-only campaigns, and so on. A few campaign types are available in the Google Ads interface, but the API can't support them optimally. One of such examples is video campaigns.
Campaign Types
Campaign types revolve around the advertising network of Google, which includes – the Google Search Network, the Google Display Network, and the YouTube Network.
These networks cover almost all the places where your ads are probably going to show up. It includes Google sites, relevant websites and even mobile sites. When you choose the campaign type for your upcoming Google Ad, you get the option of selecting the network settings as well.
Creating Campaigns
Setting up a campaign may look like a daunting task. However, you can make it easily in a few simple steps. Just, define your goals and choose one of the appropriate campaigns that can accomplish that goal.
If you think you can create your own customized campaign, you can always create yours without a goal's guidance.
When creating a campaign you can also choose your bidding strategy, start and end dates of running your ads, and budget.
In a nutshell, to set up a new campaign, you can choose one of the ready-made campaign goals of Google ads or based on your business goals, create your own one in a few simple steps.
Google Ad Groups
You can better define ad groups as the container of your ads and keywords you use in your google marketing campaigns. It looks like the following.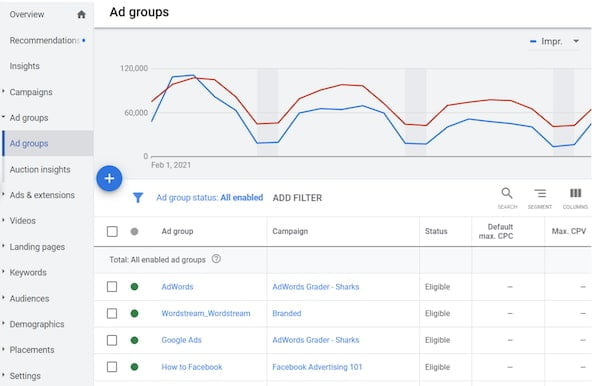 When it comes to an understanding of the PPC advertising structure, it can be said that the very first step is creating an Ad account, then building up an ad campaign that accommodates ad groups.
The said ad groups work as homes to – keywords, landing pages, and text ads. The ad group acts as a powerful tool that allows you to organize your ad account, maintaining a meaningful hierarchy.
Understanding the importance of Ad groups
So, after knowing that ad groups are one of the vital structural components of your google account, it's imperative to figure out its importance so that you can make the most out of your Google advertising ventures.
Typically, most search engines prefer to check your Ad Group organization to determine a handful of vital factors.
● The keywords your ad is using and is going to respond to.
● The message that your ad wants to convey while running.
● The destination that your ad will take your visitors to.
So, considering the importance of ad groups, you need to be quite careful while working with them. Following the few hacks mentioned below may turn out to be helpful.
Always go for creating a system where you can put in new keywords, ad texts, and landing pages regularly. In this way, you can have a chance to A/B test them constantly. If you keep doing that, you can find the best performing ad combinations. Together, all of these will award you with a robustly performing ad campaign that costs less but converts more.
For example, if a user searches for "good plumbing services" and your ad talks about your plumbing agency; naturally, it will increase the chances of conversion drastically. This is the role of well-integrated keywords in your ad groups.
Google ads Account vs Campaigns vs Ad groups.
When it comes to clarifying those terms, you can say that your account is associated with a unique email address, password, and billing information. In contrast, your campaigns are the determiners of the places where your ad is going to appear.
Your campaign can include one or several ad groups and those ad groups contain a set of similar ads and keywords. The following diagram can help you gain a more transparent understanding of what I mean.
So, this is how your Google ad account's basic structure looks.
To organize your ad accounts at the highest efficiency level and present them to the right audience, you should be pretty careful. It may help you spend your budget efficiently and increase your ROI or otherwise, you may not notice where your money is going and end up with a big loss.
When people perform searches online and put in a word or phrase, it means they are looking for information that is the same or relevant to the words they are using. For example, when you search for sports shoes and notice geysers ads, you won't ever click on that ad.
Hence, it can be concluded that ads need to be placed at the right place, and they should be relevant enough to the searches of people you're trying to reach. This can be done by inserting appropriate keywords into an ad group. When you do so, you can make your ads visible to buyers looking for similar things.
Conclusion
Hope this article gave you some understanding of how Google ads account structure looks like, and you can take advantage of that knowledge to create the best version of your ads and reach your ideal customers worldwide.
Now it is time to organize your account and design campaigns that cater to all your advertising requirements to the fullest!
For further assistance in managing your account, you can reach me out through the Contact page.