Google Ads vs AdMob – 9 Important Differences You Need To Know
Advertising has taken the world economy more enormously for the past few decades than ever before.
With increasing users of mobile phones and other devices, businesses have come up with great opportunities and are stretching their limbs to customers all over the globe.
Apps being the most disruptive innovation in recent years have added points to the sale of smartphones.
Internet being the sensation all over, individuals are inclining more towards the apps rather than a web browser for a smooth user experience.
If you're noticing an increase in purchases, simplifying mobile shopping with app building should be your next business focus.
While discussing advertising, Google Ads and AdMob cannot be ignored as their contribution to the field has been significant and is not hidden. By connecting AdMob to Google Ads you can create mobile app install campaigns.
As for now, there are two specific types of app install campaigns that you can run through Google Ads – Display Network App Install Campaigns and Universal App Campaigns that can make your ads efficiently work for required purposes.
What is Google Ads?
Increasing your visibility to the supposed customers is the main aim of every business.
Google Ads just eases your work. Working as an online advertising platform, Google Ads helps you get more traffic, raise awareness, and promote your business online.
Check out how to target audiences with Google ads.
Google ads campaigns can be created or changed at any time, which also includes your ad text, settings, and budget.
With no minimum spending, you can create an impact through your ads with a budget that is comfortable and easily measurable.
What are AdMobs?
Ads that are created in Google Ads can also be served by the AdMob Network and appear in mobile apps.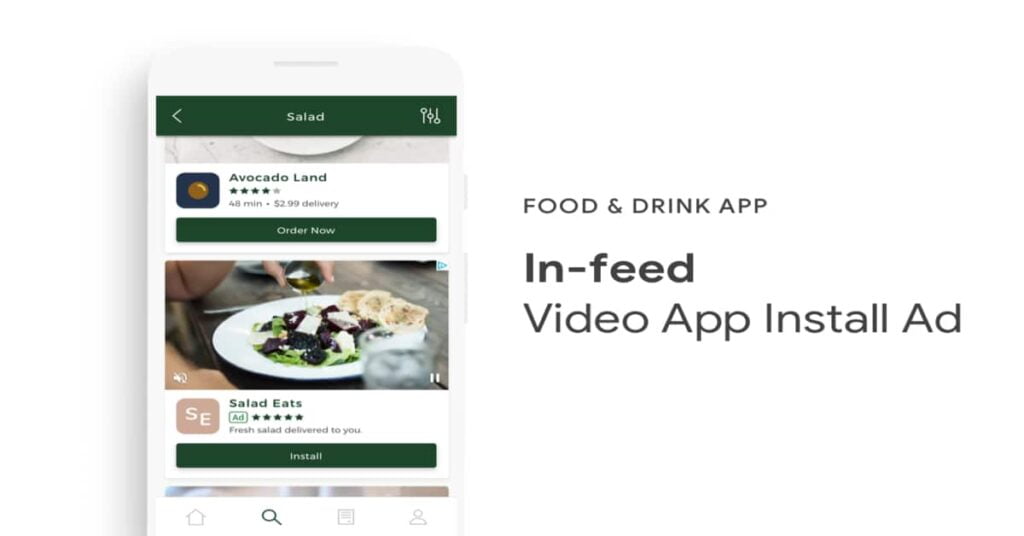 AdMob is one of the largest ad networks that can fill your ad requests all across the globe. Because AdMob relies on Google Ads, you need to create an account to use it.
AdMob comes with its robust measurement and reporting features that help you get awareness about how your users are interacting with your mobile app and ads.
9 Differences between Google Ads and AdMob
1. Google AdMob is an Extension to Google Ads:
Both the platforms are used for advertising but AdMob needs support from Google Ads for some of its functionality as an account in Google Ads must be created first in order to work, so we can say Google AdMob is an extension of Google Ads.
2. Conversions can only be created with Google Ads:
In AdMob, conversions can no longer be created. The conversions table will keep on displaying a read-only list of the conversions that you've created in AdMob.
Moving on, if you're setting up conversion tracking in Google Ads all conversions must be created in Google Ads and tracked by using Firebase SDK.
On the other hand, In Google ads, conversions are tracked by conversion tracking code and also by Google analytics.
3. Usability on different platforms:
AdMob basically targets mobile users where you can also get an opportunity to display video ads (Rewarded video ads) when watched, you will be rewarded in form of coins like in a game.
Google Ads publishes ads in the form of videos, banners on the sites accepted by Google on all platforms to promote your services.
4. Google Ads covers various website categories against AdMob:
Google Ads has better coverage in various website categories including lifestyle, business and consumer services, electronics, etc. Whereas AdMob has no such leads over Google Ads considering any category of the website.
5. Difference in Applicability:
Admob allows the following types of ads for mobile applications: Banner Ads, Rewardable Ads, Native, and Interstitial. Google Ads gives you the freedom to display your ads on various websites or apps while targeting huge traffic.
6. Purpose Specific:
Google Ads creates campaigns i.e., building and placing the ads across the mobile, web, and both. AdMob for mobile users provides a way to monetize their app and earn through it.
7. Better integration with AdMob:
While using AdMob you can do app to app integration whereas with Google Ads you need to create different campaigns while running the ads.
8. Unlimited usability with Google Ads:
Admob can only be used for applications, Play store, App store, and some other mobile app stores but Google ads have no limit, thus delivering a better platform than AdMob.
9. Operation with different phone processes:
Google Ads needs to be operated differently for IOS and Android whereas in the case of AdMob you can connect both the processes for a single ad.
Analysis over which one to choose- Google Ads or Google AdMob
It is pretty well clear that AdMob is just for mobile apps advertising, while Google ads essentially incorporates a wide range of promoting, including advertisements for mobile applications (not just mobile application advertisements).
What's not satisfactory is the contrast between mobile app install ads made in Google Ads and AdMob.
Your mobile application introduces advertisements that could be set up in Display Network, Search Network, and Youtube.
In Display Network, you could reach mobile applications like Admob;
In Search Network, your advertisements will likewise show in list items on the mobile program when you use Google search;
On Youtube, you can show video promotions.
Along these lines, this fundamentally implies Admob advertisements approach Google Ads mobile application to introduce promotions in Display Network.
Why use Admob when you can oversee everything in Google Ads?
One potential clarification is that Admob is simpler for application developers than Google Ads. Google Ads has this load of confounded settings where amateurs don't have the foggiest idea of how to apply the basic settings in the first place.
Admob is very basic with fewer setting alternatives, and additionally, you can deal with your application in one record.
However, on the off chance that app developers need progressed settings, they should go to Google Ads for that.
Enhanced User Experience
Delivering a more powerful user experience, you can get your promotions done very easily and fluently.
While enjoying real-time buyers both Google Ads and AdMobs have their own limits and their usage as per your business need can bring great fortunes for you!
Here comes what befuddles me most, what's the contrast between Google Ads mobile app install ads and mobile ads you set up in Admob?
Google Ads offers three sorts of mobile application promoting:
For Ads in mobile applications crusades, the advertisements in your Display Network and Search with Display Select campaigns are automatically eligible to be displayed in mobile applications in the event that you chose "All features" (the default choice) while making your campaign.
Your advertisements might show in mobile applications when a mobile app placement (consider it a promotion spot) coordinates with the focus that you've set for your campaign as needed.
Showing promotions in mobile applications, which implies in the event that you decide "all features", you will show them ads across Display Network on sites, just as mobile applications.
You can continue making mobile explicit applications ads, focusing on specific classifications. This is for promoting your product inside applications. It's not the same as promoting your applications.
Google Ads permits you to advance your item information inside applications.
For example, show advertisements for your site solely in mobile applications, while Admob just permits you to advance your application inside other applications.
With various formats to fit in your business model, both platforms can exclusively work as per your need.
Conclusion
You now know that you can go on creating mobile-specific apps ads, targeting certain categories. This comes for promoting your product within apps. Google Ads makes it possible for you to promote your product info within specific apps, i.e. display ads for your website specifically in mobile apps, while Admob only allows you to advertise your app within other apps.
AdMob helps you earn revenues by having other ads that show within your app on the mobile. Google Ads on the other hand promotes products and services on Google Search, YouTube, and other platforms across the web. You can now maximize your earnings with both these platforms and their efficient utilization can bring about a great deal of engagement to your business. Learn, Explore and Utilize these for enhanced benefits!