How to Make Money with Google Ads without a Website?
"Begin with the end in mind"- Stephen Covey.
In the world of marketing, there is just one endgame. It is to make money in the form of profit. To reach this goal, several pathways can be taken.
Money is made by selling. It could be a product, a service, an idea, a personality, or anything. Any form of value can be exchanged with money. It is the same way with Google Ads.
The job of Google Ads in the whole matrix is to find your buyers. The moment Google brings you face to face with your buyers, you're up next to pitch your product.
How then do you find your potential customers and sell to them without a website while running ads? In this article, you will learn what to do exactly and how to do it.
Running Google Ads without a Website: Overview
Google Ads lead your earned traffic to your landing page. Mostly, the landing pages are website pages and posts.
But even without a website, you can show your products to your potential customers by running Google Shopping Ads. You can easily do this by creating a Google My Business account and advertising your products with Smart Shopping Campaigns.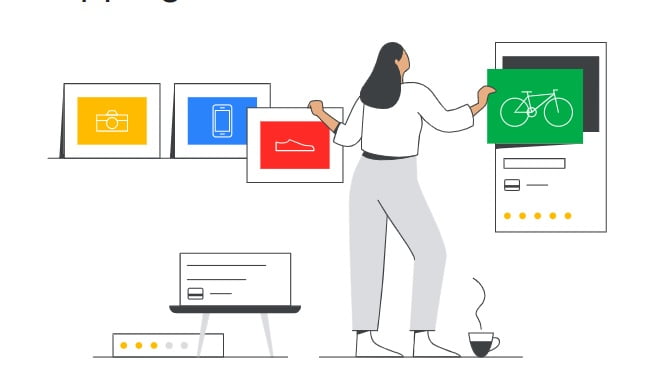 You can also advertise with Standard Shopping Campaigns after uploading your product feed (from your product store) to Google Merchant Center. You then link your Merchant Center account to your Google Ads account before creating your campaign.
Why is Google ads without a website becoming popular?
These are three reasons why this method is rapidly becoming the go-to for digital marketers.
Visuals versus Words: In the minds of online searchers, they see the picture of what they are looking for while searching. When they find pictures of your products first on the Search Engine Results Page (SERP), your ads immediately match their intent. It is the simple concept of 'show not tell'.
Rank First not Third or at the bottom of the SERP: On the Search Results page, Shopping Ads never show after normal text ads. With shopping ads, you can appear first on the page. And with little effort, be the person that searchers are looking for.
Qualify Buyers Faster: In a typical sales journey, buyers are filtered later in the process. With Shopping Ads, many searchers are coming with a purchasing mindset and they have a budget in mind. Because the prices for your products are also displayed upfront, they know exactly which ad to click. If they go beyond their budget, it signifies attraction to brand, quality, and unique selling proposition.
Monetization Options when Running Google Ads without a Website
With a website, one option will be to just acquire prospective buyers by giving a lead magnet in exchange for contact information. Another option is to schedule demos, calls, or free trials. One other common option is to have a compelling sales letter on the web page.
All these options lead to profits in the long run. When you run shopping campaigns without a website then, what monetization options do you have?
Monetization Option 1: Close Sales via Calls.
It is the good old way. Before the advent of sales letters, phone closing has been the go-to for salesmen and business owners.
For standard shopping ads, there is no immediate option to place a call. But for smart shopping ads, prospects can immediately call to find more information on pricing, delivery, reservations, etc.
An important thing to note about this option is that it is a faster way to build trust with prospects who are already primed to purchase. If you also blow the call, you could have a bad review problem on your hands.
However, because they have seen your product image from the ad and your location, it is a piece of cake to assert their decision and make the purchase easy for them. It works like magic to make money via Google Ads and without the stress of a website.
Monetization Option 2: Receive Purchase Orders on your E-Commerce Store
This only works when you link your E-Commerce store with your Google Merchant Center account.
If you upload your products manually or with Google sheets, you will need to select a checkout point for your customers. It could be at your local store or on Google if you do not have a website.
When your online store is linked to your Merchant Center account, searchers can become your customers by clicking on your ad and placing an order on your E-Commerce store.
This works perfectly for clients who need the product urgently, see your brand as trusted, and do not need more information or convincing to purchase. The dough rolls in for you with even less stress.
Monetization Option 3: Drive Local Store Visits
This takes a little more effort. The best time to rely on this option is in standard shopping campaigns where you can target a select audience that is the closest to you in distance.
The harder it is to get the product, the easier it is for your prospects to look for an alternative.
However, it is also a great way to drive sales and make money. When you have a physical presence where your customers can pick up products, it is easier for them to trust your ads online.
It also makes the purchase a no-brainer if there are delivery or easy pick-up advantages.
You can also use smart shopping campaigns to drive store visits as the Google algorithm shows shopping ads with a location in mind. Your customers can locate you on the map and you can make money from purchases.
One Tip: You can also add negative keywords to exclude keywords that are not working and increase appearance for relevant keywords while increasing sales.
Conclusion
Making Money either online or offline comes with an exchange of value. But while running ads without a website? The options are much more streamlined but defined.
Google Ads without a website can be done with Shopping Campaigns (Standard or Smart). And with shopping campaigns, you can get more ideal clients that your business needs.
Your options to make money from shopping campaigns range from calls, to store orders, and local store visits. Using the options and tips that I have given in this article, you can make a killing in the Google Ads world faster than you imagine.
Remember that you can always ask questions and make comments on how this post has helped you.
Cheers to your Success!
Contact me now, if you need help with running your Google ads campaigns…